A small space can be a good thing—it's cozy, it's intimate—but let's face it: Most of the time it's a decorating challenge, and you're thinking, "If I just had a few more square feet!" I hear from you. I also know there's a very good chance you're making at least one or two of these design mistakes that can make any space seem smaller than it actually is. According to designers, most people do, myself included. So check out these mistakes and pick up some of the pros' quick and easy fixes below. You just might "find" what looks like more space in each of your rooms.
Playing it safe with paint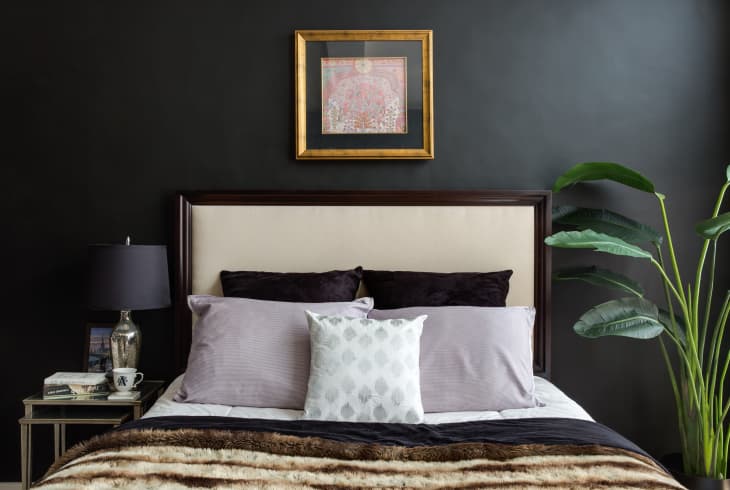 Most people assume that quiet, neutral shades work best in tight spaces, but designers say that the opposite can be true. "A deep wall color will blur the edges of the room, taking the focus away from the size," says designer Maryline Damour of Damour Drake in Kingston, New York, whose favorite small space shades include Benjamin Moore's charcoal "Iron Mountain" and saturated "Gálapagos Turquoise." "Also, if you choose an eggshell or satin finish, it will reflect light and make the room feel bigger," she adds.
Miami-based designer Josh Wollowick agrees with this deeper color credo. "A darker, saturated shade makes a tight space feel special—kind of like a 'jewel box.'" His go-tos: Farrow & Ball's "Hague Blue" and "Green Smoke." Just be sure to offset the heavy hue with lighter-colored accents, advises Sabrina Soto, featured designer on HGTV's "Ty Breaker." That's why the dark small studio bedroom works above; space gets a ton of sunlight, and the beige upholstered bed and white sheeting offset the onyx walls.
Prefer wallpaper to paint? You can get a similar effect with bold florals or geometrics, says Wollowick, "or even a jewel tone seagrass, which has a really rich look."
Always giving moulding the traditional treatment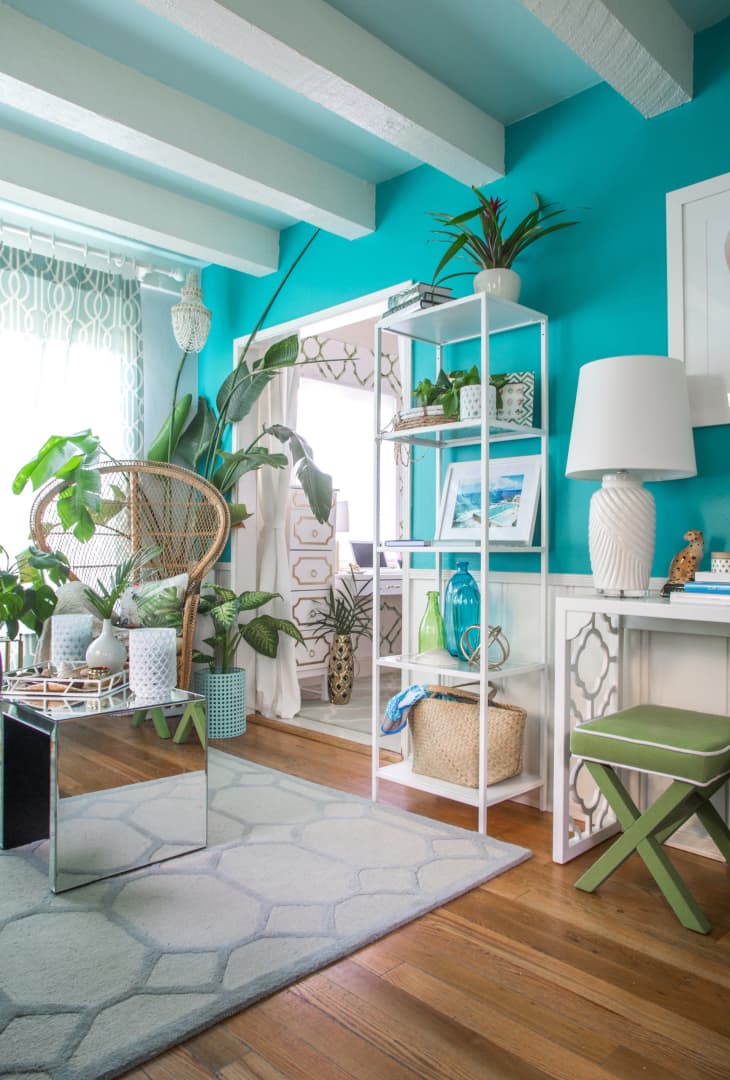 The standard shade for molding is white or off-white, but that's not always the right route for a room. "In a small space, I paint baseboards and trim the same color as the walls to trick the eye and make the room appear higher and larger," says Willowick.
If you do want to stick with white or off-white architectural features, paint the ceiling an ever so slightly different shade than the trim, he suggests. "It's a small detail that draws your eye up," making space feel loftier. Making your ceiling color slightly different from your wall color can work this way, too.
Keeping the layout basic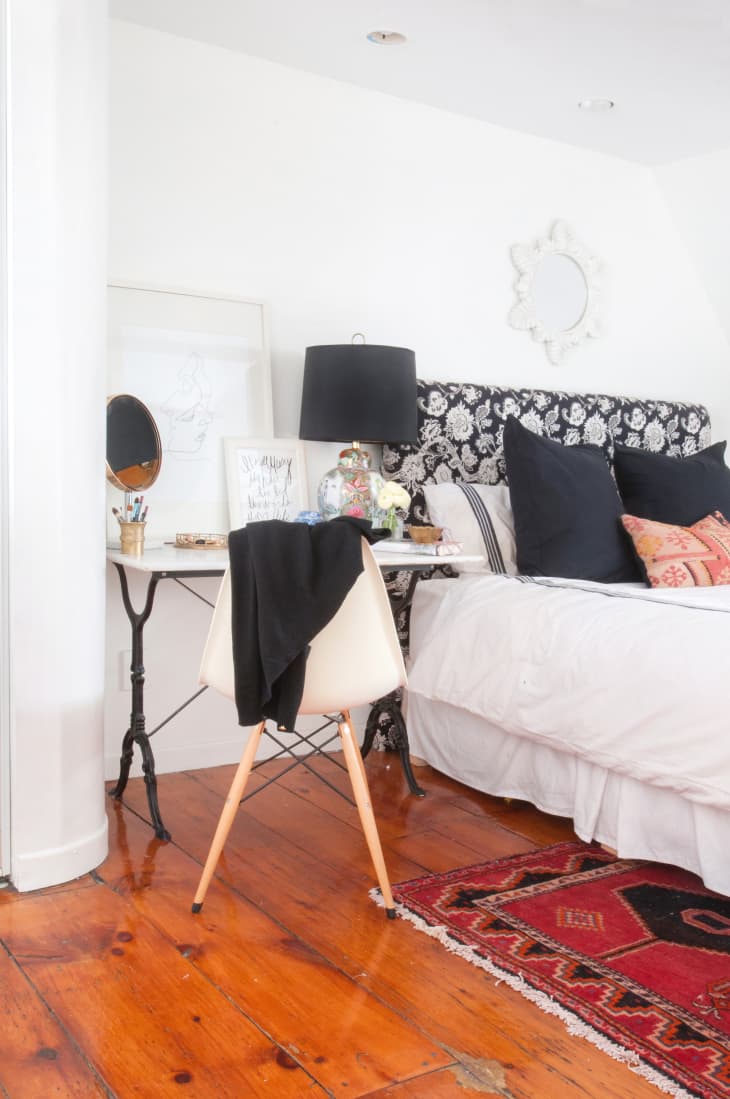 It seems counterintuitive, but the more distinct zones space has, the larger it feels, says Damour. In a tight bedroom, for example, "instead of going with two nightstands, I'll put a desk on one side with a stool tucked underneath so it can function as a workspace," she says.
Willowick takes the same approach with smaller living rooms. "I'll create two seating areas instead of one so space feels grander, and you don't have a big sofa as the focal point," he says. "One seating area gets a sofa, side tables, two chairs, and a low coffee table, and for the other, I'll do two chairs with a side table and a floor lamp."
Ignoring the windows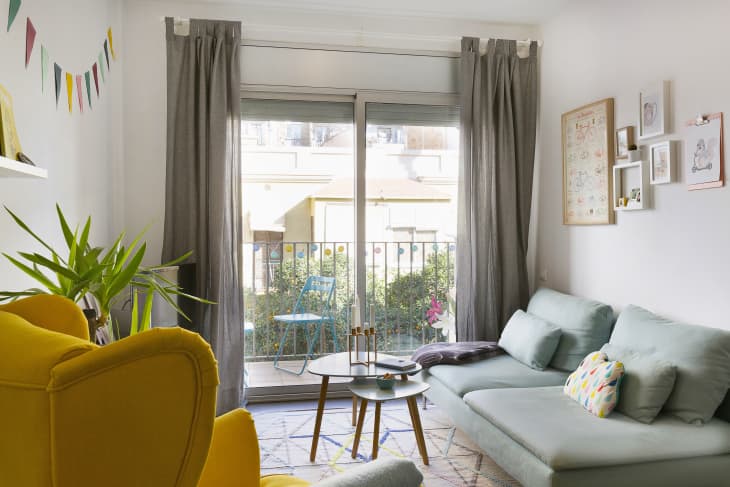 Some people skip curtains because they think they'll drag down a room that's on the smaller side, but window treatments can actually elongate a room if you hang your curtain rod just under the ceiling (instead of right above the frame) and let the drapes reach the floor. "This accentuates the ceiling height," says designer and blogger Will Taylor of Bright Bazaar. "Plus, off-the-shelf drapes are often sold in longer lengths than you need, so you won't even have to cut and hem them."
Keeping all the furniture small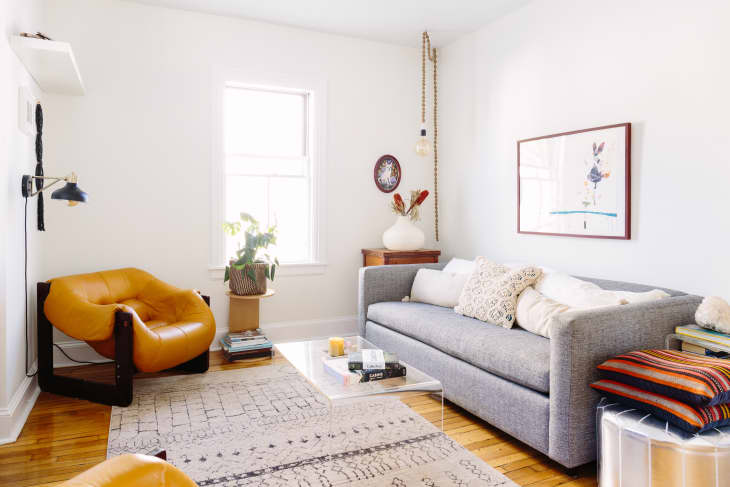 Let's dispel a small-space myth right here: Just because your living room is a little cramped doesn't mean you need to use a loveseat, settee, or apartment-sized sofa. "Often a larger, standard-size sofa is better because it gives the space a grander presence," says Damour. This isn't a license to load up on bulky pieces, however, adds Soto. "It's a good idea to balance out the big ones with some acrylic or glass furniture that take up less visual space," she says.
Leaving the walls bare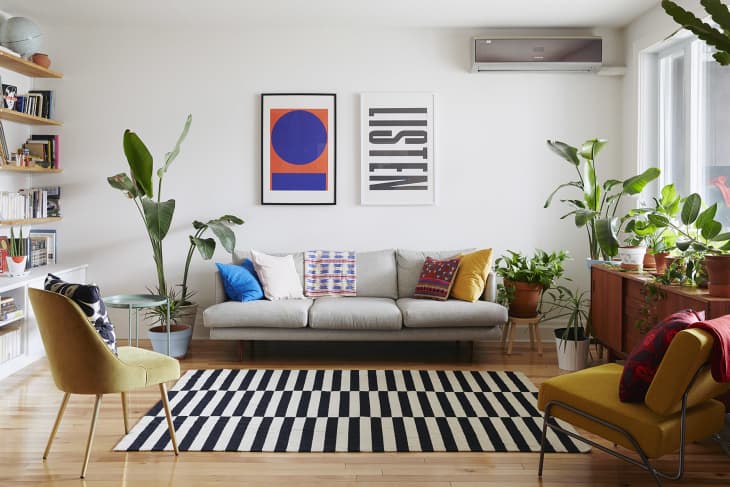 Minimalism does help a small space feel airier than it really is, but the walls are one place where you can always squeeze in extra stuff. Wherever you have items piling up on a counter or floor, consider adding shelves or a floating cabinet above, suggests Calhoun. "Anything that isn't used daily or doesn't look good on display can go behind cabinet doors or inside a storage basket."
Not letting things go when they're not serving you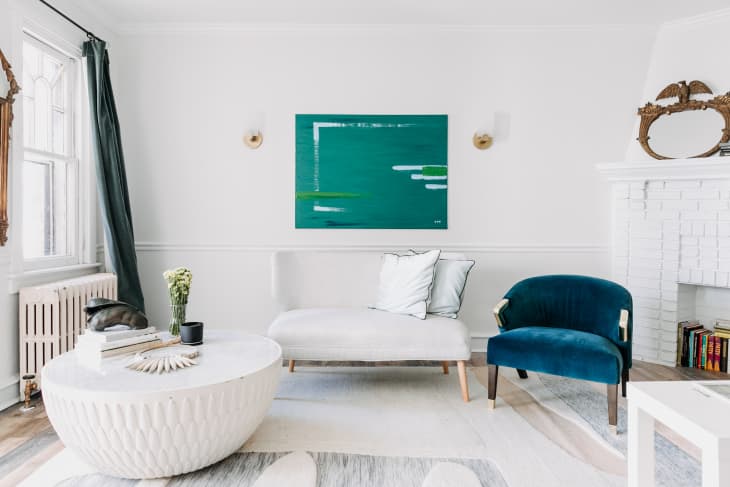 If your room feels cramped, clutter is usually the culprit. That's why Soto has a "grapefruit rule." Essentially, "anything smaller than a grapefruit when accessorizing is considered visual clutter," she says, and it should get the boot. You can also use this rule when shopping for new accents; as long as something is bigger than a grapefruit, it won't read as tiny on a table or shelf.
Philadelphia-based designer Dominique Calhoun of Remix Living suggests a 30-minute pared-down routine. "Look over all your surfaces from left to right, and toss or relocate anything obvious that jumps out as non-sentimental or not working with the room's design," she says. "Then group the remaining objects so that they look deliberate, using the rule of three: something tall, a shorter more sculptural piece, and a horizontal accessory." Need an example? "I'd style a coffee table with two stacked medium-size books, a small, sculptural object on top, and a taller plant beside them."