'Tis the season for sprucing up your living space for the new year. Whether you're on a tight budget or open to a total living room makeover, there's one simple but high-impact decor swap that interior designers say you can make to revamp your entire living room without expending much time, money, or effort. It's as simple as switching out your current throw pillows for fresh ones in new materials. Sure, it's an age-old tip, but it's the one thing designers default to time and time again because once you've shopped, you can make this switch in mere minutes.
Since throw pillows are typically used to tie various elements of a room together, designer Molly Torres Portnof of DATE Interiors (whose recent project is pictured above) says they have the power to set a whole new tone for your living room. "Throw pillows often serve as the focal point of the sofa," she explains. ".."
Of course, the best thing about swapping out your living room throw pillows to upgrade your space is that you don't necessarily have to buy new ones. You can move pillows you already own around from room to room or just buy or make new pillow covers. If you've thought about making this change but want to go about it with a strategy, these five designer-approved techniques will help you select covers or pillows that will make an impact.
Switch to seasonally appropriate throw pillows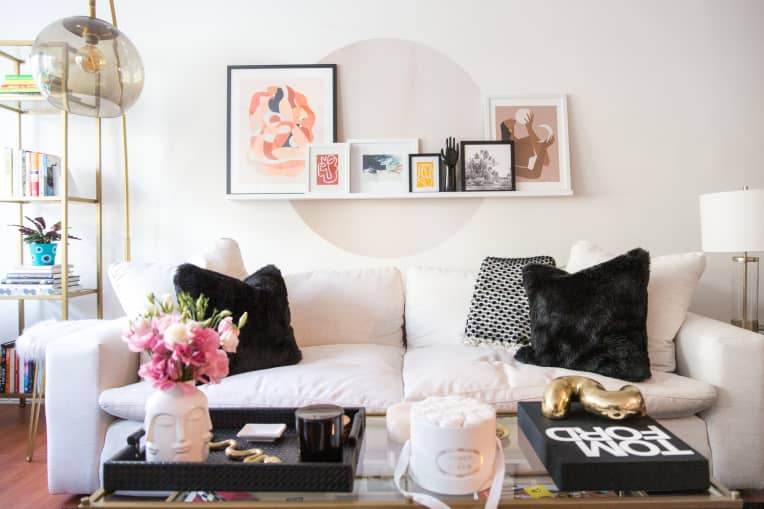 The easiest and potentially cheapest way to make a change to your sofa pillow situation? Bring in one seasonal texture in lieu of something that feels a little out of step. For example, no matter how much you love the look of crisp linen throw pillows on a sofa, they aren't doing you or your living room any favors during the cold weather months. "Swap out throw pillows in summery fabrics like linen and jute for ones made of denser materials such as velvet, wool, and faux fur," says designer Amelia Strat of Kroesser + Strat Design. "This way, you can usher some wintery vibes into your living room without having to go overboard with a seasonally specific decor."
Play with different color tones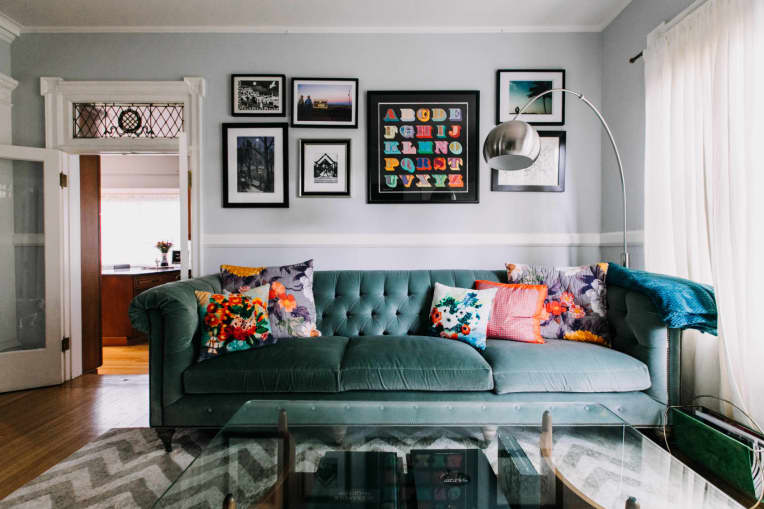 The one thing your pillows cape could be missing is a little bit of balance in terms of the colors you've chosen for cushions. To that end, Lauren Meichtry, the founder of the vintage design store Elsie Home, recommends decorating with throw pillows in both warm and cool tones throughout your space. "This could be as simple as pairing a throw pillow with a pale blue pattern with a golden yellow one on a chair or as detailed as mixing a variety of throw pillows with warm and cool undertones on a sofa," she says. If you've gone a little monochromatic and that wasn't your intention, introducing a little opposition might be all you need to make your sofa setup sing.
If you don't know where to start, look at your rug, artwork, and major decorative living room pieces for some color inspiration. Pull out one or two common shades—again, at least one warm and one cool tone here—and use these hues to guide your shopping for covers, pillows, or fabric for DIYing.
Mix and match pillows in the same color palette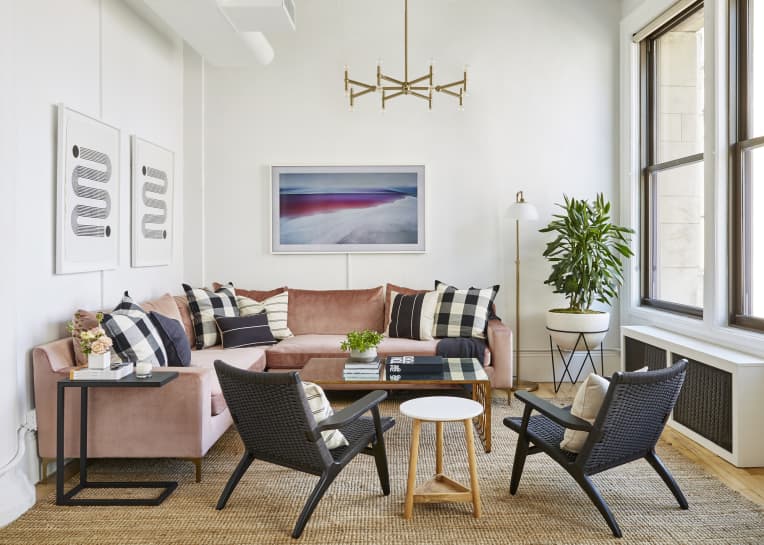 Sometimes it's all about sticking to a really tight palette of one or two shades. To transform an outdated sofa into a fresh living room scene, Portnof actually suggests incorporating an assortment of throw pillows in the same color scheme. "Layer throw pillows in different textures and patterns that are similar in color to create a visual contrast and interest in a living room," she advises. That's what she's done here with the buffalo check and striped cushions shown above, which all adhere to some form of a charcoal and cream combo. That said, warm and cool tones are still very much part of this mix, and she's certainly pulled this palette from her artwork and accent pieces.
Try a new shape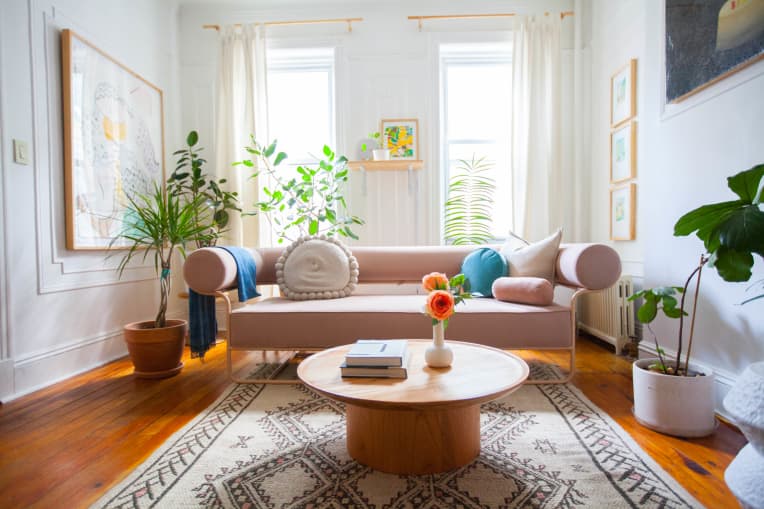 When you want to really shake things up on your sofa, introduce an unconventional silhouette to the mix. Ball cushions, round pillows, and pill-shaped bolsters can all add gentle curves to an assortment of square pillows, while triangle or pyramid-shaped pieces can bring in directional diagonal lines. Just note that some of these types of cushions can be a little difficult to store when not in use since they often can't be flattened and stacked the way traditional square and lumbar pillows can. They'll certainly make up for that in how much fun and whimsy they can add to a living room. You don't need to pile any of these on either; one or two matching alternative shape pillows will do the trick.
Vary the scale of the patterns on your pillows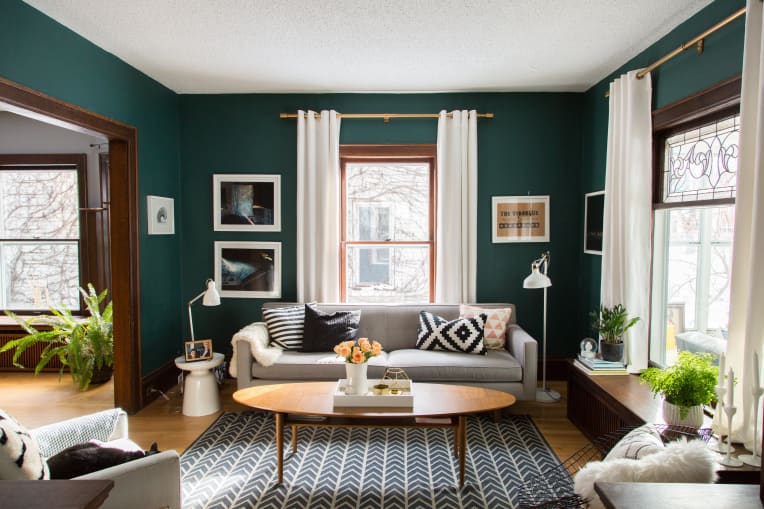 Pattern-mixing is tricky, but here's a good rule of thumb to use when selecting pillows to pair together: Match a larger scale print with something smaller or solid. This contrast helps to create visual contrast, which, in turn, can help balance out your pillow shape. The eye needs a place to rest, and if all of your cushions are competing against one another, the arrangement can look off, even if each individual pillow is beautiful.