Curating a home that feels welcoming – one that beckons you to linger and wander – will make for a thoroughly enjoyable, memorable, and inviting space for both you, your family, and your friends.
These exquisite ways to make a home feel welcoming – and more attractive – are a great starting point to help you choose the right home decor ideas for each room – what you choose should reflect what you love, too.
HOW TO MAKE A HOME FEEL WELCOMING
'A home evolves over time – some argue it never gets to a stage of full maturity – and yet I am often asked how you can quickly and cheaply inject new life. I believe there are a number of ways to instantly get an amazing look,' says interior designer Martin Brudnizki. 'Every object and every space should make a contribution to the home – even a single piece of art can make a big and immediate difference.' Here are some of my easy wins to help make your house feel more like home.
1. CREATE INSTANT CURB APPEAL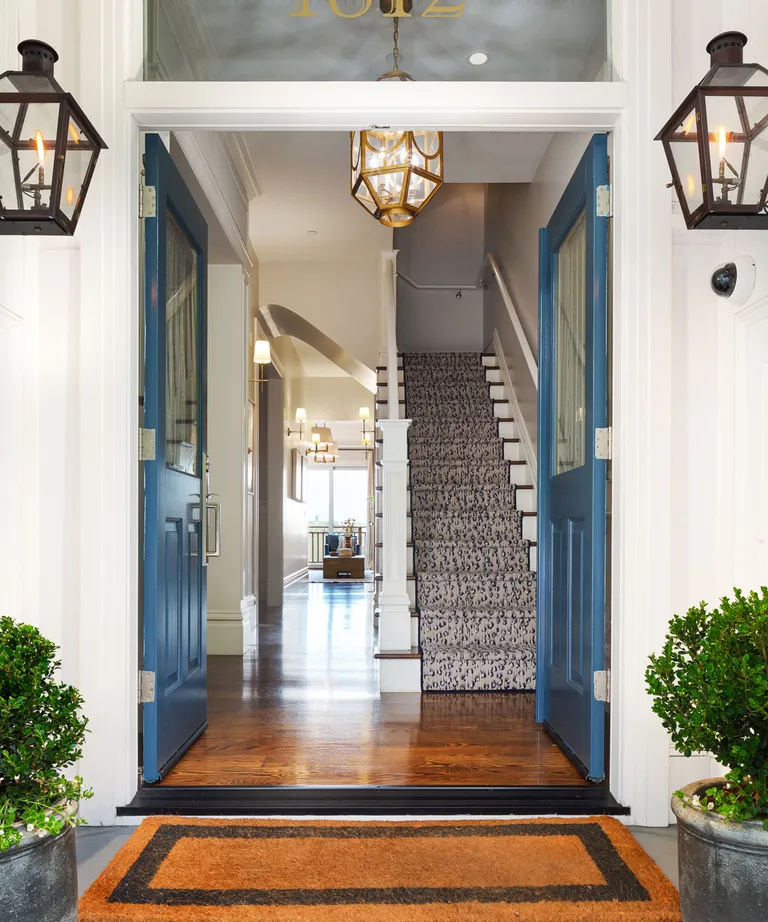 Greet visitors, yourself, and your family with ways to make a front door more attractive.
The term 'curb appeal refers to the attractiveness of a home's external appearance, particularly the way it looks when viewed from the street – that all-important first impression that molds the opinion of every visitor and passerby. Designing a home with universally aesthetic appeal is a tall order, but worth it when curating a home that feels welcoming and inviting.
If you want to add instant curb appeal, think about introducing symmetrical elements to add the most curb appeal. Symmetry in interior design is a technique used by designers to create a space that looks incredibly cohesive and tailored – and therefore welcoming and inviting. A simple solution is to introduce a symmetrical pair of topiary planters to your front décor ideas, as demonstrated in this space by Margaret Ash Design. Clipped evergreens are perfect for creating a punctuation point in your planting scheme, for introducing low shapes to front yard walkways, and are the optimum choice for making your front yard look nice.
Our welcome mats are constructed from a looped vinyl which makes them easy to clean and durable enough to stand up to the elements. Whether you want to showcase your refined decor style or get funny with it—they're a must-have for your home and making a great first impression.

<< More Welcome Mats Ideas >>
2. CREATE A WELCOMING SPOT FOR VISITORS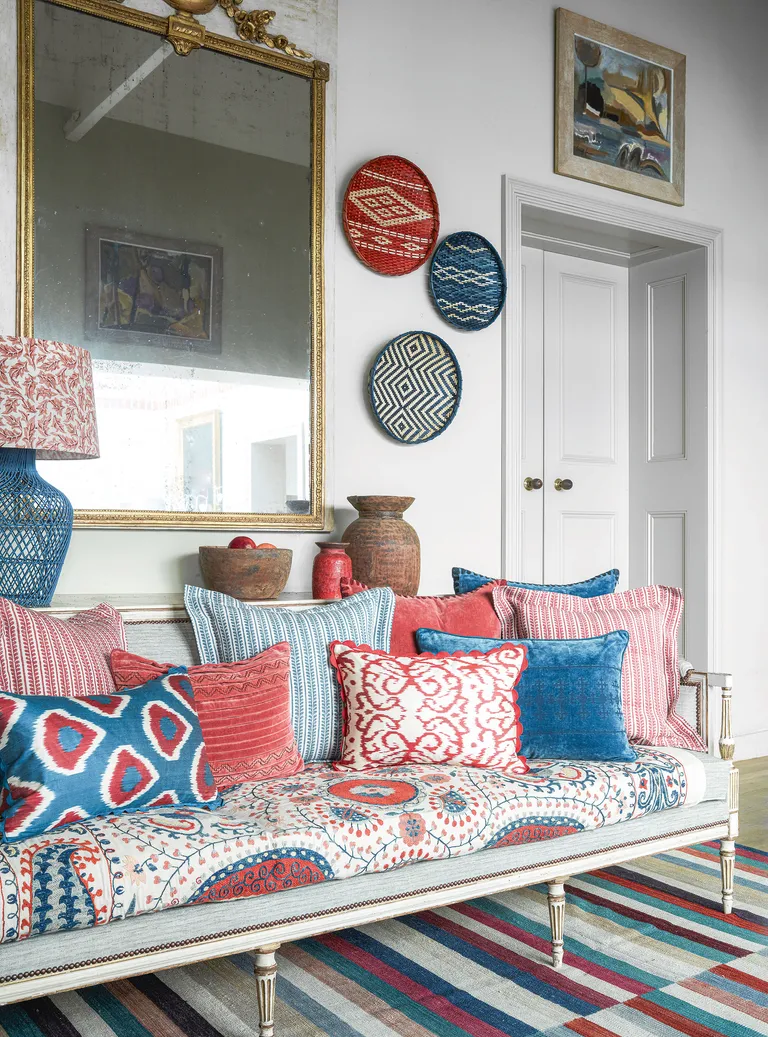 Creating an entryway that's impactful but functional, aesthetically pleasing but entirely practical is a fine balance. However, it's a vital area of home design to get right, despite the fact the only time spent there is when we're passing through. So, while browsing the most beautiful entryway ideas, what do you need to consider? Priorities include making an entryway inviting while minimizing clutter – the two go hand-in-hand.
'To make a home feel welcoming, think about the impact the entryway will have when you first walk in,' says luxury home accessories maker, Birdie Fortescue. Take inspiration from this space by designing a cozy corner to sit, layered with piles of cushions for warmth and beauty. 'If you have space, a rug with a practical texture is a great addition, particularly underneath a well-proportioned entryway table,' says Birdie.
It is certainly worth designing an entryway with other areas of the home in mind. 'Many rooms lead off the entryway, so the design not only sets your home's tone but also creates an inviting place for guests,' says Tom Cox, co-founder, of Hám Interiors.
Add throw pillows to whatever room needs an extra dose of comfy. Individually cut and sewn by hand, each pillow features a double-sided print and is finished with a concealed zipper and faux down insert. Keeping an assortment of throw pillow designs on hand is the easiest way to give any space an instant refresh. Available in four sizes.

<< More Throw Pillow Styles >>
3. BUILD A COLLECTION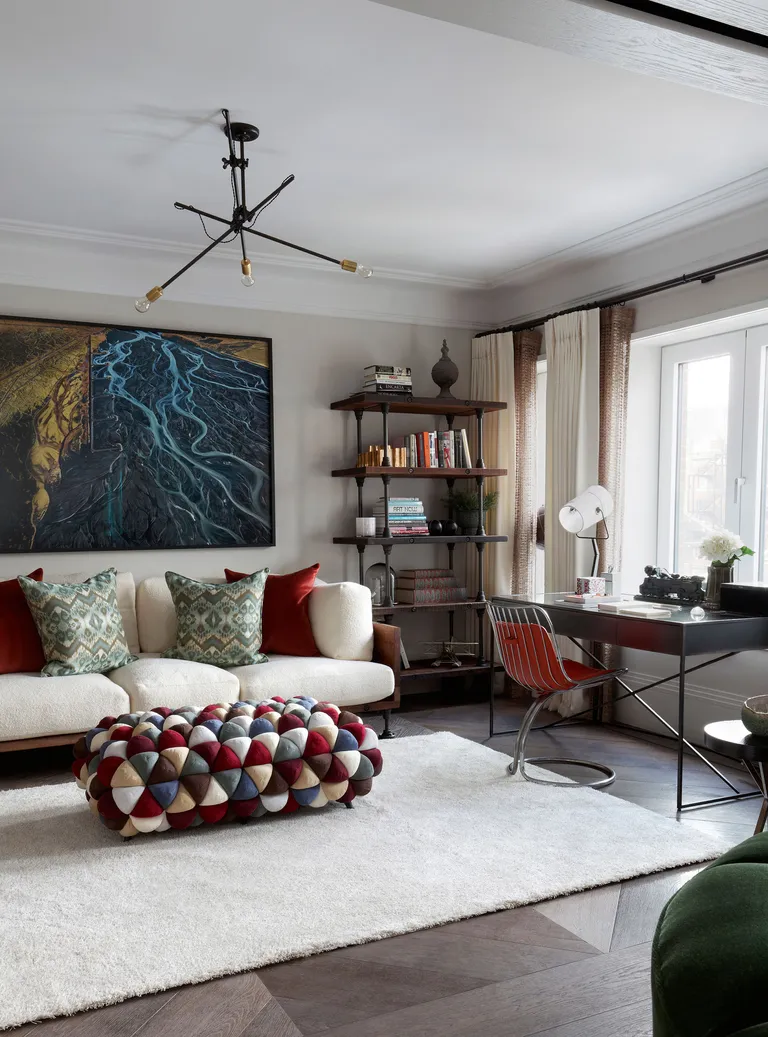 If you want to make a home feel welcoming, it is important to make a house really feel like a home. Your home is an expression of your life: its contents should reflect your journeys, experiences, loves, and stories. It is not just a place to rest your head and cook dinners. 'I am a strong believer in owning and building collections – from restaurant ashtrays to Murano glass fruit and vegetables,' says interior design Martin Brudnizki.
'First, find your niche interest and start building the collection. Perhaps it's Italian engravings, Meissen ceramics or 19th-century landscape paintings,' he says. 'Don't be afraid to really get under the skin of collecting. I think it's healthy to develop interests and expertise in a small field. Reading alongside my shopping expeditions has allowed me to further my eye.'
'Once the collection is established turn your attention to displaying it. I believe the key to any room is to create a mix so it looks like you're a great collector with a diverse set of art, antiques, and objects. However, within that mix you have groupings.'
Our outdoor floor cushions are the super comfy and style-forward option for outdoor seating. They're UV coated to protect against fading and water resistant so you can avoid scrambling to bring them inside whenever there's a touch of weather. Grab a few to have on hand whenever seating is hard to come by or for a fun option for kids to use out in the yard.

<< More Floor Cushion Styles >>
4. ARRANGE YOUR SEATING FOR CONVERSATION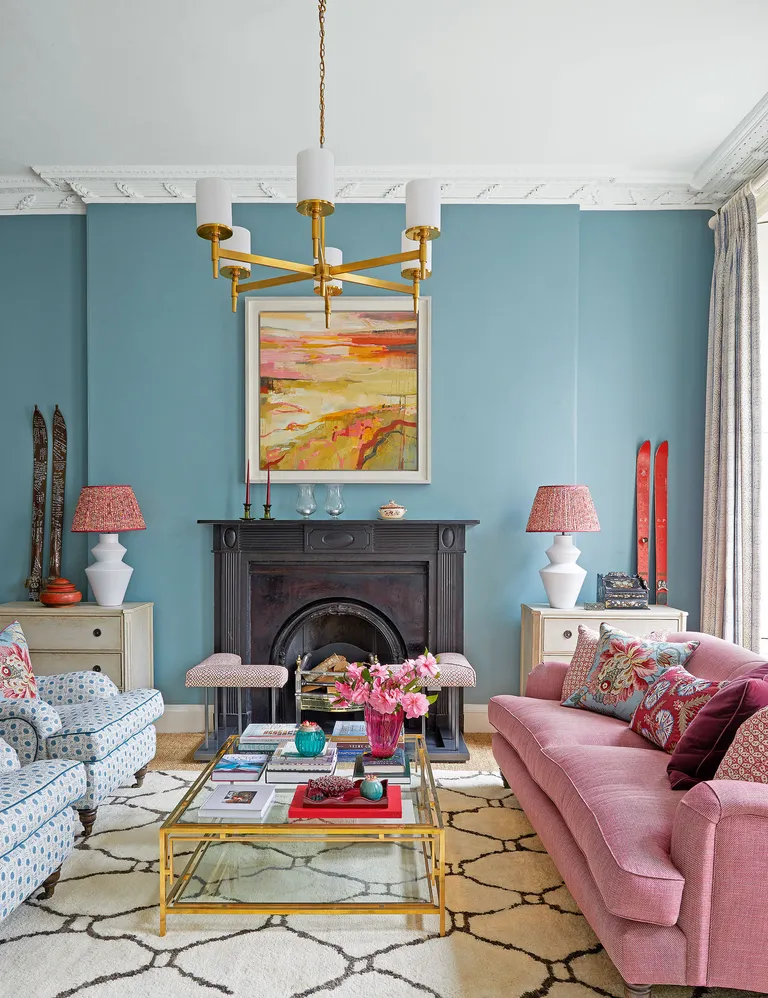 Perhaps more than any other piece of furniture, the sofa is the linchpin of comfort and relaxation in the home. Because of this your want to get your living room seating just right.
'When you have people over for gatherings, you really notice when you've got the seating arrangements right,' says interior designer Nina Campbell. 'Seating plans are very important – and not just at a dinner table. I like to think of seating plans for the living room or family room when I have guests over, and for that, you need what I call "conversational seating"'.
'The number of chairs you set out is an important consideration. Odd numbers are good for seating plans in general because it allows for some rotation of guests. The interior designer Elsie de Wolf wrote in 1913 that you must never place a chair on its own in a room; she was very shy herself and noted that it is always the shy person who arrives first, sit on the lone chair, and then often rooted there for the whole party. But two next to each other does not always work, either. I find that two people sitting side by side do not always speak to each other, so having an occasional chair pulled in at a diagonal can create conversational triangles.'
The sofas and bigger pieces of furniture should be covered in a tough, strong, and relatively plain fabric, so you don't tire of it; they are expensive to recover. You can jazz them up with cushions and throws.
Express your style all over your home with a feature-worthy rug. They're made from a woven, polyester chenille for a soft and textured look. Plus, choosing from our wide array of designs, you're sure to find just the rug to match your decor. Rugs are one of the best, attention-grabbing pieces to design a room around. Use the colors within the rug to help choose art prints, furniture fabric and accent pillows.

<< More Area Rug Styles >>
5. SOFTEN SHARP CORNERS WITH CURVES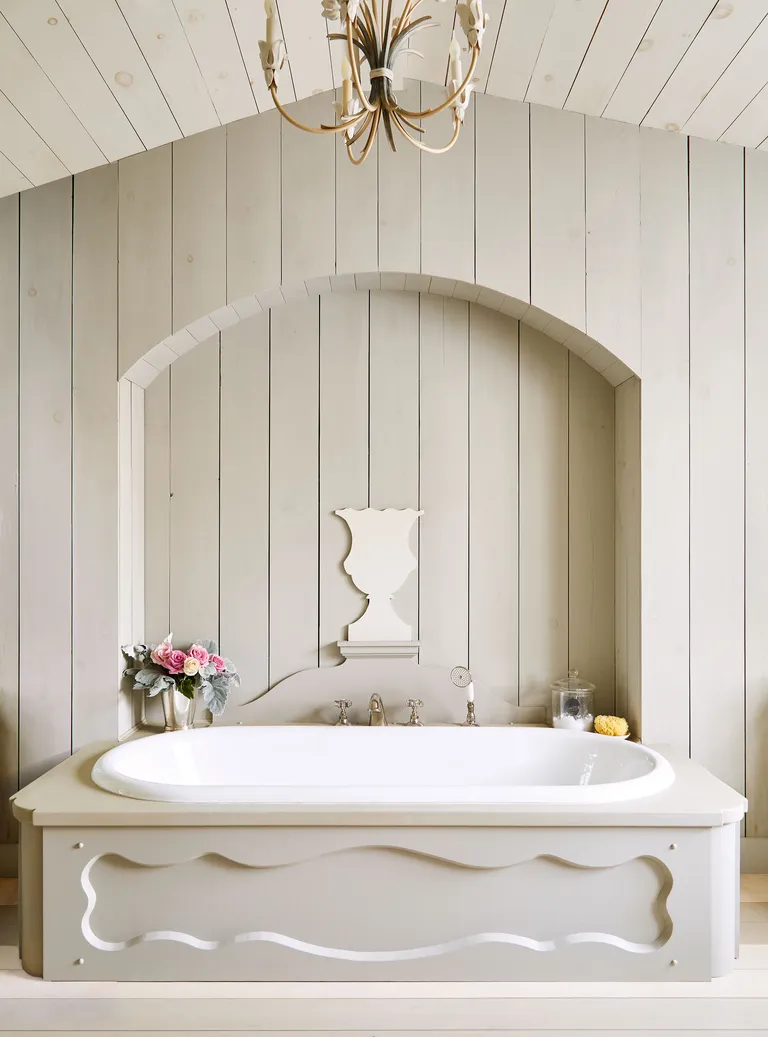 Move over slim profiles and hard angles – voluptuous curves are where the most desirable and welcoming homes are heading.
Modest materials can play a harmonizing role that tones down ornately curved motifs. 'Curves are my addiction – they add instant dynamism and yet make people feel uplifted and relaxed,' says interior designer Colette van den Thillart.
'I strive to use them in more unexpected ways, like the urn silhouette here, which has a lovely simplicity and humbleness as it's fabricated in the most unassuming of materials: fibreboard. The arch lends a hint of grandeur and gives some architecture to the simple space, but again because the materials and painted finish are modest, its overall effect is so pleasing and friendly!'
Our shower curtains are the perfect focal point for any bathroom with our artists' array of eye-catching designs. Hookless and extra long, these curtains will surely fit in any bathroom setup. Plus, they're machine washable to avoid any soap scum or buildup.

<< More Shower Curtains Styles >>
6. INTRODUCE DELIGHTFUL DECORATIVE MOMENTS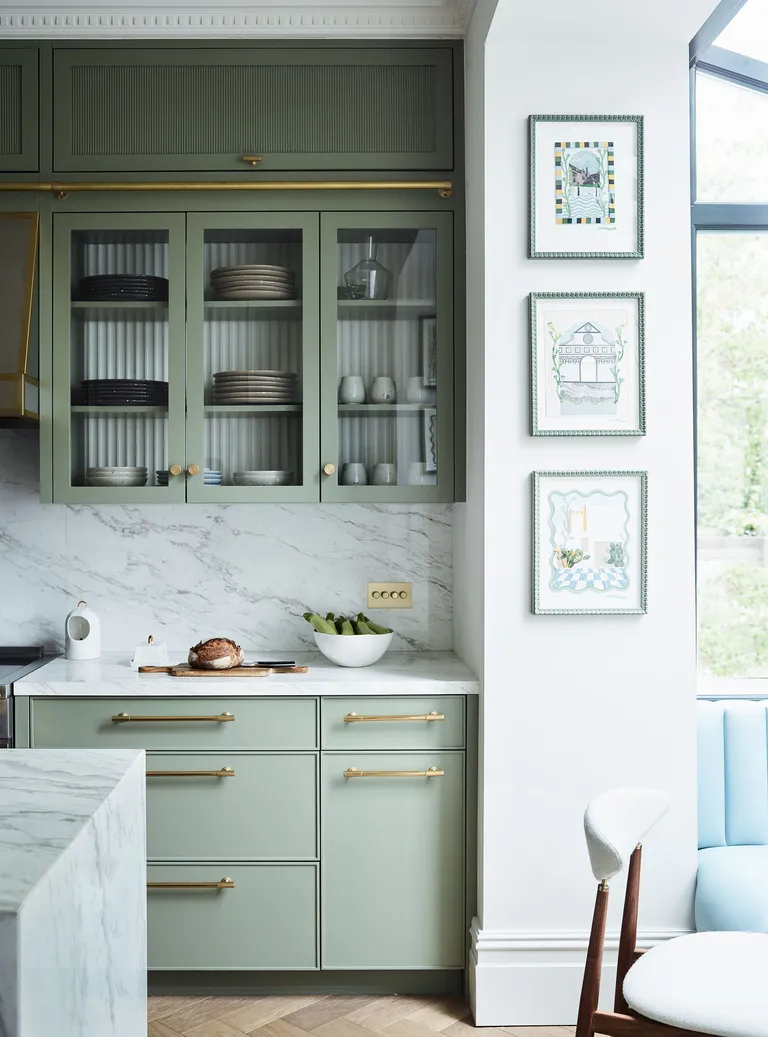 Use open shelving to introduce decorative moments that make a home feel welcoming and inviting.
Be they decorated with ceramics, vintage glassware, plants, or recipe books, shelves can be used to add individual style to a kitchen, as Mike Fetherston, design director of Hetherington Newman, explains. 'As kitchens are increasingly central to the home and where families come together for meals and to socialize, areas for display are important to personalize the space and add interest, giving a more relaxed and welcoming feel.' Choose from floating shelves (without visible supports) to those with stylish brackets, from plate racks to cubby holes built into furniture.
Simple LED strips or miniature spotlights can be used to illuminate shelf displays, enhancing their impact and adding subtle evening glamor, especially useful when you want to create a softer mood for dining.
Our natural cotton tablecloths are a great way to create the right mood for your next dinner party or everyday tablescape. Each rectangular tablecloth features an independent artists' design, finished edges and a folded hem. They're lightweight, machine washable and make an easy decor swap depending on the season.

<< More Tablecloths Styles >>
7. MASTER THE ART OF CURATED COLOR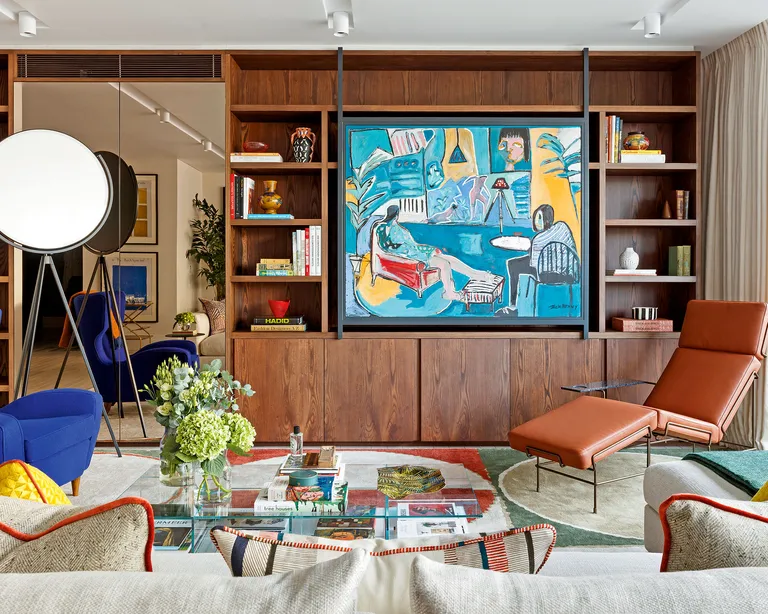 Choosing the right shade for an inviting space can present endless choices and subtle nuances to understand and overcome, but get it right and you can create a home that feels welcoming.
Color theory and the color wheel in its entirety can be complicated but there are a few basic principles to help steer you in the right direction, explains Patrick O'Donnell, brand ambassador for Farrow & Ball.
'Paint ideas and paint tricks are the perfect way to transform a space easily, adding personality and character,' says Ruth Mottershead, creative director of Little Greene. 'Bold, vivid tones work well in rooms made for entertaining or to see a lot of activity, such as kitchens and living rooms. A pop of color is a great way to add impact and an element of surprise to a scheme. Bold colors are also great for spaces with lots of light and can be used in bigger proportions without being "too much"'.
Colorful art is another way to go bold. A favorite painting can be a good inspiration and art is always the starting point for any scheme by Sophie Ashby of Studio Ashby who is known for her dynamic designs. 'Ideally, we would work from a client's own collection. From that, we can then build a color palette and design references,' says Sophie.
Our blackout window curtains are a denser alternative to your standard window curtain, blocking out most light and proudly featuring your favorite designs. Whether you live in a busy apartment or a peaceful neighborhood, it's always nice to have the option to shut out the sun and relax inside by the candlelight. Available in either single or double panel options. A double panel features the same design on both panels. The bottom edge of curtain includes a 2″ pocket that can be used as a hanging pocket, but beware that the artwork will be upside down for any non-patterned designs.

<< More Blackout Curtain Styles >>
8. ADD PLANT LIFE TO YOUR HOME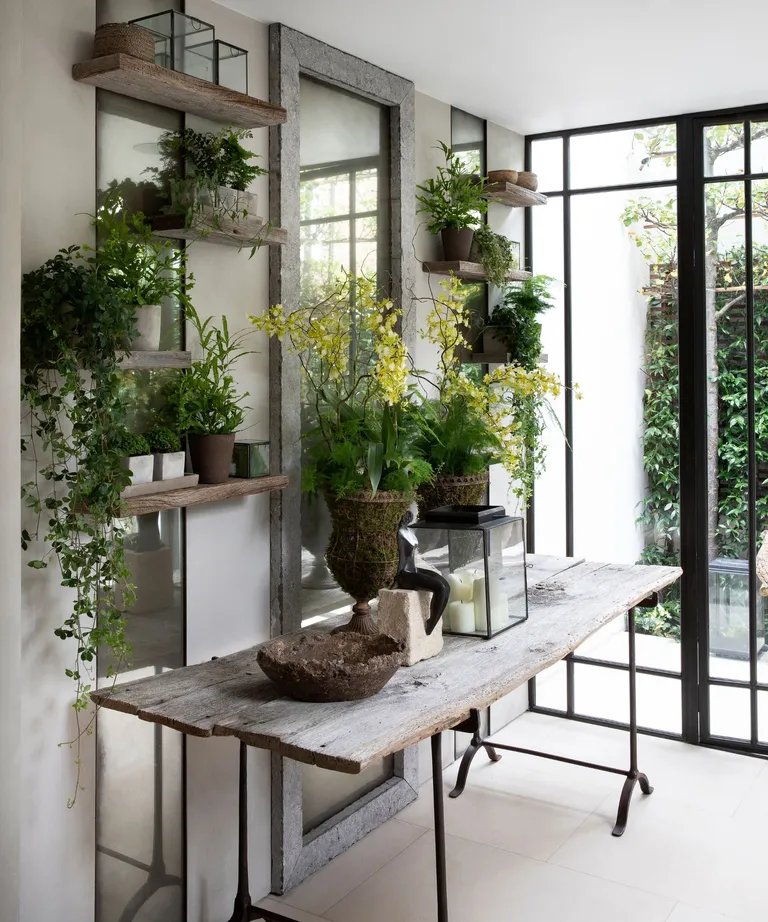 One cheat that comes to mind when thinking about how to make a home feel welcoming plants and bringing the outdoors in. The best indoor plants have never been so affordable and accessible: a quick visit to your local garden center or nursery and you can pick up a whole jungle of greenery that will instantly bring life to a drab corner. Pot up all manner of vessels with bulbs or, if this isn't for you, simply treat yourself to seasonal fresh flowers in a pretty vase or jug.
Our floor pillows are the perfect pick for seating in a pinch. They're overstuffed and firm to never lose their shape and the high-quality print makes sure the design stays crisp and colorful. Available in round or square, with two size options.

<< More Floor Pillow Styles >>