It's nearly mid-January, so by now you might be thinking, "Not another 2022 decorating trend story!" But so many homes, tech, and trend forecasting companies shared their thoughts on home decor in December that we had to catalog the most interesting concepts that emerged from their individual perspectives. Honestly, who doesn't like an opportunity to peek into a crystal ball, especially when "the future" is backed by sound search data? These trends caught our eye, felt fresh, and are primed to take off big-time this year.
Emotional Escape Rooms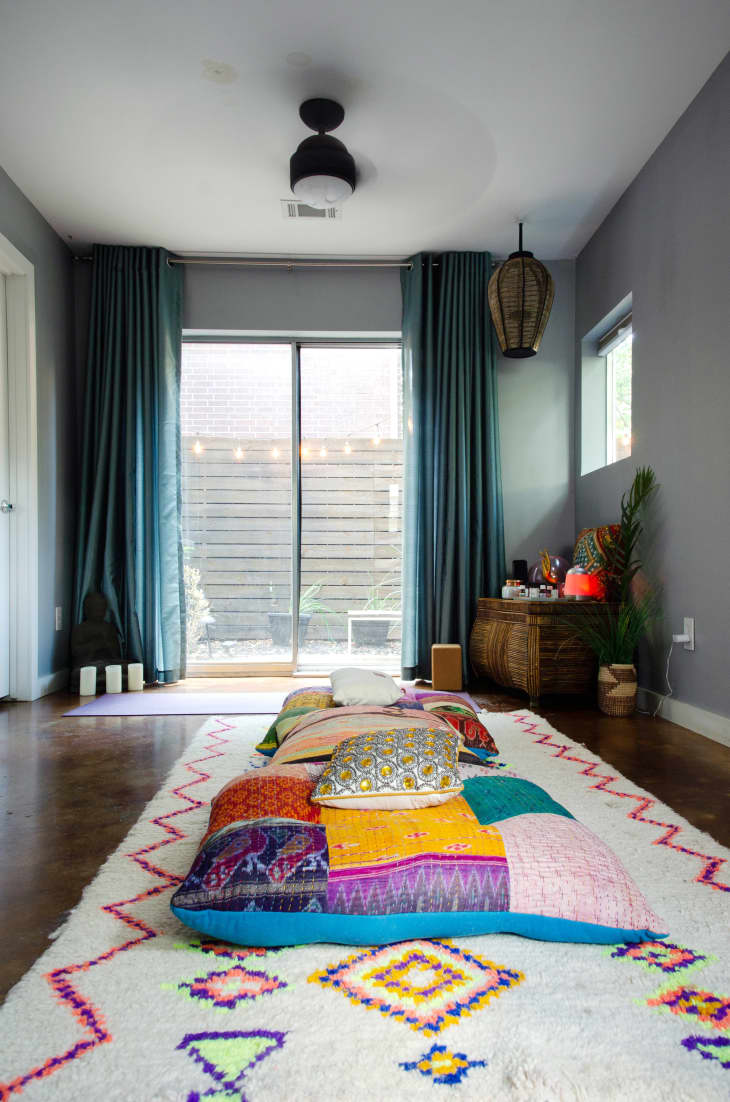 According to Pinterest, 2022 will be all about feeling your emotions in spaces designed to soothe, decompress, or nurture a wellness-fueled hobby like playing a musical instrument or kicking back and listening to vinyl. Searches across the site are also up for things like a tiny library room, home massage rooms, and even a rage room, the last of which is a space catered to releasing negative energy. Depending on the size of your home, this kind of space could be full rooms or small corners carved out of larger areas.
<< Our floor cushions are the super comfy and style-forward option for outdoor seating. They're UV coated to protect against fading and water-resistant so you can avoid scrambling to bring them inside whenever there's a touch of weather. Grab a few to have on hand whenever seating is hard to come by or for a fun option for kids to use out in the yard. >>
Nature-infused Elements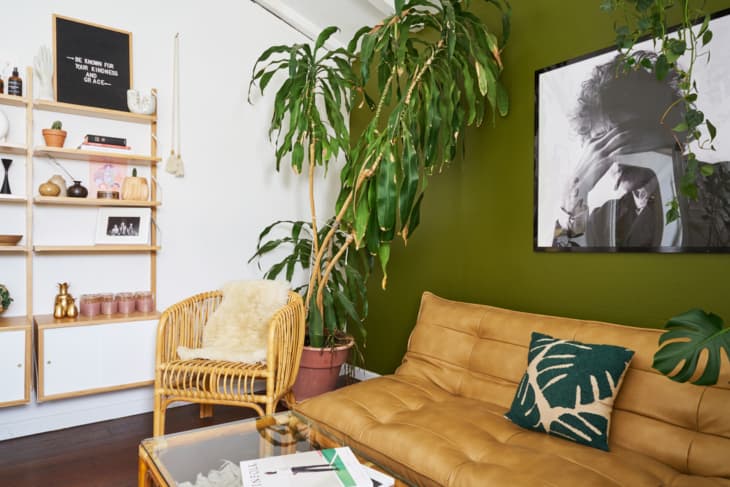 For WGSN, a global trend forecasting company is formerly known as formerly Worth Global Style Network, 2022 will be all about holistic and healthy spaces that bring nature's benefits indoors. Think plenty of plants, hits of the color green, and natural materials like leather and rattan. They're also predicting the use of more materials that mimic natural formations that you could see outside on a hike or walk in the forest, from burl wood (which showcases interesting knots and outgrowths in trees) to large slabs of stone (which feature unique striations formed over centuries).
<< Add throw pillows to whatever room needs an extra dose of comfy. Individually cut and sewn by hand, each pillow features a double-sided print and is finished with a concealed zipper and faux down insert. Keeping an assortment of throw pillow designs on hand is the easiest way to give any space an instant refresh. Available in four sizes. >>
Dusty Blue Details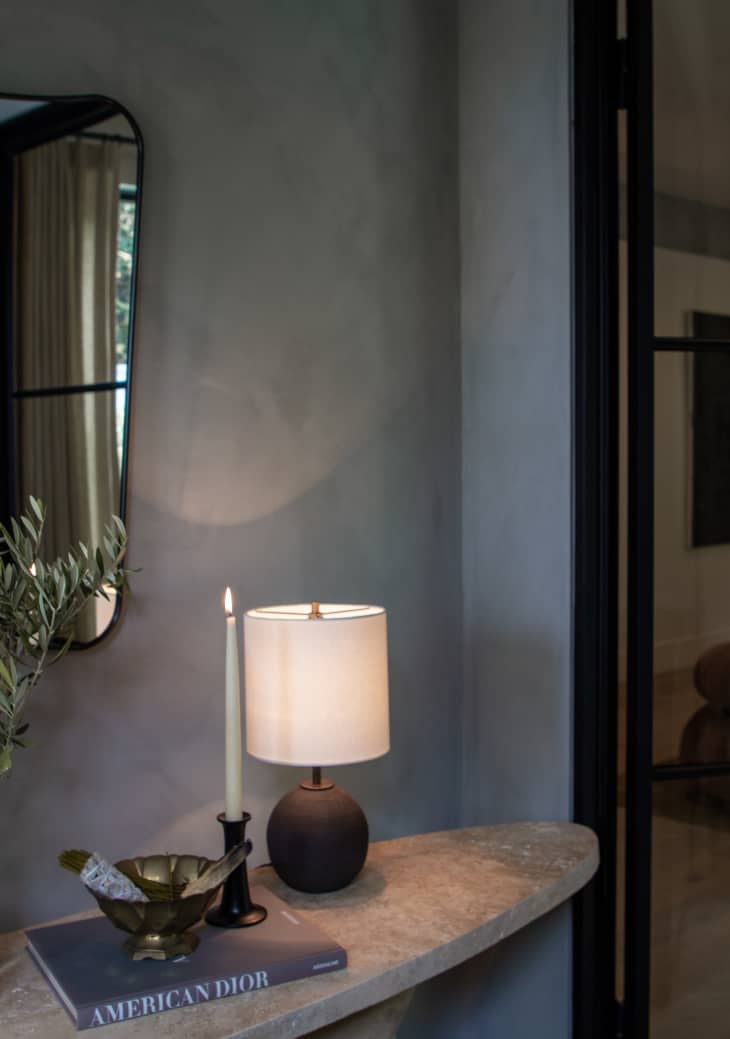 You've probably been hearing all about how 2022 is the year of sage green for the home, but that doesn't mean other colors aren't bubbling up in the design world, too. If designer Jeremiah Brent's expert insight is any indication, blue might also be back in a big way. "I'm not one that naturally gravitates towards color, but I've recently been incorporating certain hues of blue into my designs to canvas a space," says Brent, who partnered with Yelp on a 2022 trend report. "Muted and textural applications of blue are certainly having a moment." The designer himself chose dusty blue plaster walls for the living room in a recent Los Angeles project, which you can see above. "Whether it's adding an accent wall, drapery, or decorative pillows, look to dusty blues in 2022 for a timeless moment of color," says Brent.
<< It's easy to get lost in sleep in our warm yet lightweight comforters. Colors pop on this bedding staple and they will surely be the focal point of your bedroom's decor. Choose from either synthetic microfiber or our natural fiber cotton. Available in Twin, Twin XL, Full, Queen, and King sizes. >>
Curve Appeal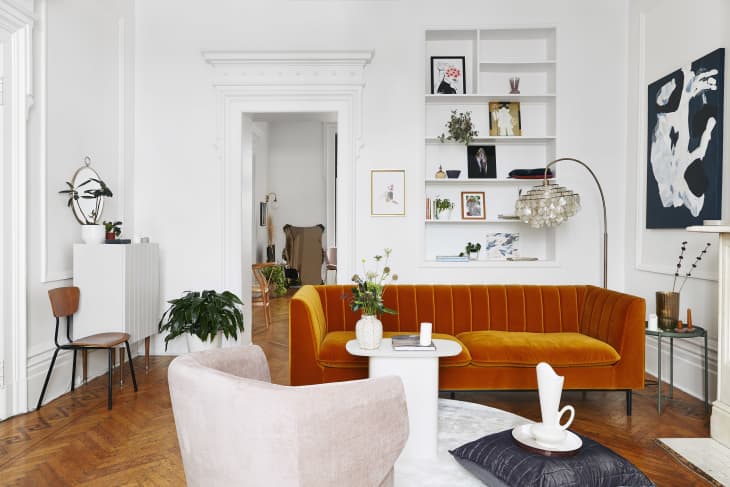 The 2022 Pinterest Predicts report doubled down on the curved furniture and furnishings trend we've been talking about for a while now. Specifically, Boomers, Gen X, and Millennials are fueling this turn to rounded edges and soft corners, perhaps for their so-called calming effect and easiness on the eyes. What's particularly interesting is that Pinterest believes this trend is about to evolve from curvy couches and chairs to curved walls, bars, and even kitchen islands, which I actually wrote about back in early 2019. See? Design trends always do come back around.
<< Our floor pillows are the perfect pick for seating in a pinch. They're overstuffed and firm to never lose their shape and the high-quality print makes sure the design stays crisp and colorful. Available in round or square, with two size options. >>
The Healing Home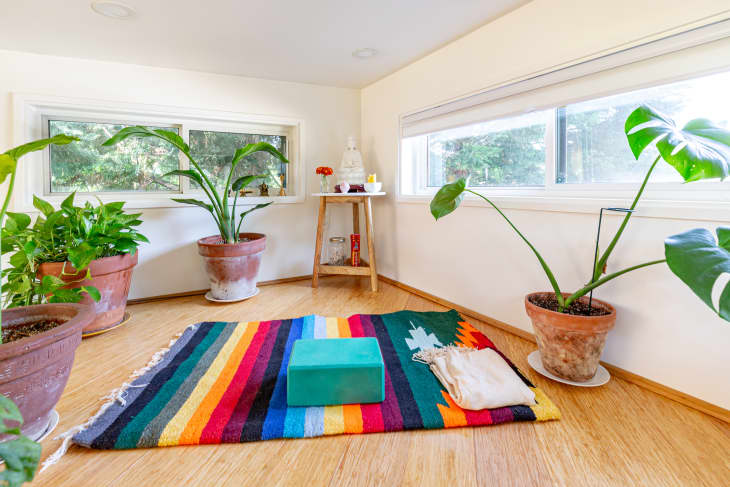 Similar to Pinterest's concept of emotional escape rooms but a bit more nuanced, WGSN is predicting that consumers will be filling their homes with products, materials, and finishes that support spiritual connection and aid in mindful relaxation. This could play out quite literally in spaces like the meditation loft that you see above, or you might see this in the use of quiet colors and the prominence of meaningful art and objects in deeply personal interiors.
<< Express your style all over your home with a feature-worthy rug. They're made from a woven, polyester chenille for a soft and textured look. Plus, choosing from our wide array of designs, you're sure to find just the rug to match your decor. Rugs are one of the best, attention-grabbing pieces to design a room around. Use the colors within the rug to help choose art prints, furniture fabric, and accent pillows. >>
A Return to Artistry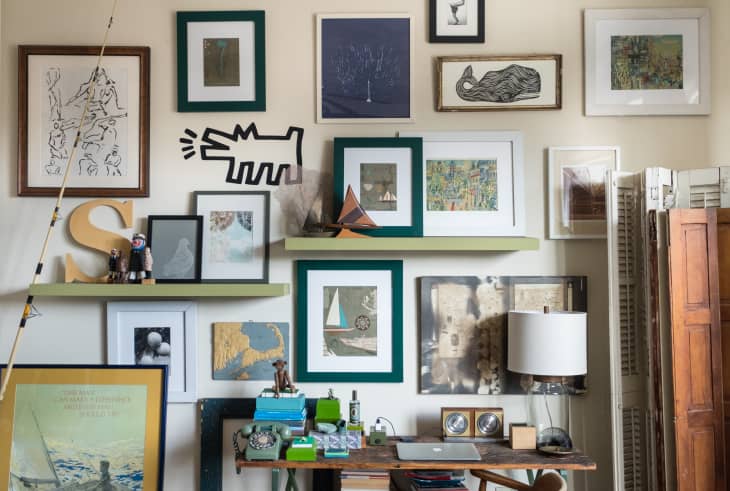 "This year is all about making a space yours," Brent says. What better way to express yourself through your home design than with curated artwork and special touches like custom furniture or restored vintage items? "We have a collection of meaningful pieces that have moved with us from home to home but are so excited about the new art we've additionally sourced for this renovation," Brent says of the new home he's working on with his partner, designer Nate Berkus. "Yelp saw a 181 percent increase in searches for professionals to assist with installing art, a trend that we'll be partaking in as it supports another level of personalization within your home."
<< Give your prints the finishing touch. Our framed art prints are available in a variety of frame styles, colors, and sizes to compliment your favorite Society6 artwork. Every frame comes ready to hang and features a premium shatterproof acrylic to preserve the artwork beneath. Framed prints are available in four sizes, from x-small to large. >>