Many of us know Zoom fatigue a little too well, but I'd argue another equally prevalent side effect from this past year has been furniture fatigue (you heard it here first!). Think about it: Depending on your home "office" situation, you're looking at the exact same living room, kitchen, or bedroom set up all day, every day. It's beyond monotonous, no? If you feel like you've exhausted your options for new furniture, decor, and inspiration, don't worry. Design duo Robert and Cortney Novogratz have a brand-new store, House of Novogratz — their first-ever brick-and-mortar store! — and it'll help you find fresh ideas for your whole home.
The Los Angeles store is actually a bungalow-style, six-room home that doubles as a showroom for the couple's eponymous home and lifestyle brand, Novogratz, as well as a studio and event space for future partnerships.
"House of Novogratz is a dream project for us," Robert and Courtney Novogratz said in a press release. "[It's] a public space to host our friends, family, and collaborators. A place where we can share new products, as well as feature designers, artists, and performers of all kinds."
Not based in the Los Angeles area? No problem! I got an in-depth (virtual) look at the 2,000-square-foot design haven and spoke with the husband and wife about a few of their favorite styling ideas. Furnished with the same spunky, mood-boosting pieces you know and love from the Novogratz collection, this launch packs inspiration into every corner, and these tips can be put to use in your place, too.
Storage solutions should never feel boring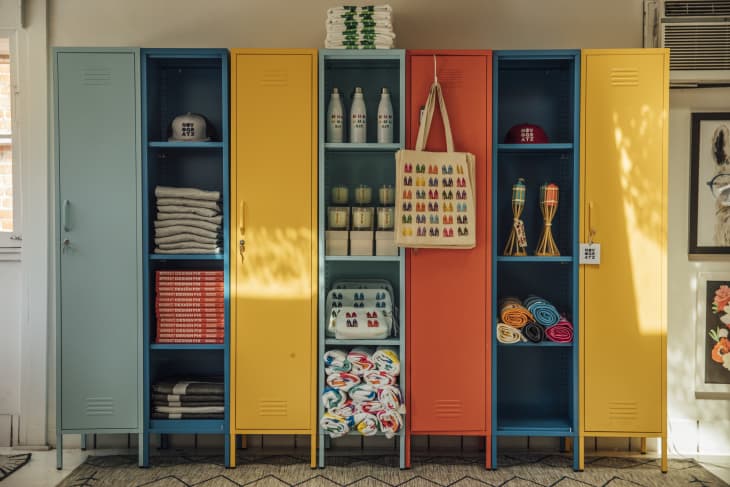 Tucking away your knickknacks has never felt so… fun. The colorful Novogratz Cache collection features ultra-nostalgic locker-style cabinets in an assortment of happy hues and shapes. There's even a matching end table and rolling cart, which would work great in a living room, playroom, or mudroom. For a more under-the-radar (but just as cool) storage solution, check out the very reasonably-priced Kelly upholstered bed with two nifty side drawers.
Our outdoor floor cushions are the super comfy and style-forward option for the boho side of us all. They're UV coated to protect against fading and water-resistant so you can avoid scrambling to bring them inside whenever there's a touch of weather. Grab a few to have on hand whenever seating is hard to come by or for a fun option for kids to use out in the yard.

<< More Outdoor Floor Cushion Styles >>
Flexible seating is key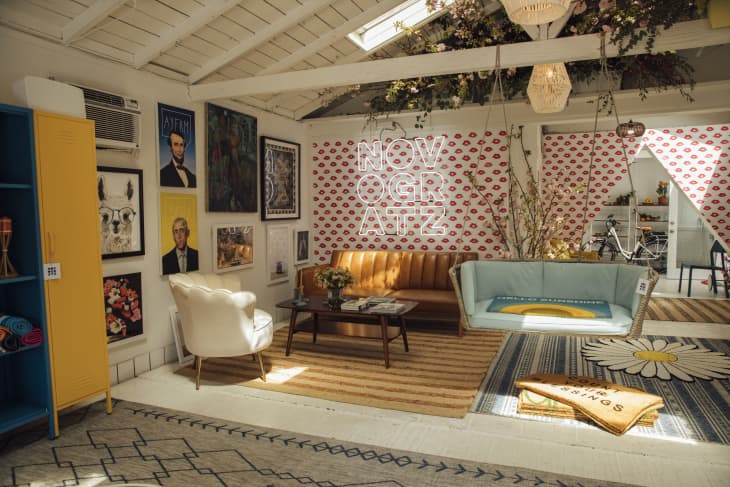 The store has a ton of diverse seating choices, from armchair accents to storage-filled sectionals, and you can even create the ultimate focal point with the upcoming loveseat swing chair, inspired by the customer-favorite outdoor swing they launched last year. The pair also favors plenty of stackable chairs. "It's a great space-saver, and there's always room for one more at a Novogratz table… therefore we often need more chairs," say the Novogratzes.
Add throw pillows to whatever room needs an extra dose of comfy. Filled with a fluffy faux down insert, you don't have to sacrifice comfort for style. Available in four sizes and all measurements are made without pillow insert.

<< More Throw Pillow Styles >>
Think outside the box for entryways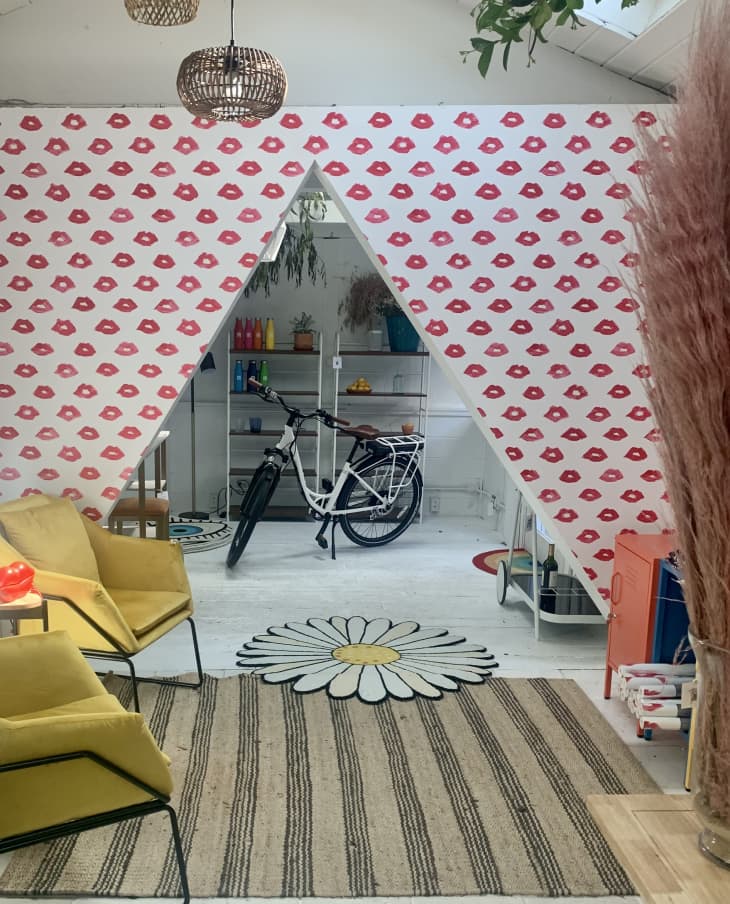 Literally! The House of Novogratz space features an A-frame-inspired triangular doorway in between two of the rooms, which artist and friend of the couple Donald Robertson turned even more next-level with an exclusive punchy peel-and-stick wallpaper he designed in collaboration with them. "The triangle pulled the flow of the bungalow style from outside to indoors, and the bold pattern made it pop," says the couple.
Start it from the bottom, get it here. (Okay, maybe revised Drake lyrics aren't our thing.) What is our thing? Allowing you to express your style all over your home with a feature-worthy rug. They're made from a woven, polyester chenille for a soft and textured look. Plus, choosing from our wide array of designs, you're sure to find just the rug to match your decor. Available in two sizes.

<< More Rug Styles >>
The more rugs, the merrier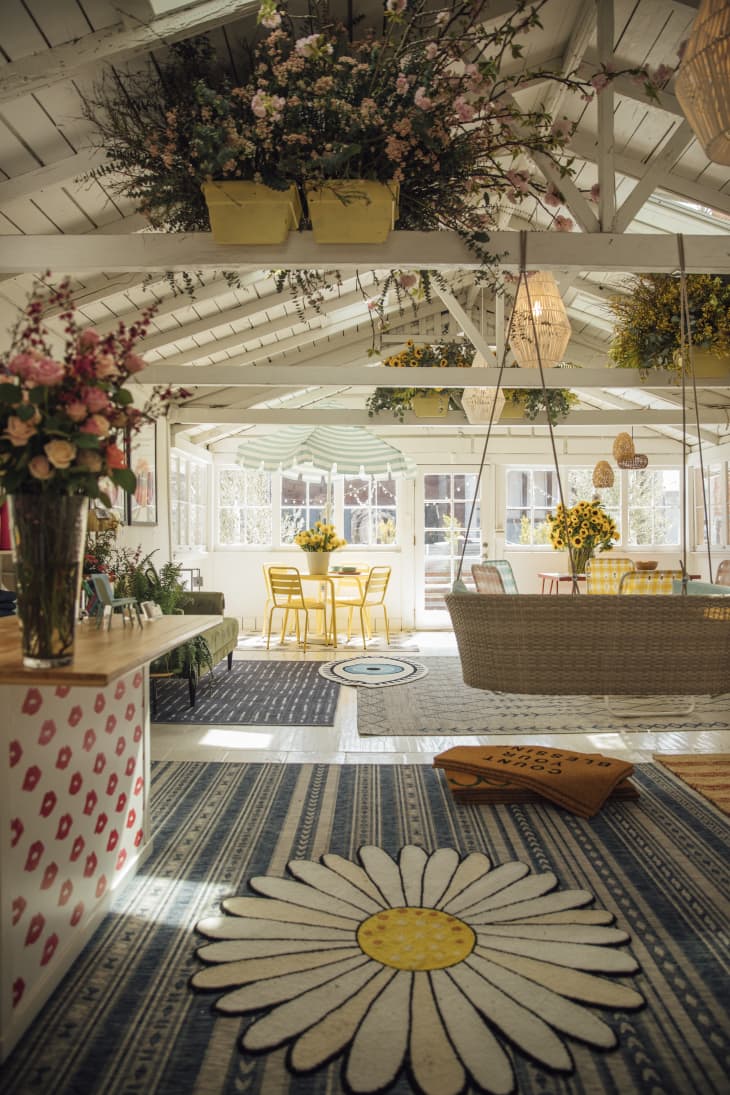 "Layered rugs help create flow," explains the Novogratzes, nodding to a recurring House of Novogratz styling method. "For a store, it's great because it invites people to flow through, or it can anchor a particular vignette." The same sentiment holds true for the home, especially with smaller round or oval scatter rugs atop larger rectangular ones. If you don't take my word for it, try Edgar Allen Poe's. "[He] said, 'The soul of the apartment is the carpet,' and we love that saying," said the Novogratzes.
As experts in the field of sitting down, we thoughtfully crafted our Floor Pillows to be overstuffed, plush, and firm. These cushions never lose their shape, and the high-quality print makes sure the design stays crisp and colorful.

<< More Floor Pillow Styles >>
"Wallpaper" can be living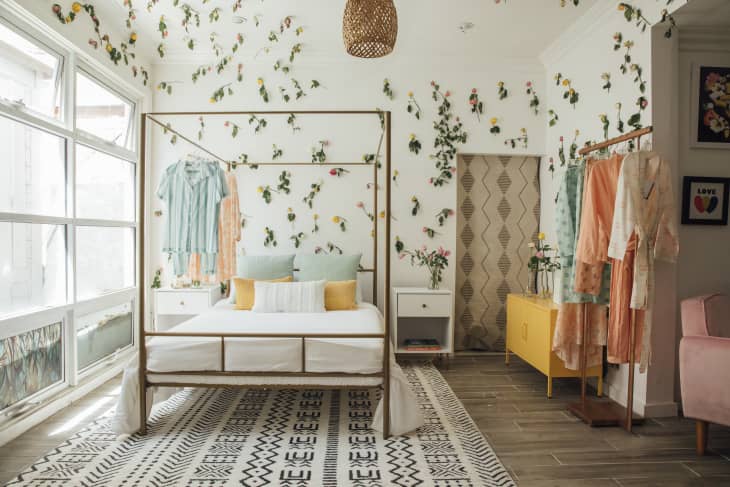 Think you've seen it all when it comes to floral wallpaper? Think again! The Novogratz worked with artist Cecilio Ramirez on this budding installation, which boasts real flowers scattered all the way to the ceiling. Especially apt for spring and summer, this downright genius (and obviously gorgeous) DIY adds a delicate dimension to a blank wall for an indoor garden vibe (not to mention it's a great photo backdrop for parties once entertaining becomes a thing again). "While it's the space inside four walls that makes a home, the walls help create the mood of the environment," adds the couple. If traditional wallpaper still feels more up your alley, the brand has no shortage of eye-catching offerings.
Our lightweight, warm Comforters induce sweet, sweet sleep – and take your bedding to the next level. Designs are printed onto the super-soft material for brilliant images and a dreamy, premium feel.

<< More Comforter Styles >>