At first, though, decorating a small space seems like an easy feat. Fewer square feet, fewer problems, right? Well, not quite. In reality, small spaces are like the triathlon of the interior design world. Not only do you have to fit all of your possessions into a small space — a tough task for anyone who likes their stuff — but you also have to make it look good and figure out how to make do with double- and triple-duty items. However, no matter how much time and energy you put into your small space, a few things are bound to fall through the cracks. Most small space dwellersprioritize storage and compact furniture, and I totally understand why. In doing so though, you're potentially overlooking other underrated features that can take your home to the next level.
Since the devil really lies in the details, I asked a few of my favorite interior designers about the tiny yet effective ways to make the most of your decor in small spaces. From organization hacks to finishing touches, you're just a few small details away from a gorgeous place.
Your powder room's faucet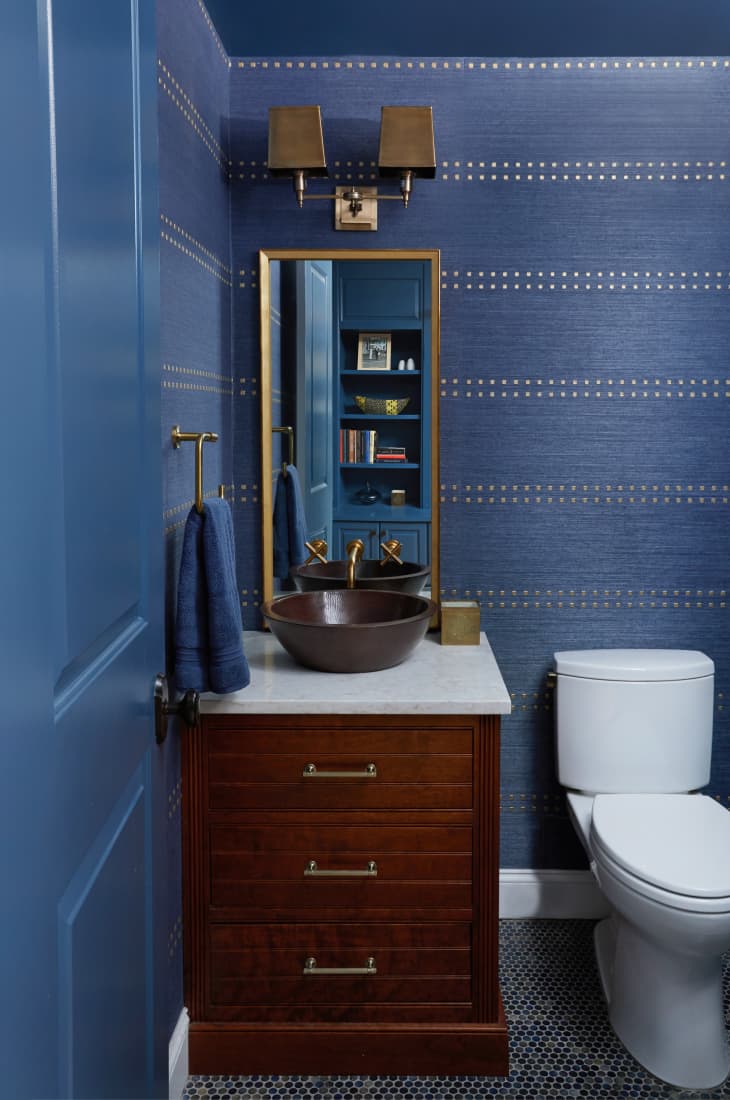 As far as I'm concerned, the powder room is the perfect place to make a statement. Since this bathroom is always sectioned off from the rest of your home with a door, it's where you can experiment without worrying about whether or not it "goes" with the rest of your space. Somewhere in between choosing a whimsical wallpaper and selecting fun tiles, however, you might have overlooked your sink's faucet. Don't worry, you're not alone.
When it comes to upgrading your bathroom faucet, designer Jenny Madden recommends looking for a style that takes up minimal space. That way, you'll still have plenty of room for your essentials: hand soap, lotion, and a spot for guest towels. "If you're renovating a small bathroom, consider a wall-mounted faucet or at least a single-handle faucet in order to free up the minimal counter space," she explains. "Forgo those widespread handles; you won't miss them one bit!"
Quick design PSA: This tip also applies to your small kitchen.
Get the Look: Shower Curtains, Bath Towels, Bath Mats, Beach Towels.
Your artwork (or lack thereof!)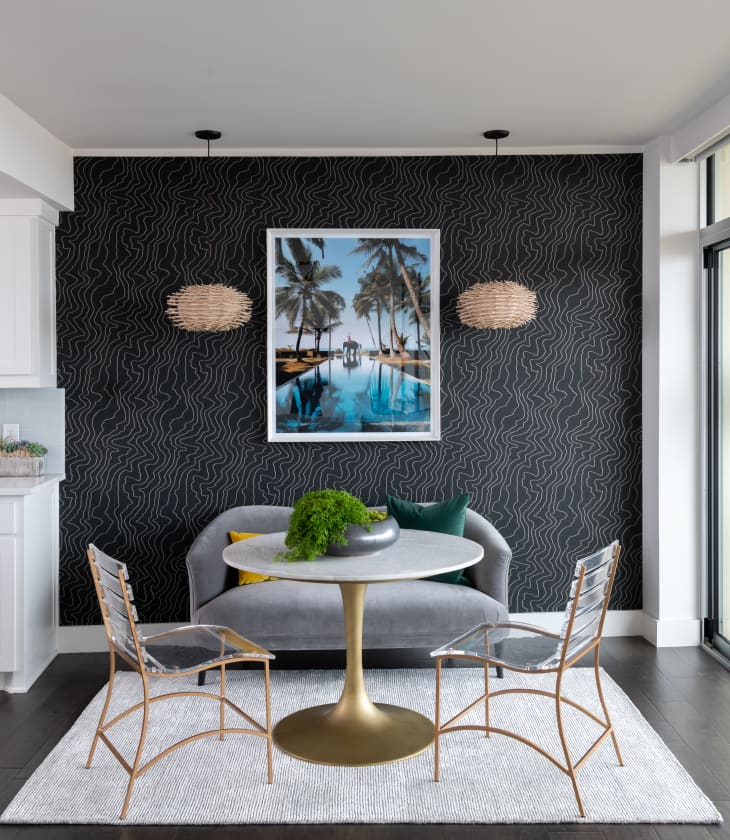 Just because floating shelves and étagères are tried-and-true small space hacks doesn't mean they're the only things that should be on your walls. "In a small space, you get hung up on trying to maximize storage or find small scale furniture that you forget to put emphasis on what little walls you may have," explains Dallas-based designer Traci Connell, who decorated the little nook above. "One thing to consider is to hang artwork that creates an escape and a feeling. This art reminded the homeowner of another place outside [their] small walls that brought a whole new world inside."
Of course, finding art that speaks to you is only one piece of the puzzle. Designer Beth Diana Smith encourages small space dwellers to pay extra attention to where they're hanging artwork. "In smaller spaces, art and its placement, proportions, and, of course, style is key," she adds. "I usually see art that is hung too high, which is visually awkward in a space." As a general rule of thumb, Smith says art should be hung eight to 15 inches above seating and six to 12 inches above tables.
Get the look: Mini Art Prints, Framed Mini Art Prints, Art Prints, Framed Prints, Canvas Prints, Metal Prints, Wood Wall, Art Posters, Wall Hangings, Wall Murals, Wall Tapestries, Wallpapers.
Your lighting strategy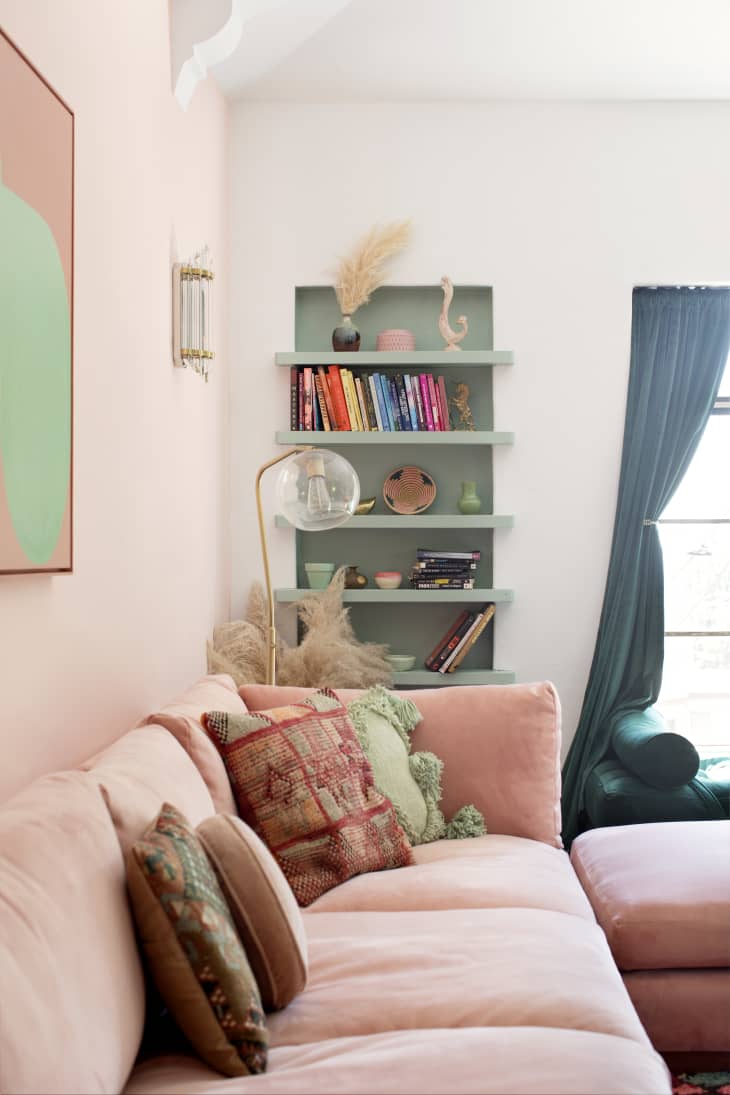 We know what you're thinking: "How many lights does a small space need?" Well, if your home is filled with unflattering shadows, quite a few actually.
"Pay attention to shadows," says designer Sabrina Soto. "If you have a small space, lighting is key! You want to have at least two — if not three — light sources. Ideally, there should be a mix of natural, task, ambient, and, if possible, accent lighting. Dramatic and large shadows can make a space feel heavy and cramped."
Though layered lighting can add dimension to even the smallest of rooms, filling your home with a bunch of floor lamps will take up some precious real estate. Fortunately, there are plenty of space-efficient ways to give your home a much-needed glow-up. "If you don't have soaring ceiling heights, for example, there are so many great looking semi-flush or flush mounts on the market now," designer Christina Kim says. "If there's no room for a pair of lamps flanking your sofa, consider a pair of sconces instead."
Get the look: Rugs, Floor Pillows, Throw Pillows, Floor Poufs, Rectangular Pillows, Side Tables, Blackout Curtains, Throw Blankets.
Your coffee table's organization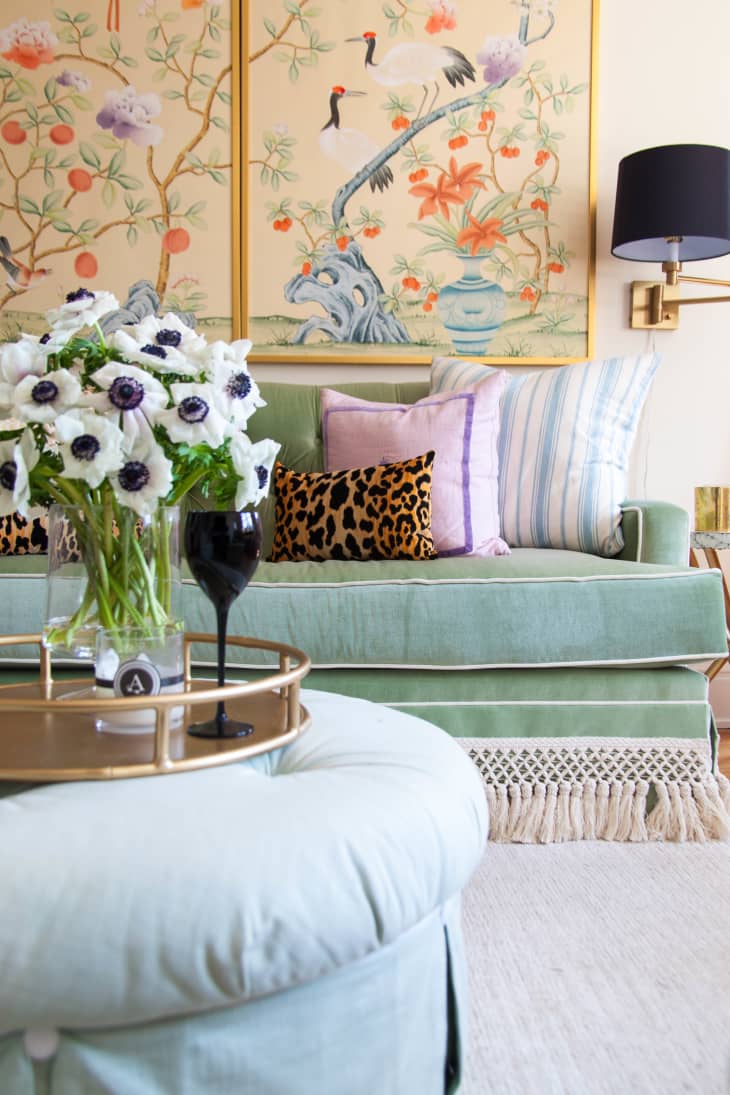 It's no secret that organization (and lots of storage) is the key to any small space. While you've maybe spent a lot of time installing floating shelves or finding the perfect storage baskets, it's possible that you also neglected the clutter right in front of you on your tabletop surface.
"My secret to small spaces is trays," explains Roxy Te Owens, founder and creative director of Society Social. "When you put a pile of stuff on one, it instantly looks neat and stylish, even if you're just stacking remotes."
Simply put a tray on your coffee table or ottoman, add a few accessories, and presto! Your small space will be photoshoot-ready.
Get the Look: Coffee Mugs, Travel Mugs, Coasters, Serving Trays, Cutting Boards, Side Tables, Credenzas, Counter Stools, Bar Stools, Benches, Coffee Tables, Rugs.
Your furniture's materials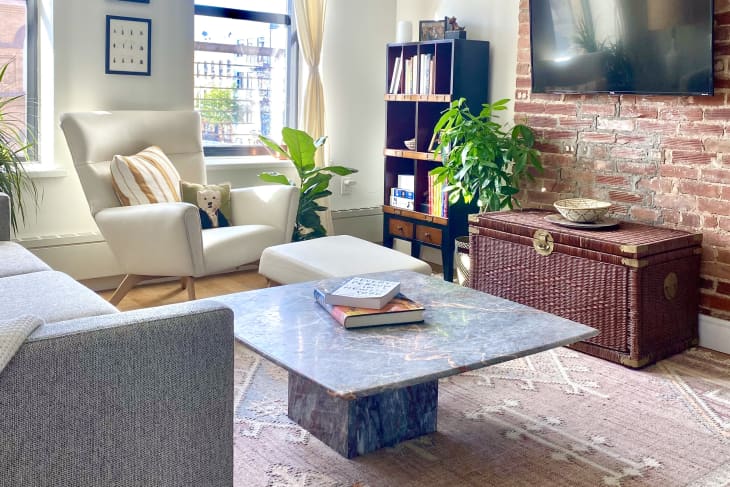 When choosing furniture for a small space, size is always the number one priority. Sure, it'd be great to find a couch that looks cute and is comfortable; however, it has to physically fit in your room. According to designer Nina Magon, principal at Contour Interior Design, it's important to go the extra mile and consider your furniture's materials, too.
"People often underestimate the power of furniture materials and how they can really elevate a design," she explains. "The materials used to construct your furniture pieces can make a substantial impact on the overall design, even in a small space."
When you're already dealing with pretty strict size restrictions, vetting furniture based on their materials might make your slim pickings seem razor-thin. However, all that hard work will certainly pay off. "Choosing a sleek, modern coffee table that features a stunning marble material as the tabletop and legs finished in brass creates visual interest that allows it to become a focal point in the space," she says. See-through acrylic and glass can also make major differences as well; they keep things visually light and airy in tight quarters.
Your baseboards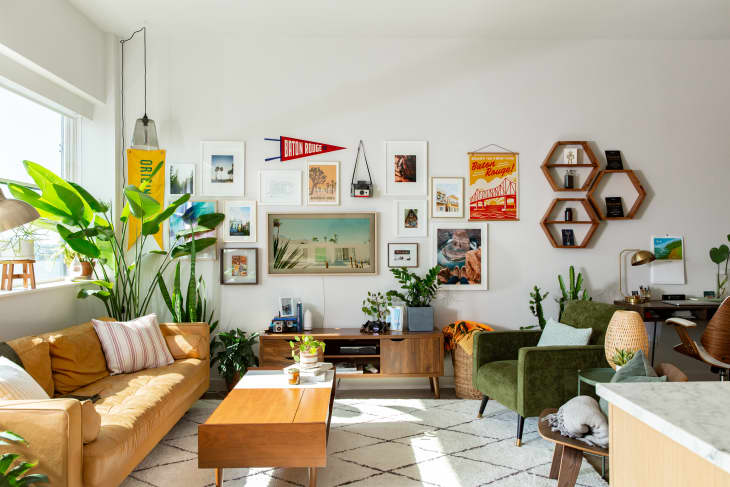 Believe it or not, you don't need a magic wand or three wishes to turn your small space into a bright, seemingly airy oasis. All you really need is some paint — and lots of it.
"A small room painted from the ceiling to the baseboard in a single color blurs the line between wall and ceiling making it feel more voluminous," says designer Kevin Isbell. "This is especially helpful if you have lower than desired ceiling heights or excessive molding details that may cut the room horizontally if painted in a differing trim color."
By painting all the architectural elements of a room the same color then, you draw attention to none of it, so the room has visual cohesion and harmony. Genius, right?
Those unattended corners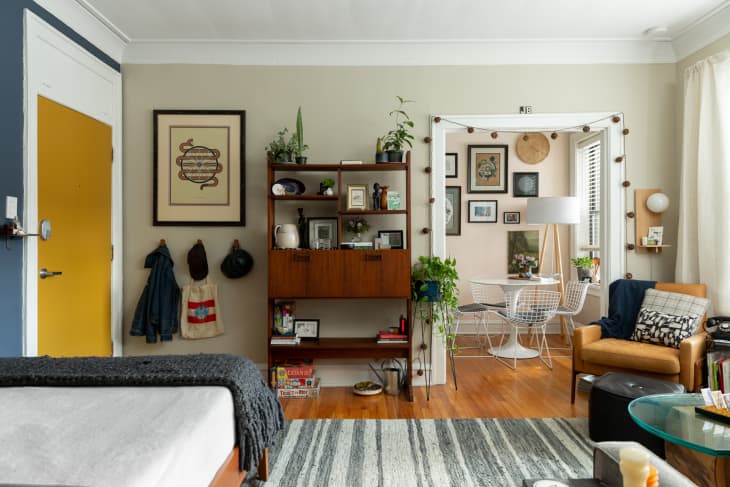 Designer Tara McCauley has lived in her fair share of small New York City apartments, and, in her experience, most tiny places have that one small corner you don't exactly know what to do with. Since leaving any space bare is a missed design opportunity, she recommends actually paying special attention to these neglected nooks.
"I even put a tall, skinny étagère in the otherwise 'dead space' corner behind my bedroom door," McCauley says. "I display jewelry and accessories on the higher shelves and stash scarves, hats, and shoes in baskets at the bottom."
For a few more space-maximizing ideas, take a look at these game-changing ways to make the most of every nook and cranny.
Get the Look: Throw Pillows, Pillow Shams, Rectangular Pillows, Duvet Covers, Comforters, Throw Blankets, Blackout Curtains.