It doesn't matter if you live in a trendy tiny home or a shoebox studio, every small-space dweller has the unique challenge of fitting all of their stuff into a pint-sized place. If someone can do so while making their home aesthetically pleasing? Well, that's the dream.
Luckily, many small space hacks are practical and pretty, to boot. The more common small spaces have become, the more ideas swirling out there in the ether for everyone to make the most of their square footage. That said, have you ever found yourself wondering what are some tips that you haven't heard yet?
To make the most of your space but don't want to rely on just the regular tips, look no further. Several interior designers shared some fresh small space ideas with me, and they're all under-the-radar but highly effective.
Break out the bench
A coffee table is as integral to your living room as extra counter space is to your kitchen: It's the perfect place to rest your laptop, beverage, and mid-day snack. No matter how practical a coffee table is though, there's no denying it takes up a lot of precious real estate. So what's a small space dweller to do?
"Consider opting for a bench instead," explains designer Beth Diana Smith. "Benches are a narrower alternative that you can still style like a coffee table." With so many options out there, Smith says you're bound to find one that suits your style and budget. She recently found an eclectic textured bench with fringe details from HomeGoods to outfit her own living room, and it's now one of her favorite pieces—and places to kick up her feet after a long day.
Get the look: Rugs, Floor Pillows, Throw Pillows, Rectangular Pillows, Side Tables, Coffee Tables, Blackout Curtains, Throw Blankets, Coffee Mugs, Coasters, Serving Trays, Wall Hangings.
Give your trim special treatment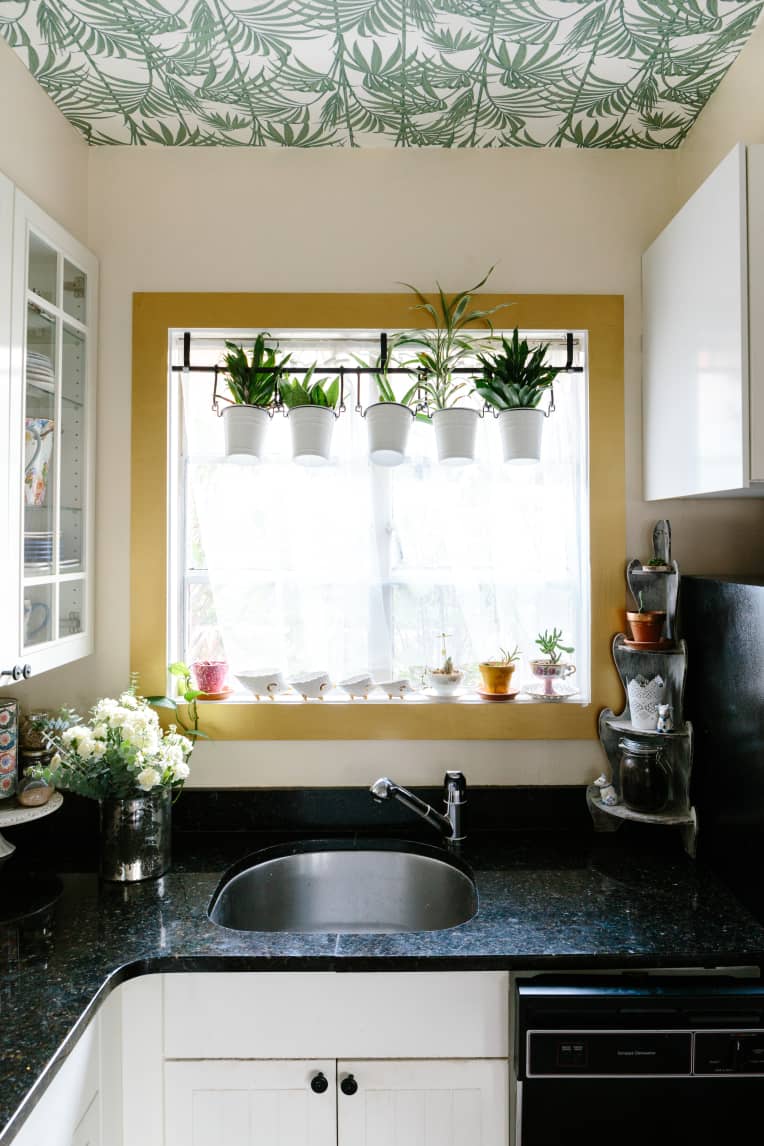 Want to make your tiny quarters appear lighter and larger? Double down on your lighting. A lesser-known—and wallet-friendly—way to achieve the same results as a big mirror or extra lighting, is to pay extra attention to your window trim.
"If your small space has ample natural light sources like large windows, use color to frame the architectural feature," says designer Khristian A. Howell. "This calls attention to your window in order to visually expand the space to the outdoors, making space feel larger."
Whether you choose a more subtle, moody neutral, or a cheery primary color to paint your trim, as shown above, this tip is a total lightbulb moment. Maximize the effect by removing blinds where privacy isn't a concern, so your outside view is as unobstructed as possible.
Get the look: Mini Art Prints, Framed Mini Art Prints, Art Prints, Framed Prints, Canvas Prints, Metal Prints, Wood Wall, Art Posters, Wall Hangings, Wall Murals, Wall Tapestries, Wallpapers.
Get picky about paint finishes
Never underestimate the power of great paint color. The right shade can create the illusion of a larger space, but did you know the finish can seal the deal?
"I love to use a lacquered paint finish in small spaces because it reflects light and will actually make the room seem brighter and larger, no matter the color," explains designer LJ Savarie. "In this wet bar, I used Benjamin Moore's Kensington Blue to make the design pop and added antique goblets, quartzite countertops, and an antique mirror above the sink to reflect even more light."
Still, deciding between matte and glossy for your room? Ask yourself these five questions before committing to something super shiny. It's also important to note that the glossier the paint, the more mistakes will show. So if you go this route, it might be best to hire a pro for the job.
Get the look: Side Tables, Coffee Tables, Coffee Mugs, Coasters, Serving Trays, Wall Hangings.
Double down on a larger area rug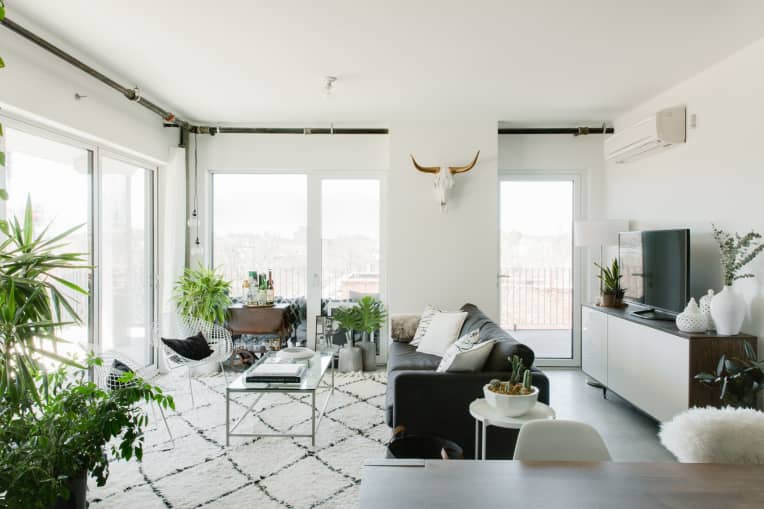 When it comes to decorating your small space, it's only natural to purchase compact furniture and accessories. The smaller your home essentials are, the more you can fit in your tight quarters, right? However, there is one big exception to this rule. That's right: I'm talking about your rug.
"Choose an oversized area rug—almost wall-to-wall—instead of a smaller piece," explains designer Tanja Hinder of Marrimor Interiors. "It will visually enlarge the space instead of chopping it up."
If you want to get the most mileage out of your rug, opt for something lighter colored with simple, pared-back patterns like vertical stripes or the ever-so-popular Beni Ourain. There's a reason these kinds of rugs are popular, particularly in smaller spaces. They can make a small space seem more visually expansive.
Get the Look: Floor Pillows, Throw Pillows, Pillow Shams, Rectangular Pillows, Duvet Covers, Comforters, Throw Blankets, Rugs.
Go to the dark side
While we're on the topic of area rugs, let's talk about your floors. At first, you might think that the color of your wood or tile base might not matter in your small space's overall look and feel. If your carpet is covering the bulk of your floor, how could it? However, Hinder argues it does matter.
If you want your space to appear larger than it really is, Hinder recommends going to the dark side with flooring because it creates contrast with lighter carpeting and walls, helping to really define a room. "Choose darker floorings, as they visually enlarge the space," Hinder says.
Unless you own your home—or have a very forgiving lease—it can feel virtually impossible to stain a lighter wooden floor or retile for that matter. If you want to recreate the look without jeopardizing your security deposit, you could try peel-and-stick flooring decals.
Get the look: Rugs, Floor Pillows, Throw Pillows, Rectangular Pillows, Side Tables, Coffee Tables, Blackout Curtains, Throw Blankets, Coffee Mugs, Coasters, Serving Trays, Wall Hangings.
Stay away from low-slung furniture
As any small space dweller can attest, it's possible to have too much stuff. Clutter and clunky items will only make your space feel claustrophobic. (Try saying that five times fast.) There's a lot of talk about discarding the tchotchkes that no longer bring you joy, but you might want to also consider trading in your trendy, low-slung furniture.
"Kind of like how your mom used to say 'keep your feet off the sofa,' one of the best small space design ideas involves keeping your furniture off the floor," explains Alessandra Wood, interior design expert and vice president of style at Modsy. "Why? Because nothing makes a small space look even smaller like a bulky sofa plopped right on the floor."
Instead, try using leggier styles of furniture that sit high up off the floor to make your small space appear airier and roomier.
Get the look: Rugs, Floor Pillows, Throw Pillows, Rectangular Pillows, Side Tables, Coffee Tables, Blackout Curtains, Throw Blankets, Coffee Mugs, Coasters, Serving Trays, Wall Hangings.