The second kids walk through the door, a tornado of stuff gets hurled everywhere — most likely landing on the floor right at the entrance. Shoes fly off, backpacks get dropped, balls roll into the living room, and discarded masks are tossed in some corner. In an instant, chaos and clutter consume one of the most important spaces of the home. After all, the humble entryway sets the tone for a house. It's the first impression you make on guests, and wouldn't you rather say, "Welcome to the Griffins'" than "Enter at your own risk"? Plus, you want to feel calm and safe entering your house, not stressed and overwhelmed.
The solution: a well-designed entryway. Now, we're not saying you have to have built-in farmhouse-style cubbies to achieve order (but if you can, they're great!). A Shaker peg rail or hooks with bins work in just about any space. You do, however, want to create a system that flows with your family's needs. For example, if your brood plays sports, find a spot to store balls and helmets.
Don't forget: It's not just kids who need a designated drop-off zone. By establishing places for keys, mail, leashes, and outerwear for everybody in the household, you minimize the time spent searching for these items when you're trying to get out the door.
Use tiles for easy cleanup.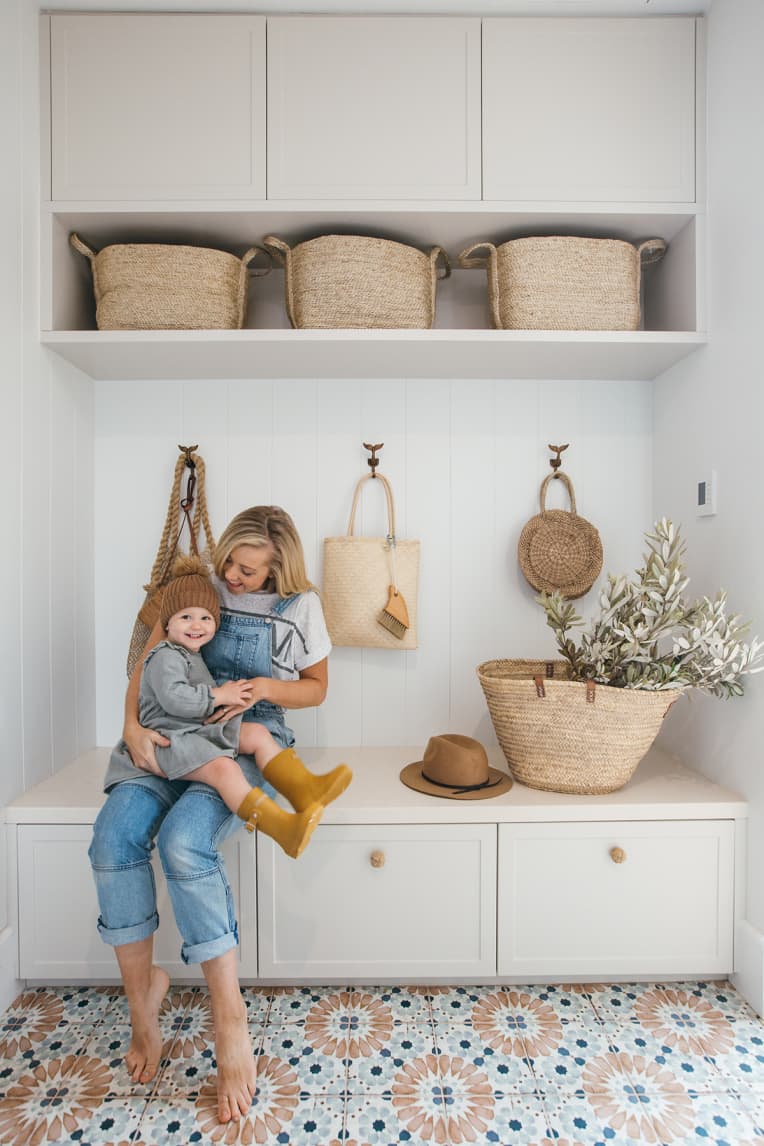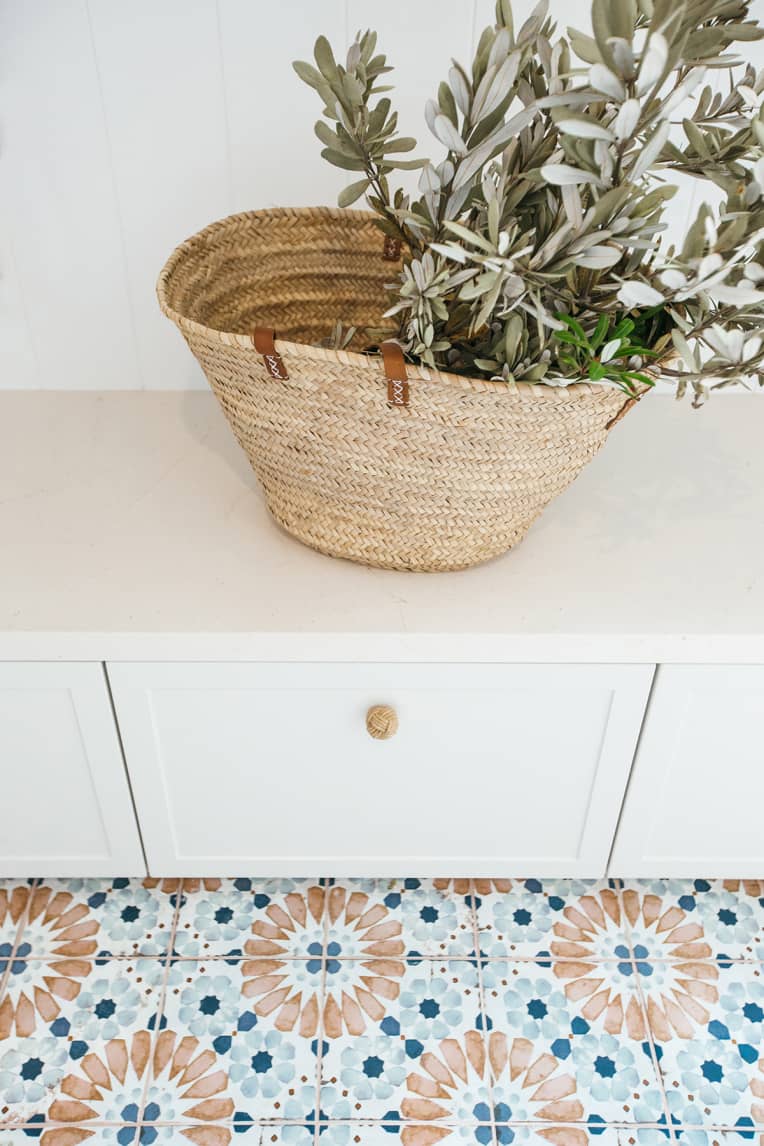 Australian design duo Kyal and Kara created their soothing mudroom with a mix of open and closed storage. The shelves house baskets that make grabbing daily necessities easy while bringing in texture and warmth. And the closed-off cabinets hide the clutter. "We enter this mudroom via our garage, and it was designed to be a super-practical area to store shoes, hats, jackets, and bags," explains Kara. "Having a big drawer for each kid has worked really well." Another smart (and pretty!) addition is the sweet watercolor tiles. "The tiled flooring is hardwearing and easy-to-clean, a great option with kids — especially as an entryway for a home with timber floorboards," she says.
Our premium Tote Bags are hand-sewn in the U.S.A. and feature a high-quality print that'll never fade. Constructed with a premium, canvas-like material and double-stitched for quality, our totes make amazing grocery and beach bags.

<< More Tote Bag Styles >>
Assess the space and pay attention to the flow.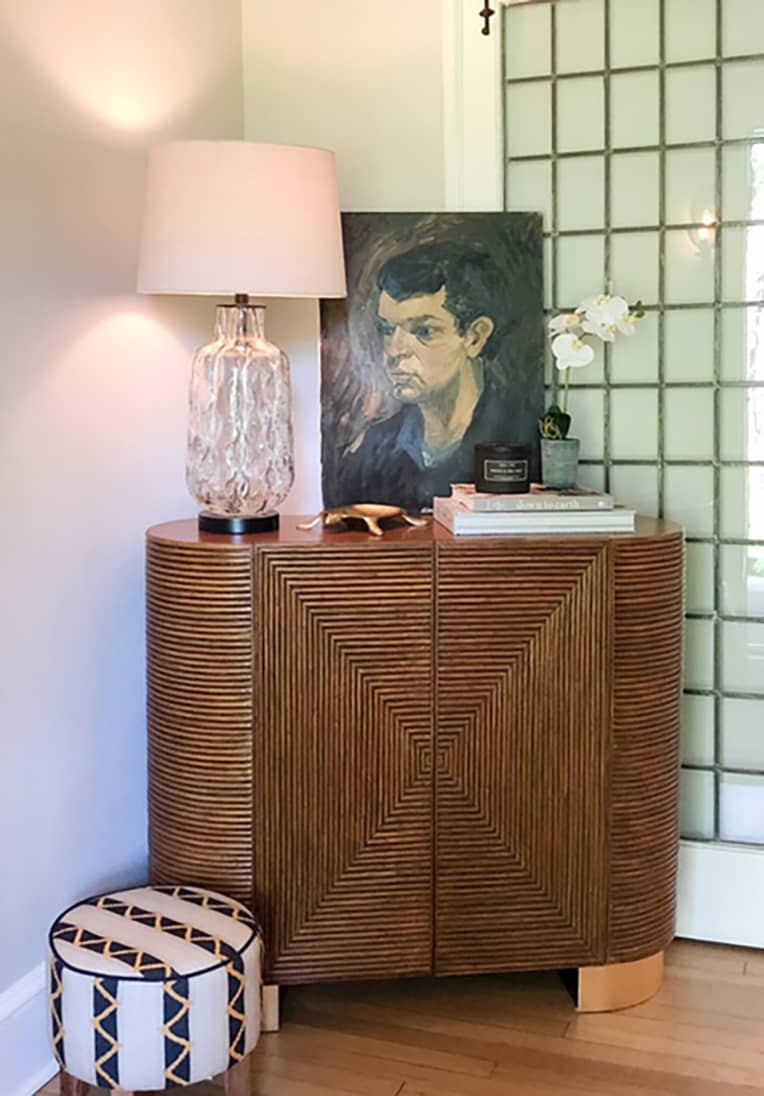 "The entryway is often overlooked and ignored — and that's a big mistake," says interior designer Katie Geddes. "It's the first thing you see when you get home. Have it welcome you, hug you even." So when the designer was met with this tricky space (the area needed to work double duty as the main entry and dining room access) she started to think out of the box. "To soften the hard lines of this tight corner, I wanted a console with rounded edges," explains Geddes. And she knew whatever item she selected needed to be interesting and provide storage. The solution: a chic rattan bar cabinet. "It provides a perch for a lovely vignette, as well as houses everything from car keys to bottles of wine," she says." If your entryway is tight on space and can't fit a bench, do like Geddes and add a small ottoman. Bonus: The stool can easily be moved into the living room for extra seating when the company arrives.
A true statement maker. Our versatile mid-century modern inspired credenzas are great for use as TV stands, armoires, bar carts, office cabinets or the perfect complement to your bedroom set. The vibrant art printed on the doors will make your piece pop in any setting. Available in a warm, natural birch or a premium walnut finish.

<< More Credenza Styles >>
Don't forget the mirror.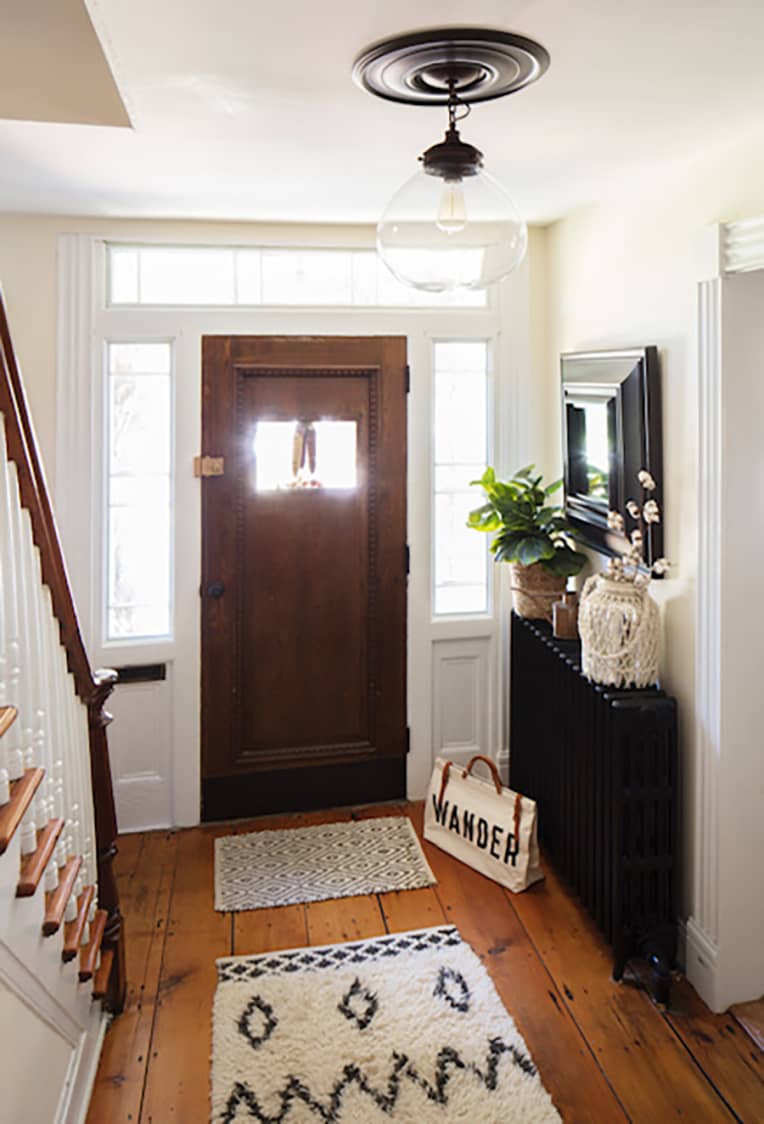 Lack of space was not going to stop Geddes from carving out a proper entryway in this 1810 Colonial. The designer transformed a large radiator into a console by giving it a coat of luxe high-gloss black paint. She then added decor and some faux greenery to bring in a welcome feel. To play up the show-stopping original wide-plank floors, stairs, and door, she kept a neutral palette but mixed things up with a textured Moroccan rug. To finish the space she added a stately mirror. "Adding a mirror to your entry is always a good idea," notes Geddes. "Not only will it make space feel larger, but it's also pretty darn convenient to give yourself a once-over before you leave."
Express your style all over your home with a feature-worthy rug. They're made from a woven, polyester chenille for a soft and textured look. Plus, choosing from our wide array of designs, you're sure to find just the rug to match your decor. Rugs are one of the best, attention-grabbing pieces to design a room around. Use the colors within the rug to help choose art prints, furniture fabric, and accent pillows.

<< More Oriental Bohemian Rug Styles >>
Create a command center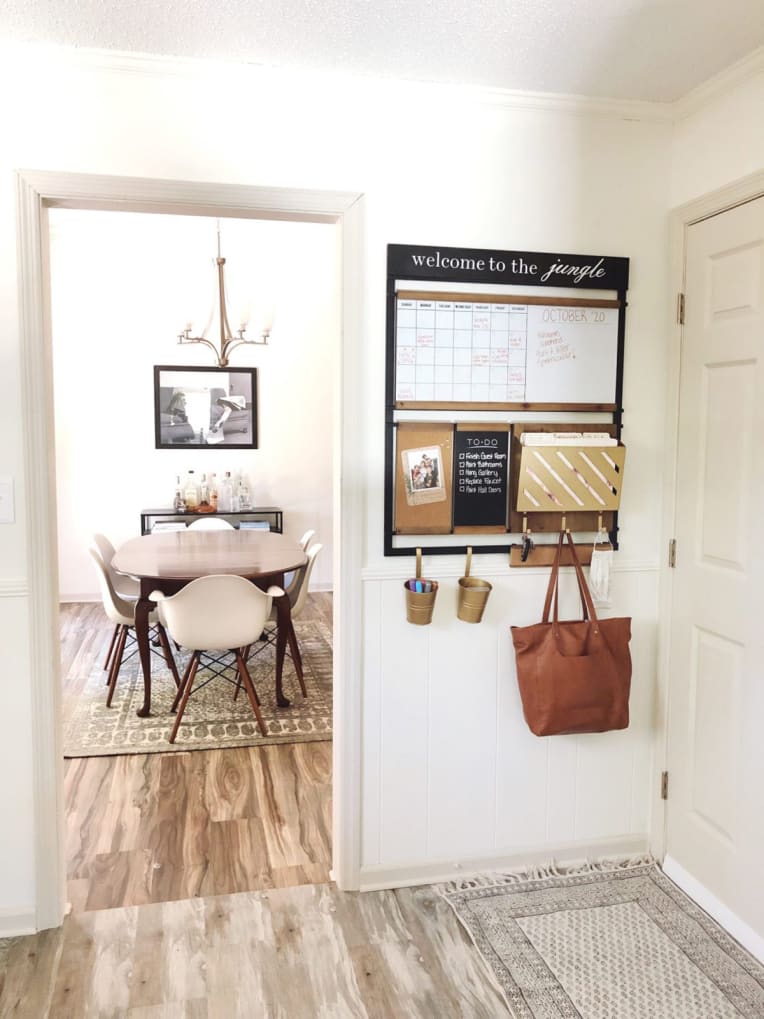 Why stop at hooks and baskets when you can make your entryway a multi-functional family command center? To do this, organizer Lela Burris adds a monthly calendar, mail bin, to-do list, and hooks to her entryway. This allows parents and older kids to keep track of holidays, events, and appointments. "A command center is so helpful for keeping our family on the same page," says Burris. But her favorite part of it is sitting down as a group once a month to create a family bucket list. "We write things we'd like to do together within that month, then any time we have a free day or a rainy afternoon, we can pick from the list," she says. In order to have an effective command center, take a minute to write down things your family has a hard time keeping up with, advises Burris. "Is it schedules and calendars? To-dos? Mail? Once you know what you need (and don't need), you can build a command center that supports that."
Find somewhere soft to land. Our floor cushions are the super comfy and style-forward option for the boho side of us all. They're UV coated to protect against fading and water resistant so you can avoid scrambling to bring them inside whenever there's a touch of weather. Grab a few to have on hand whenever seating is hard to come by or for a fun option for kids to use out in the yard.

<< More Floor Pouf Styles >>
In small spaces, use stylish hooks.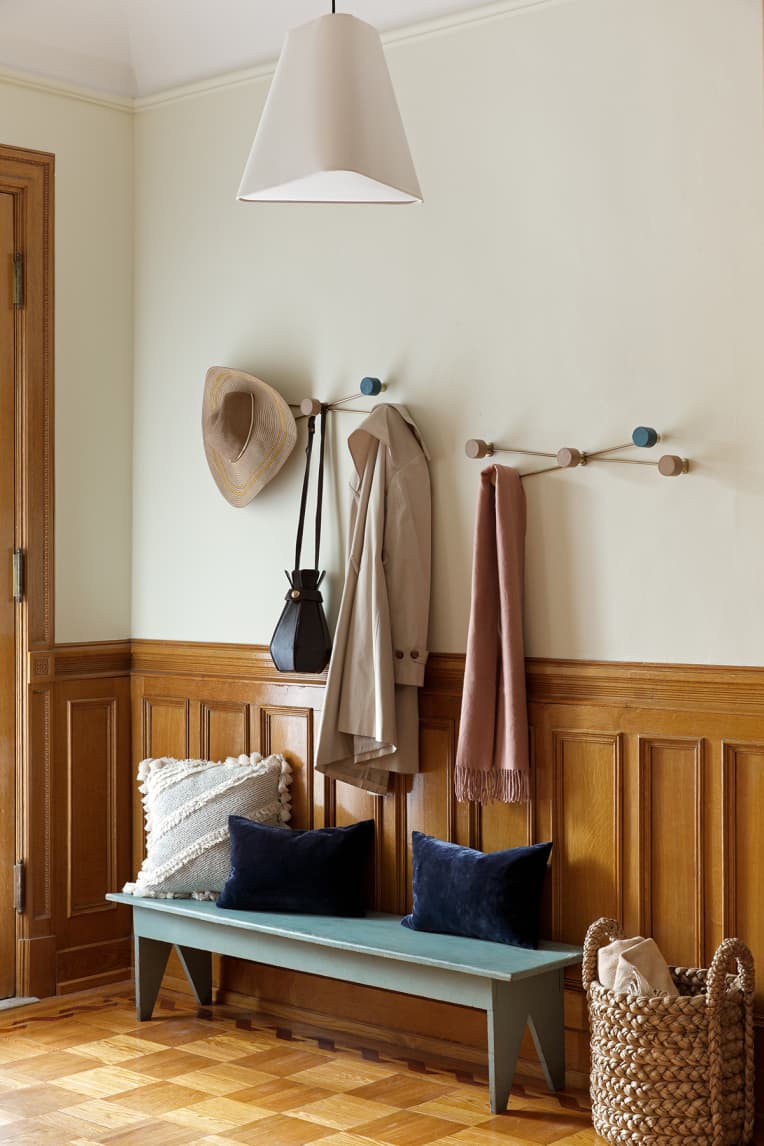 For this Brooklyn brownstone, interior designer Megan Crawley was tasked with carving out an entryway in a tight, narrow space. "In a small space it's always helpful to go vertical instead of adding a furniture piece to hold items that would take up valuable floor space," she says. Crawley used these unique hooks, which double as a piece of wall art, to add interest and bring in some of the family's fun personalities to the traditional space. "Hooks are ideal for families so coats and bags can be quickly and easily put away," she says. Another must-have: a bench. "The skinny bench creates a place to sit and put shoes on, but it also adds another surface to place items on and under. Plus, the open design keeps the space from feeling too closed off," says Crawley. The designer's other go-to tip to liven up an entryway (which is great for renters, too) is to switch out old ceiling lights for modern ones like this sculptural linen fixture.
Add throw pillows to whatever room needs an extra dose of comfy. Filled with a fluffy faux-down insert, you don't have to sacrifice comfort for style. Available in four sizes and all measurements are made without pillow insert.

<< More Throw Pillow Styles >>
Balance beauty and function with well-placed objects.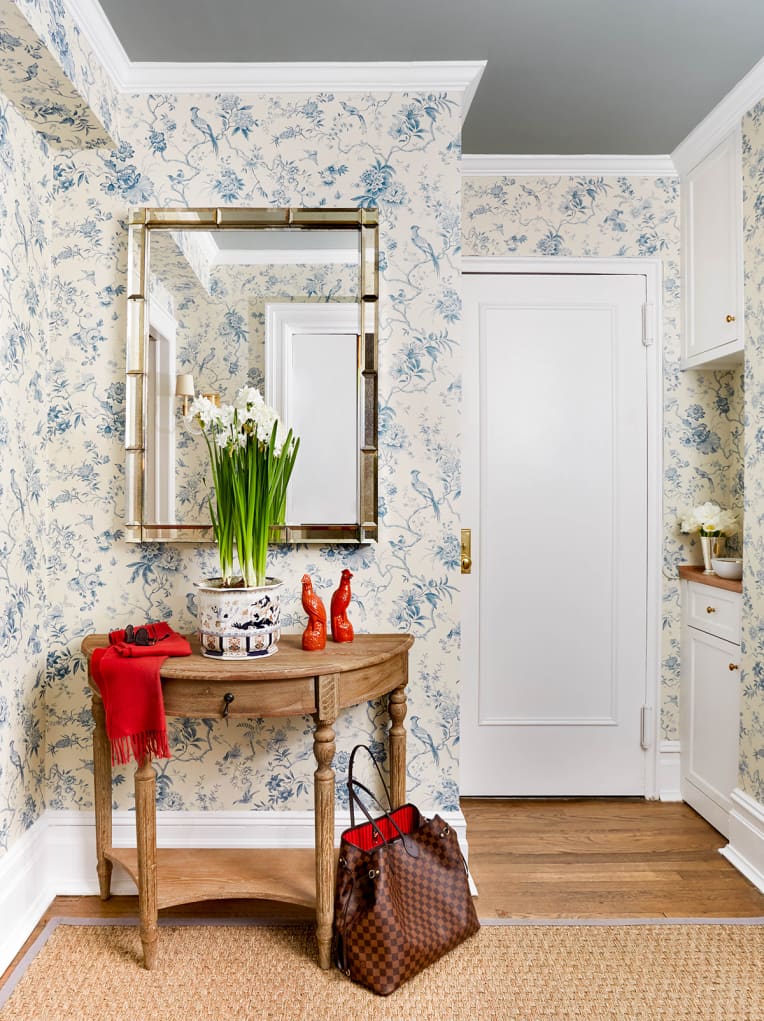 When designer Kathleen Walsh remodeled this pre-war Pied-à-Terre in Manhattan's Upper West Side, she wanted the foyer to make a statement. "I relied heavily on a nuanced use of color and pattern to create an impactful space," she says. But it's not all about aesthetics. "In order to create a beautifully functional space, you must prioritize an organization," says Walsh. "If an entrance does not greet you with control, it becomes a bother." To figure out what you want to keep in your entryway, first take stock of your belongings and where they go. Ultimately Walsh's clients needed space for keys, mail, and a drawer for odds and ends. Next, the designer layered in a mirror, "for last-minute primping before leaving or walking in to meet a guest," she says.
Our peel and stick Wallpaper is easy to apply and take off, leaving no adhesive residue. Featuring sharp, vibrant images, Wallpaper patterns are ideal for accent walls, flat surfaces and temporary installations (like parties!). Available in three floor-to-ceiling sizes.

<< More Wallpaper Styles >>
IKEA-hack some cubbies.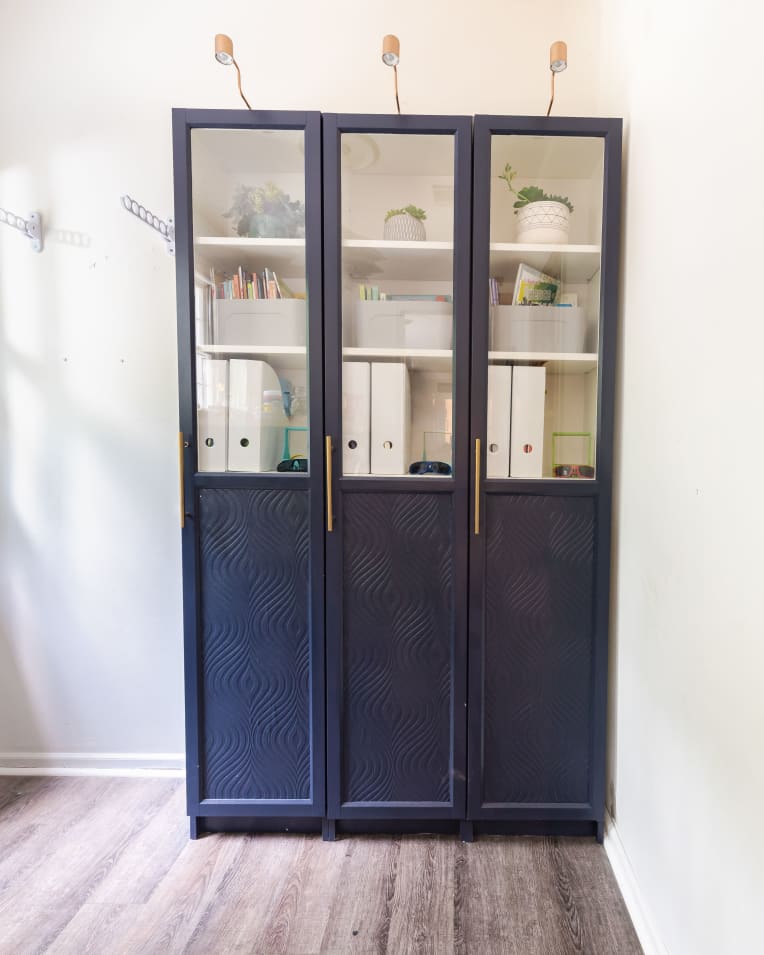 While parents everywhere pine for a mudroom with closed-door cubbies to keep the clutter out of sight, space and cost constraints often complicate this dream. But design blogger and mom of three Stacie Abdallah found an affordable DIY solution: "We took three IKEA Billy bookcases and put them together and installed the lights across the top," she says about the chic setup she created for her three sons. If you're going with half glass doors like Abdallah, use bins and magazine holders to corral the odds and ends and keep the space looking clutter-free.
As experts in the field of sitting down, we thoughtfully crafted our Floor Pillows to be overstuffed, plush and firm. These cushions never lose their shape, and the high-quality print makes sure the design stays crisp and colorful.

<< More Floor Pillow Styles >>
Get creative with your furniture choices.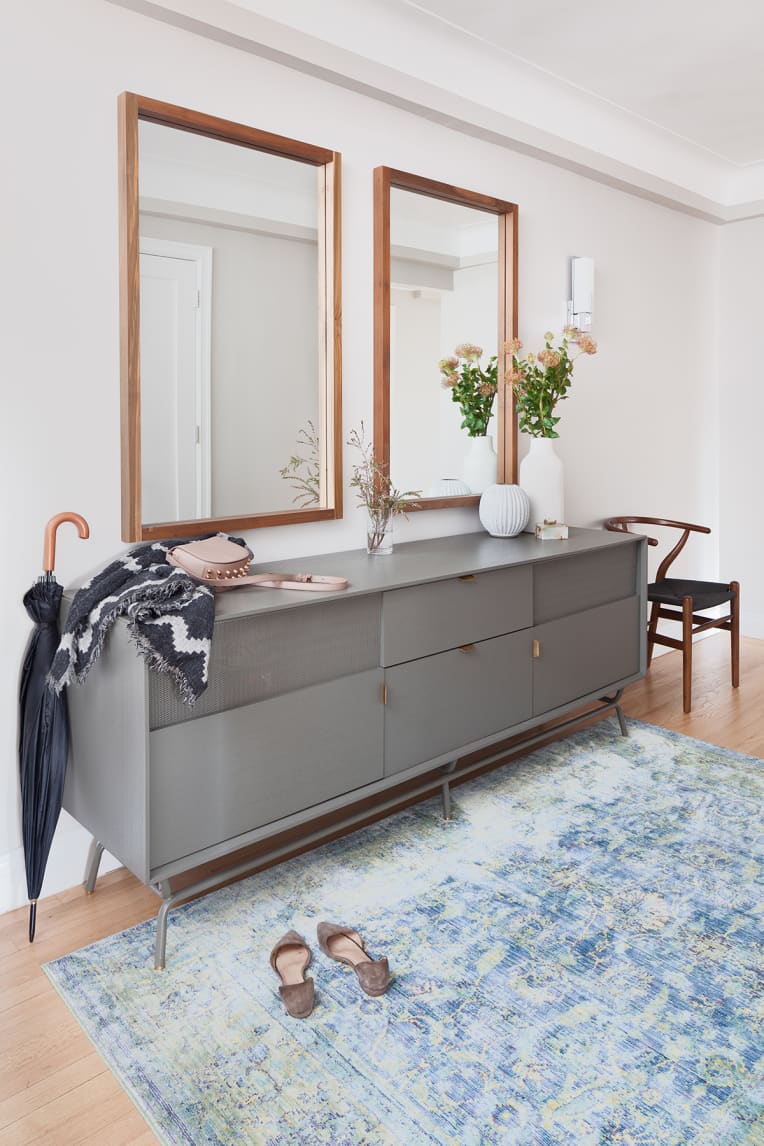 Dressers and credenzas make great additions to entryways. When Crawley started working on this Manhattan apartment, the clients were four months pregnant with their first baby. "We knew we needed to add some additional storage to their entry for the new family member," she says. To save money, the designer repurposed their old media unit which fits the space perfectly. Furniture with closed storage is just what parents need for stashing bonnets, gloves, diaper bags, and more.
Our customers tell us ALL the time how soft and warm our Throw Blankets are (the secret: Sherpa fleece). Even better, they get softer the more you wash them. They're a perfect addition to any living room couch. Featuring a crisp, vivid design on the front with a reverse white side.

<< More Throw Blanket Styles >>
Make a bench your best friend.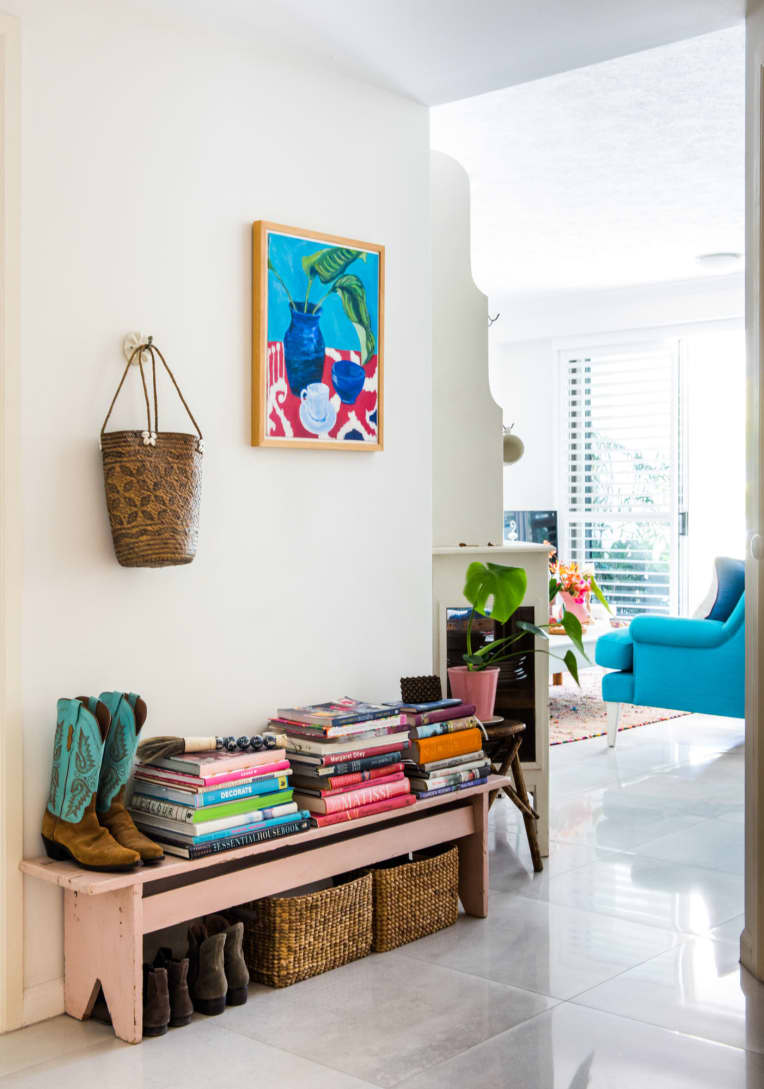 When artist Jenny McCown downsized from a five-bedroom to a two-bedroom, she knew it was imperative to create a sensible landing space for when she entered and left her home. She cleverly made the most of a bench from her late father, which not only displays a collection of her favorite books but also has baskets stashed beneath to house her shoes. The artfully arranged vignette utilizes vertical space as well. One ingenious tip: Hang a bag on the wall as a catchall for mail, sunglasses, and masks.
Eco-friendly and minimalistic—kind of like a tiny house. The conservation framed art print, sourced from socially and environmentally responsible forests, provides a natural warmth to complement your favorite design. Framed prints available in six sizes, in a walnut, pecan or natural frame color.

<< More Framed Art Print Artworks >>
Don't let an open floor plan stop you.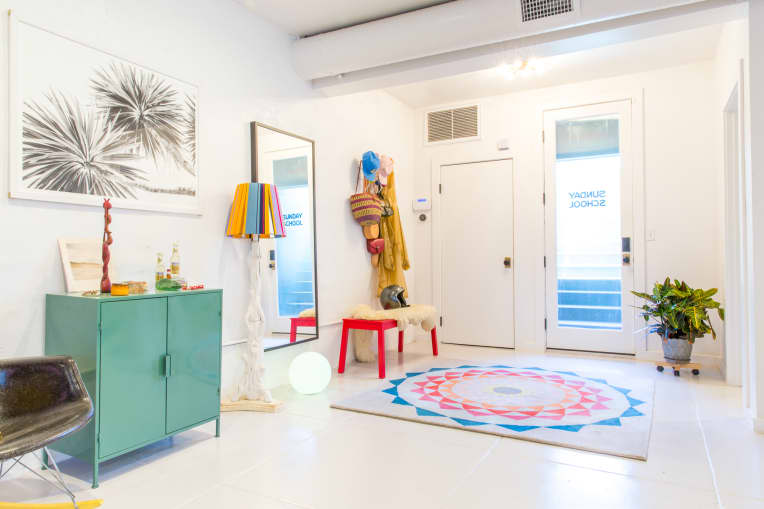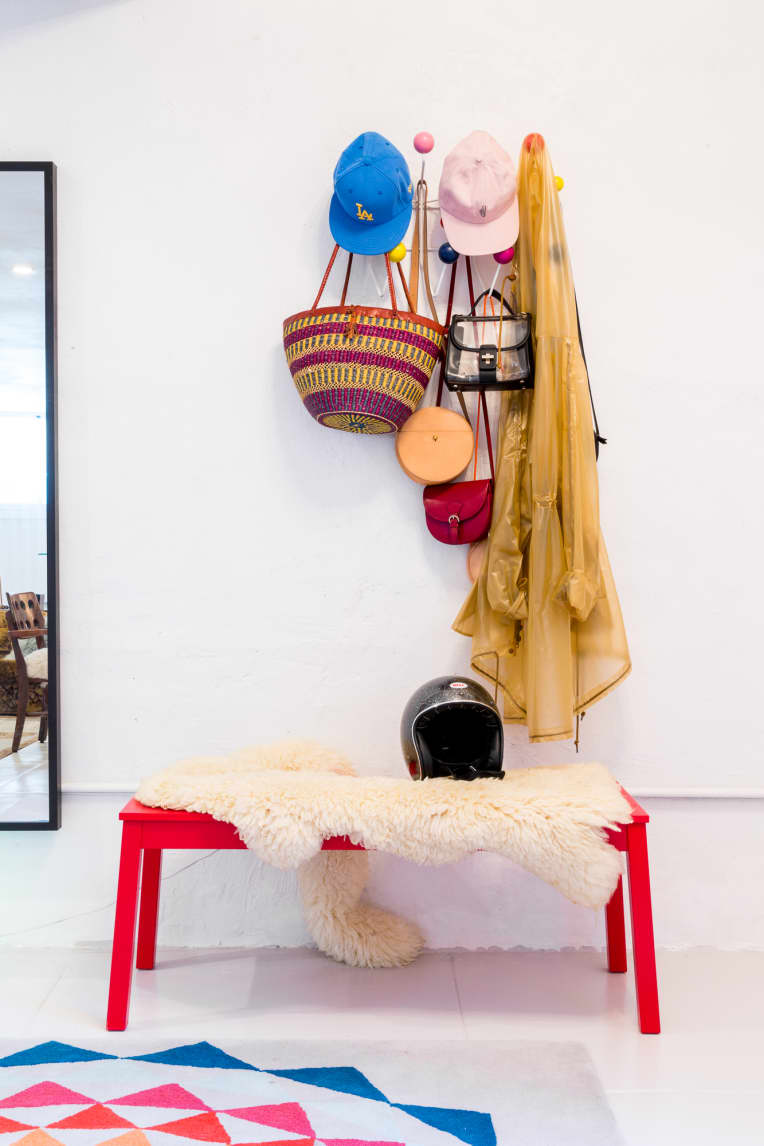 When your doorway opens directly into the main room, it's important to section off a clear entryway zone. To do so Los Angeles residents Zach and Lourdes added a wall-mounted coat rack, bench, mirror, and rug. For a cozier vibe, the couple added on a sheepskin throw.
Find somewhere soft to land. Our floor cushions are the super comfy and style-forward option for the boho side of us all. They're UV coated to protect against fading and water resistant so you can avoid scrambling to bring them inside whenever there's a touch of weather. Grab a few to have on hand whenever seating is hard to come by or for a fun option for kids to use out in the yard.

<< More Floor Pouf Styles >>
Upcycle functional finds.
Lifestyle blogger and mom of three Sara Davis of Sincerely, Sara D. has a no-shoe policy at home (which we are totally on board with). To encourage her kids to kick off their shoes at the door she outfitted her entryway with an old mail sorter she found at an antique shop for $80. "I knew I had to have it, and right away thought about all the shoes piled in our entryway," recalls Davis about her score. Davis especially loved the furniture's repetitious design. "It's both visually pleasing and functions well for organizing shoes," she says. Another way to keep order in the house: Install a row of hooks for hanging coats and bags.
First impressions are key—make your home's first look count with a welcome mat that's uniquely you. Our welcome mats are constructed from a looped vinyl which makes them easy to clean and durable enough to stand up to the elements. Whether you want to showcase your refined decor style or get funny with it—they're a must-have for your home.

<< More Welcome Mat Styles >>
Go vertical.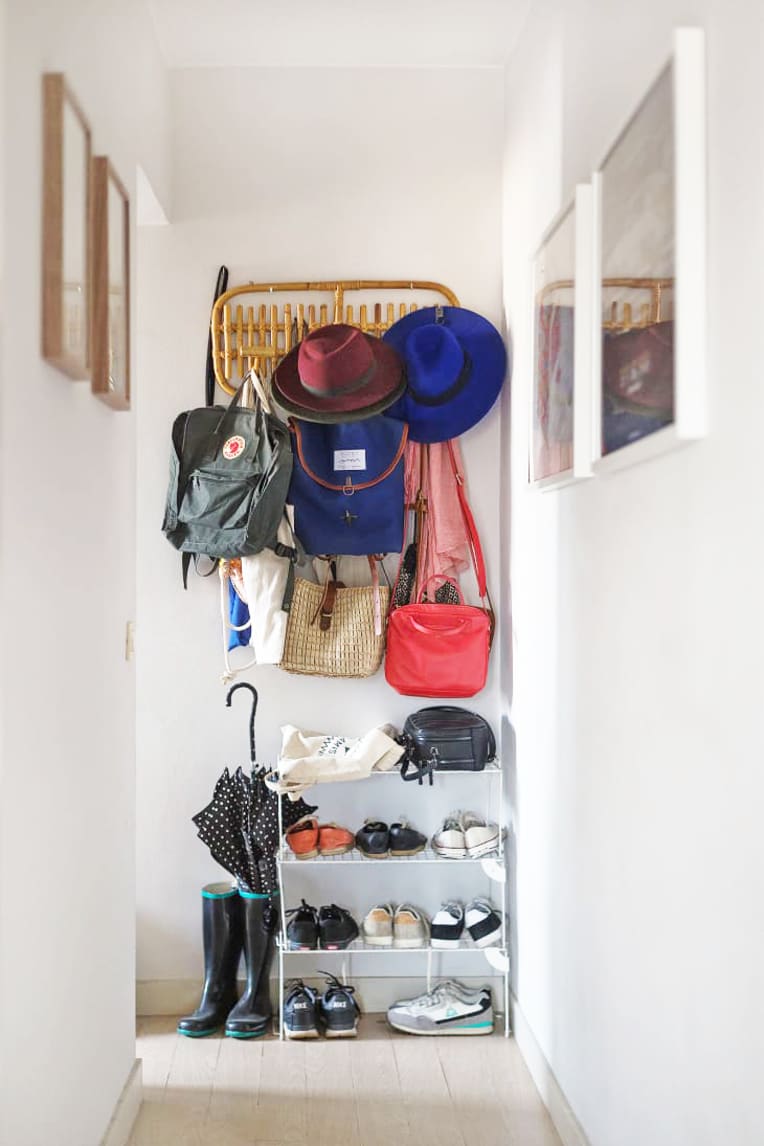 Small-space dwellers should utilize every inch of wall space — including going high up. Eva Morell wisely used a four-tiered shoe rack in the entryway of her tiny, 538-square-foot apartment in Barcelona. She then hung a wall organizer — holding hats, scarves, and bags — way above it. The well-designed space holds quite a bit of stuff without looking overwhelming. Another brilliant tip from Morell: Have items play double duty. Her tall rain boots act as an umbrella stand when not in use.
Designing our premium Backpacks is a meticulous process, as Artists have to lay out their artwork on each component. One size fits all men and women, with heavy-duty construction that's able to handle the heavy lifting for all your school and travel needs.

<< More Backpack Styles >>