If you've ever felt completely stumped while trying to merge style, functionality, and storage into your home, you're not alone. Decorating your home can be a challenge, no matter how much space you have — but it's especially the case when you're trying to fit all your favorite items into a studio apartment.
Of course, sometimes all it takes is a little inspiration to set you on the right path. If you've ever thought to yourself, "I just don't have enough room for everything!" you're in the right place. Here are 11 studio apartments that are small on square footage but big on ideas.
1. This retro-inspired studio uses color blocking in the coolest way.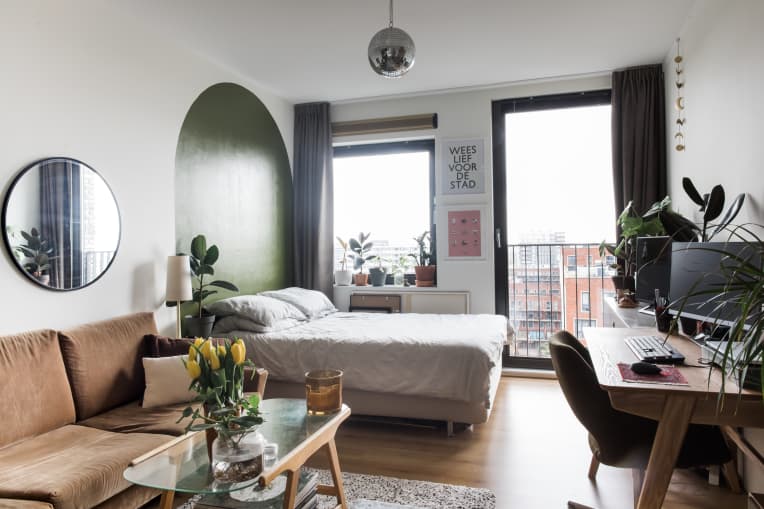 Studio apartments are basically one large-ish (or, often, not large at all) room that you can ideally separate into areas with different purposes. In a genius move, Karst Rauhé created unique zones without taking up any floor space by painting different colored wall arches throughout his 290-square-foot Amsterdam studio. The earthy color palette of the murals combined with vintage furniture turned this tiny studio into a warm, retro haven.
Our natural fiber cotton duvet covers feature your favorite artist's design on the front. The lightweight cotton offers a more breathable option to keep you cool in the summer and toasty in the winter. Plus, just like your favorite pair of jeans, our cotton bedding gets softer after each wash! Available in Twin, Twin XL, Full, Queen, and King sizes. Duvet inserts not included.

<< More Duvet Cover Styles >>
2. This dreamy boho studio has open everything.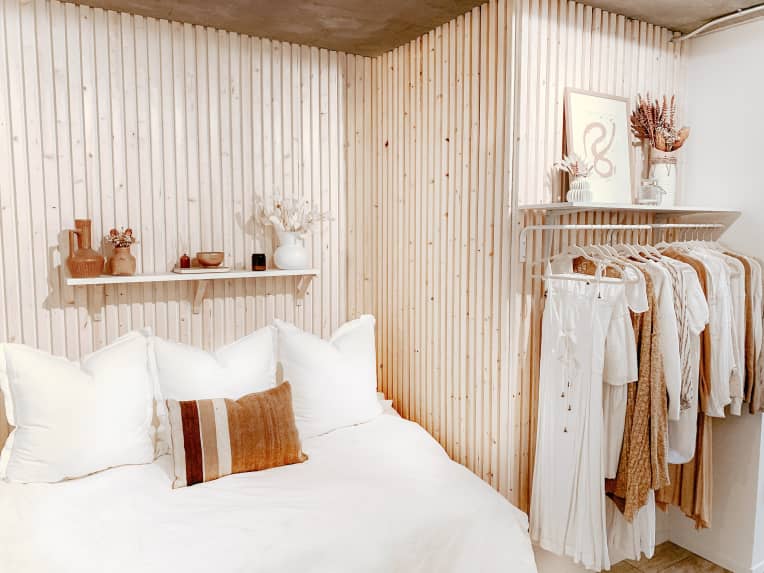 Swapping a bigger home (and a walk-in closet) for a 380-square-foot San Diego studio with an open kitchen, open shower, open all the things was a challenge that Danielle Peterson happily accepted. She decided to go minimal with her style in order to maximize her space — and opted for an open closet made up of a single clothing rack. The neutral palette that dominates Danielle's design style is warm, welcoming, and airy.
Our lightweight, warm Comforters induce sweet, sweet sleep – and take your bedding to the next level. Designs are printed onto the super-soft material for brilliant images and a dreamy, premium feel.

<< More Comforter Styles >> & << Duvet Covers >>
3. Here, an artist uses stylish furniture pieces to "hide things in plain sight."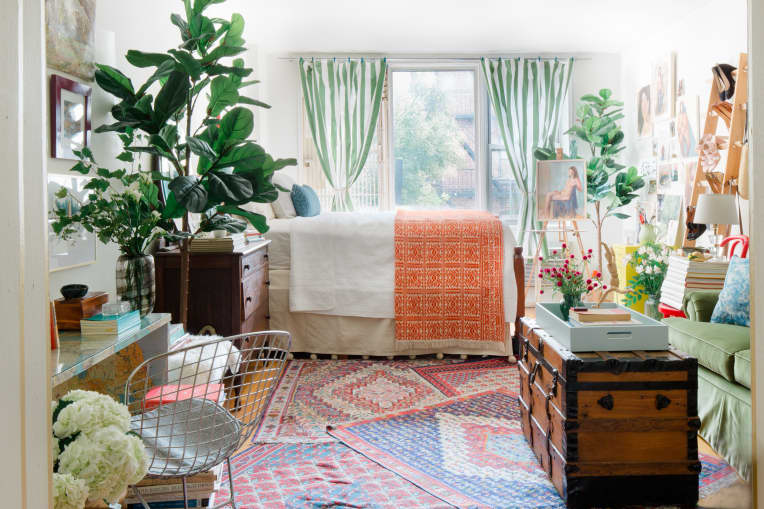 Obviously, finding storage in a studio isn't easy — but Clare Spooner makes it happen in her 350-square-foot New York City apartment by cleverly turning furniture into storage opportunities. She hides spare linens in the steamer trunk she uses as a coffee table, stores "enough drawing pads to open a small art supply store" behind the sofa, and even displays her shoes on a ladder her father made.
Our blackout window curtains are a denser alternative to your standard window curtain, blocking out most light and proudly featuring your favorite designs. Whether you live in a busy apartment or a peaceful neighborhood, it's always nice to have the option to shut out the sun and relax inside by the candlelight. Available in either single or double panel options.

<< More Blackout Curtain Styles >>
4. This studio has a "personality fridge" and a framed pair of chewed-up shoes that you just have to see for yourself.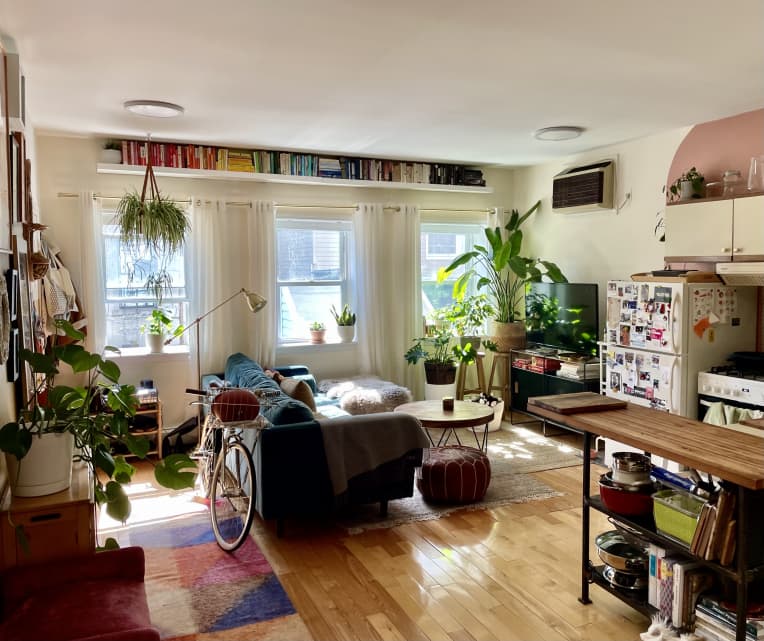 Angie Eng's biggest piece of decorating advice is to "start with how you want your space to make you feel, and work backward from there." It shows in Eng's 350-square-foot New York City studio. As part of a personal gallery wall — made up of reminders of friends and experiences — Eng framed a pair of shoes she couldn't bear to part with after a friend's dog chewed them up. And the front of the refrigerator features pictures, articles, tchotchkes, and magnets. "I really think having a personality fridge is key to making a house a home," Eng says.
Find somewhere soft to land. Our floor cushions are the super comfy and style-forward option for the boho side of us all. They're UV coated to protect against fading and water-resistant so you can avoid scrambling to bring them inside whenever there's a touch of weather. Grab a few to have on hand whenever seating is hard to come by or for a fun option for kids to use out in the yard.

<< More Floor Cushion Styles >>
5. "Tiny luxury" is really a thing in this micro condo.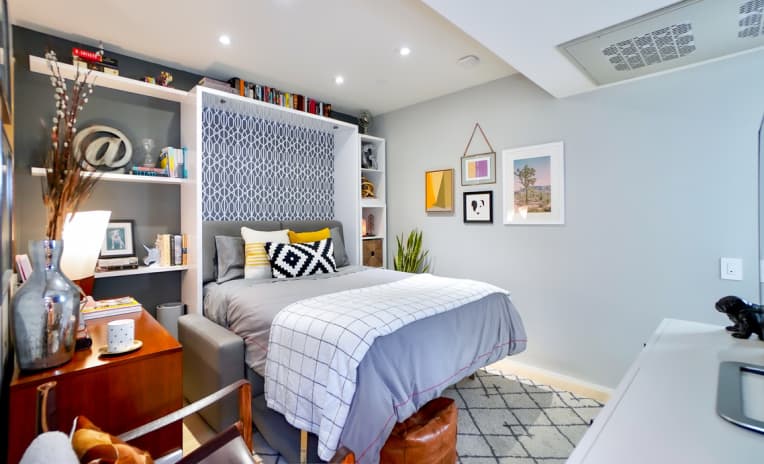 For Mitch Johnson, it's all about the basics in his 300-square-foot micro condo in Washington, D.C. "There is everything I need and nothing that I don't," Johnson says, adding that he only purchases and decorates with nice items that he really likes — something he calls "tiny luxury." This studio is proof that minimal square footage doesn't mean minimal style.
Add throw pillows to whatever room needs an extra dose of comfy. Filled with a fluffy faux down insert, you don't have to sacrifice comfort for style. Available in four sizes and all measurements are made without pillow insert.

<< More Throw Pillow Styles >>
6. In a professional organizer's studio, not only is less "more," it's actually better.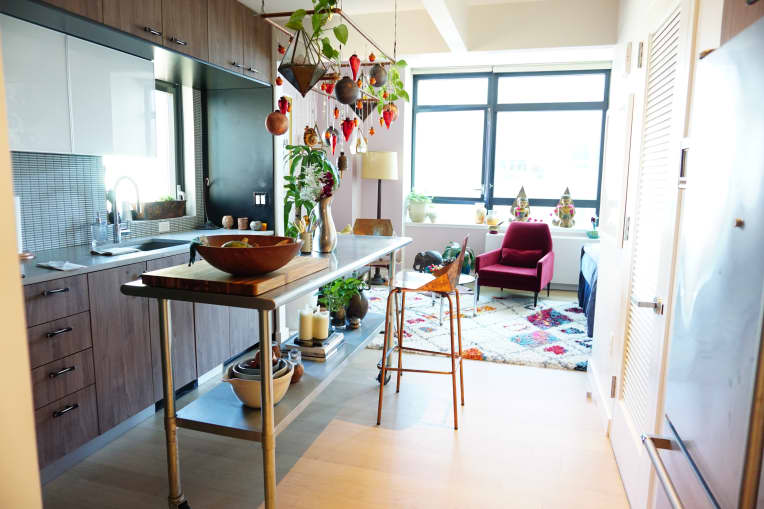 Faith Roberson encourages people to only keep things that make sense for their space, and the professional organizer had to put her own rule into effect when she downsized from a two-bedroom to this 512-square-foot apartment in New York City. Luckily, she says her "smart studio" was optimized for easy use and storage, from the kitchen's overhead cabinets to the bathroom's full-length, mirrored medicine cabinet.
Start it from the bottom, get it here. (Okay, maybe revised Drake lyrics aren't our thing.) What is our thing? Allowing you to express your style all over your home with a feature-worthy rug. They're made from a woven, polyester chenille for a soft and textured look. Plus, choosing from our wide array of designs, you're sure to find just the rug to match your decor. Available in two sizes.

<< More Rug Styles >>
7. The lesson from this studio? Do double duty.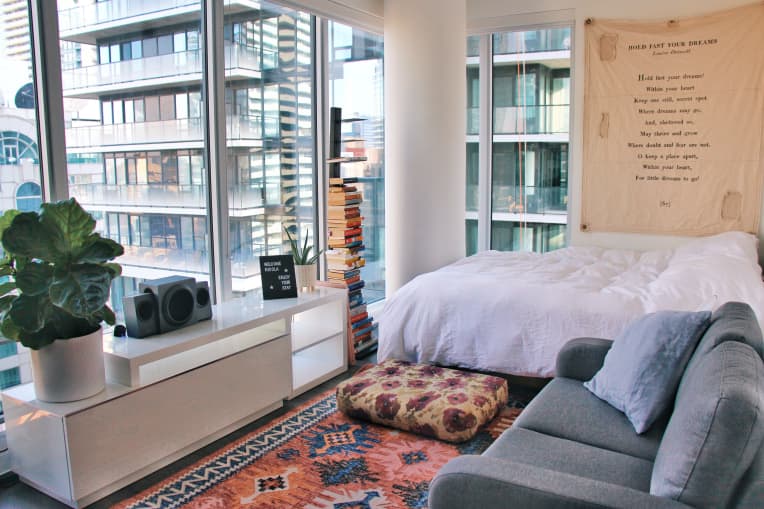 This 380-square-foot micro condo in Toronto includes window shades that double as a projector screen — no TV required — and a side table that can double as a coffee table. "This is the perfect example that you don't need a lot of space to create a cozy home," says owner Vivian Chow.
The Jack (or Jill) of all trades. Wall tapestries truly can do it all. They're lightweight and easy to hang on the wall using thumbtacks, nails, or clothespins. The synthetic fabric is suitable for outdoor use too—making them a great option for laying out in a park or in the backyard. Tapestries are available in five sizes to fit any space.

<< More Wall Tapestry Styles >>
8. It's all about the owner in this moody, modern rental.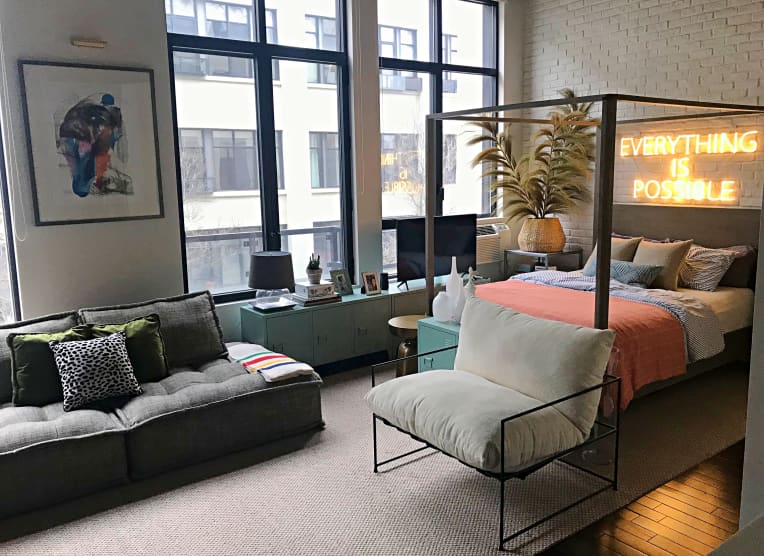 You'll find nods to Kevin Campbell's Afro-Caribbean identity throughout his 499-square-foot Montreal rental. "I'm not afraid of color, pattern, texture, or bold visual statements," he says, adding that one of his rules for creating your home is, "Be true to what you love. When it comes to creating a home that you love, it really is ALL ABOUT YOU!!" You'll also want to check out the storage situation here: Campbell has an entire wall of super tall, matte black cabinetry that's equal parts stylish and useful.
Our customers tell us ALL the time how soft and warm our Throw Blankets are (the secret: Sherpa fleece). Even better, they get softer the more you wash them. They're a perfect addition to any living room couch. Featuring a crisp, vivid design on the front with a reverse white side.

<< More Throw Pillow Styles >>
9. In this studio, an architect switches up the layout whenever he needs different functionality.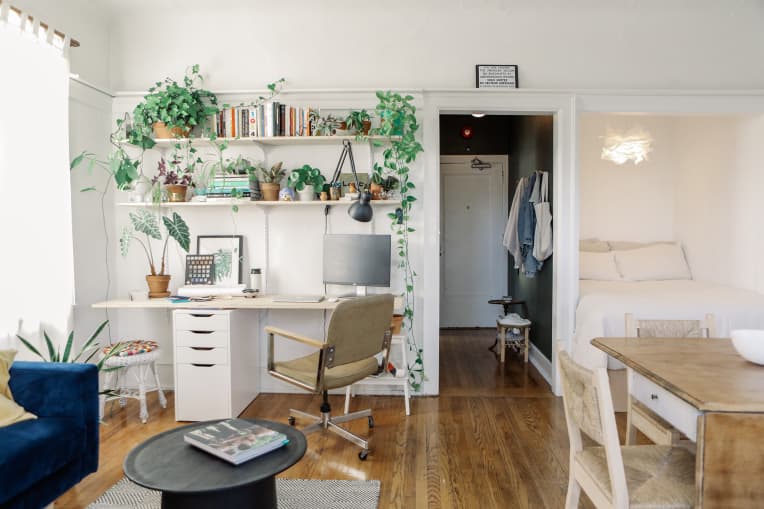 Ricardo Polanco moved into his 380-square-foot Toronto studio several years ago and says he "immediately saw potential and challenges in its open floor plan, as it felt like a blank canvas, which means opportunities to get creative." Polanco has changed up that "blank canvas" of a layout multiple times. In his most recent iteration, he transformed a walk-in closet into a cozy bedroom nook so he would have more space to work from home.
Give your pillows the makeover they deserve. Whether it's for your fancy new memory foam or you're old go-to from back in the day, our pillow shams are sure to do your pillows proud. Whether you choose the natural fiber cotton or soft, premium microfiber—our pillows shams are soft and cozy with colors that really pop. Available in Standard or King sizes.

<< More Pillow Sham Styles >>
10. Take this Parisian-inspired rental as your sign to buy that item if you love it.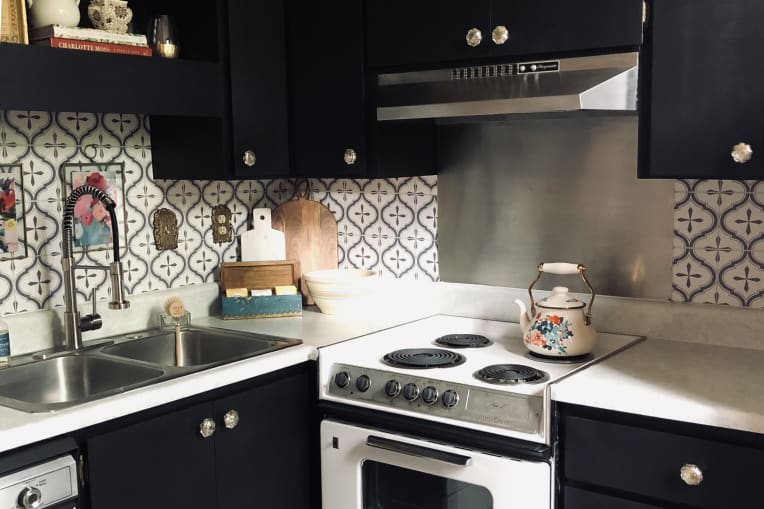 Heather B. of Savannah, Georgia, took her first solo trip to the Chateau de Gudanes in France in July 2019. That trip became the inspiration for her 500-square-foot apartment in a 19th-century house, which she decorated in her "thrifted Parisian chateau chic" style. When it comes to secondhand shopping and looking for pieces that speak to you, buy first and plan later, Heather says. "NEVER hesitate on buying something you love; it will not be there when you go back. If you love something you will find a way to make it work."
Our peel and stick Wallpaper is easy to apply and take off, leaving no adhesive residue. Featuring sharp, vibrant images, Wallpaper patterns are ideal for accent walls, flat surfaces, and temporary installations (like parties!). Available in three floor-to-ceiling sizes.

<< More Wallpaper Styles & Artworks >>
11. This studio has closed storage basically up to the ceiling.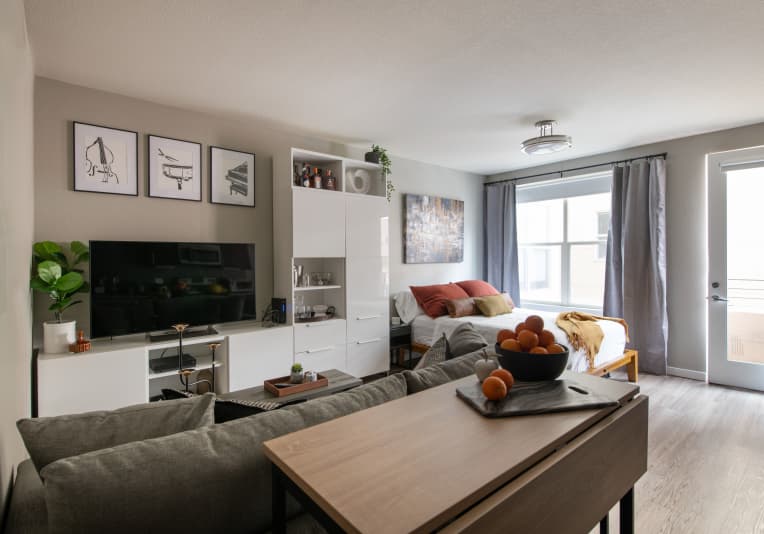 Trent Saiget hired designers to help make his 400-square-foot studio apartment in Denver feel warmer and more functional — and he definitely got his money's worth. The designers got strategic with multifunctional furniture, such as a sleek and — notably — closed white storage system that serves as a TV stand, dresser, and place for extra kitchen items. Trent's proudest DIY? He arranged that cabinet system to also accommodate a full open bar setup.
As experts in the field of sitting down, we thoughtfully crafted our Floor Pillows to be overstuffed, plush, and firm. These cushions never lose their shape, and the high-quality print makes sure the design stays crisp and colorful.

<< More Floor Pillow Styles >>