This piece was created for Cubby, our weekly newsletter for families at home. Want more? Sign up here for a weekly splash of fun and good ideas for families with kids.
There's a particular art to designing children's rooms: They have to satisfy not only the paying client (mom and dad) but also the rooms' pint-sized inhabitants. Children's rooms can be a place for designers to have some fun, with fanciful colors or playful patterns, but they must also not feel totally out of place in the house as a whole. Add on to that the fact that kids' tastes and interests change lightning-quick, and designing a child's room can feel like a difficult puzzle.
We asked 11 designers to share their favorite kid rooms — and it just so happens many of them belong to the designers' own children's rooms. From sweet nurseries to big-kid quarters, these rooms show that while these spaces don't get the most real estate in mainstream design magazines, they are no less stylish than any other room.
A room that feels like a garden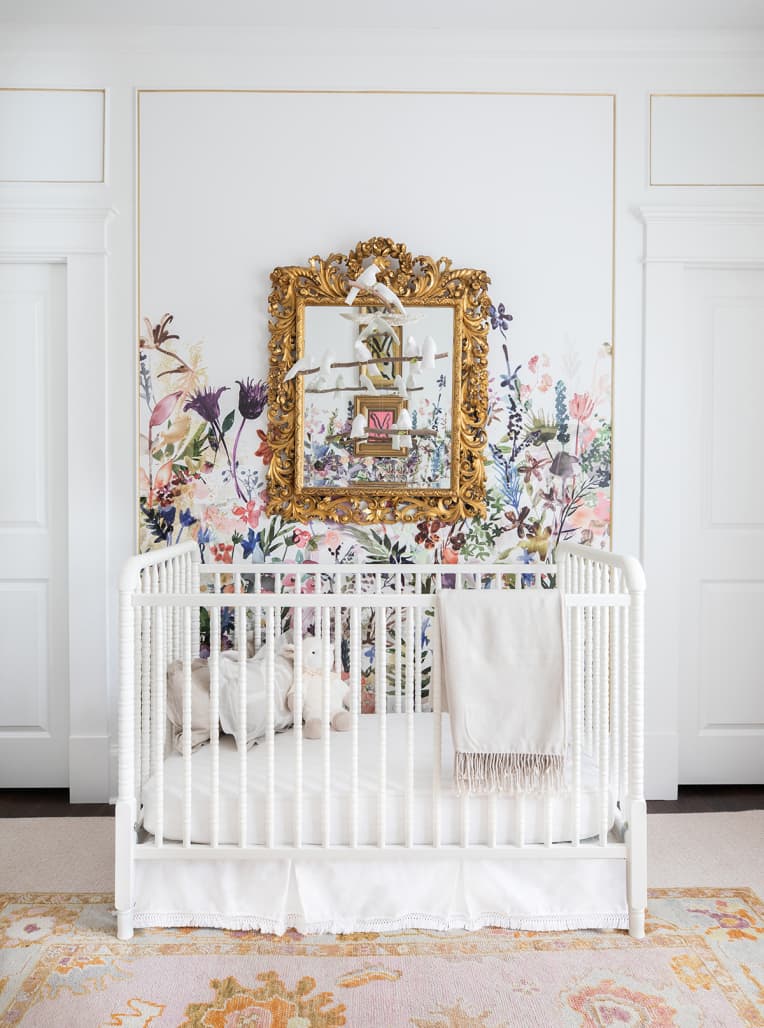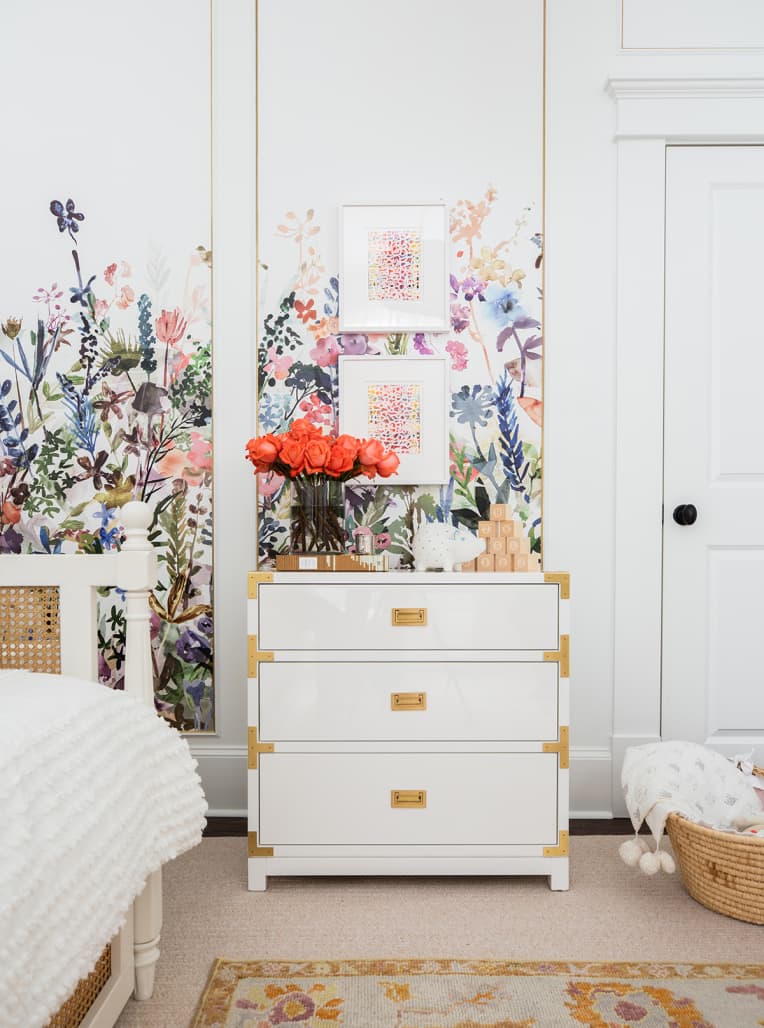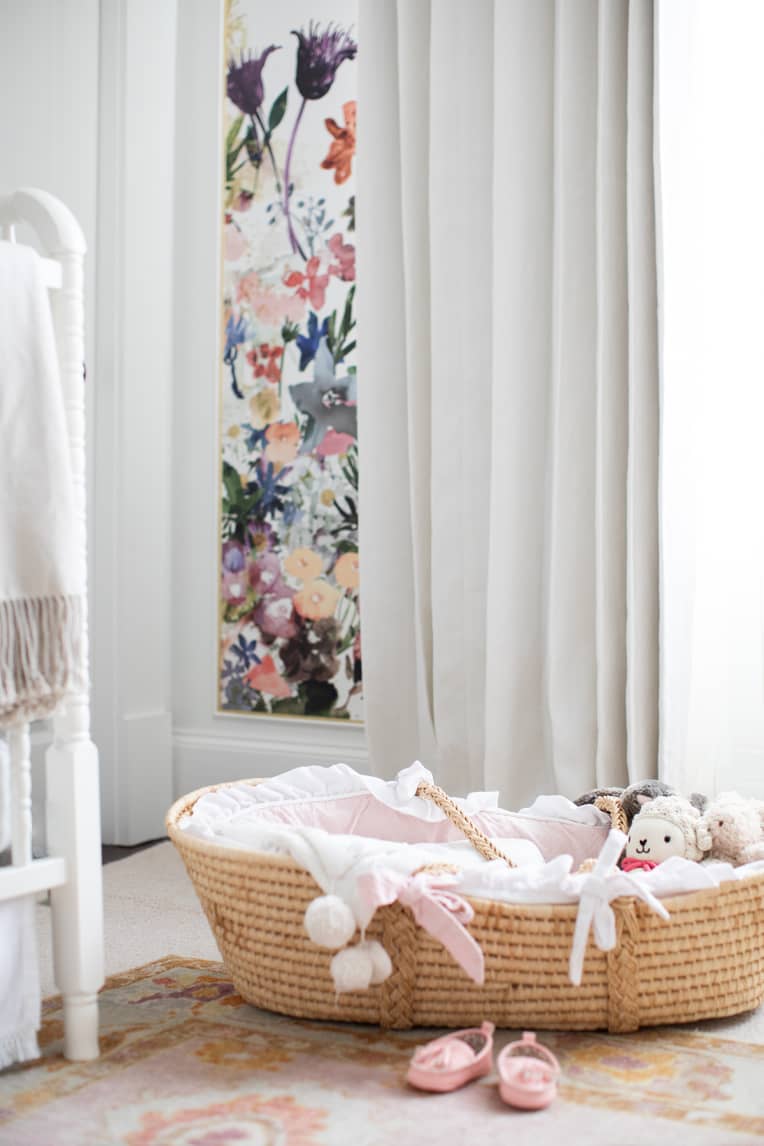 Houston-based designer Marie Flanigan may have created the ultimate garden-inspired nursery for her third child and only daughter Eve. A floral wall mural by Rebel Walls transforms the room into a secret garden. The author of The Beauty of Home, Flanigan wasn't afraid to put real art into the baby's room, hanging two Hunt Slonem bunnies paintings above the caned daybed.
With our Wall Murals, you can cover an entire wall with a rad design – just line up the panels and stick them on. They're easy to peel off too, leaving no sticky residue behind. With crisp, vibrant colors and images, this stunning wall decor lets you create an amazing permanent or temporary space. Available in two floor-to-ceiling sizes.

<< More Wall Mural Styles >>
An old-meets-new nursery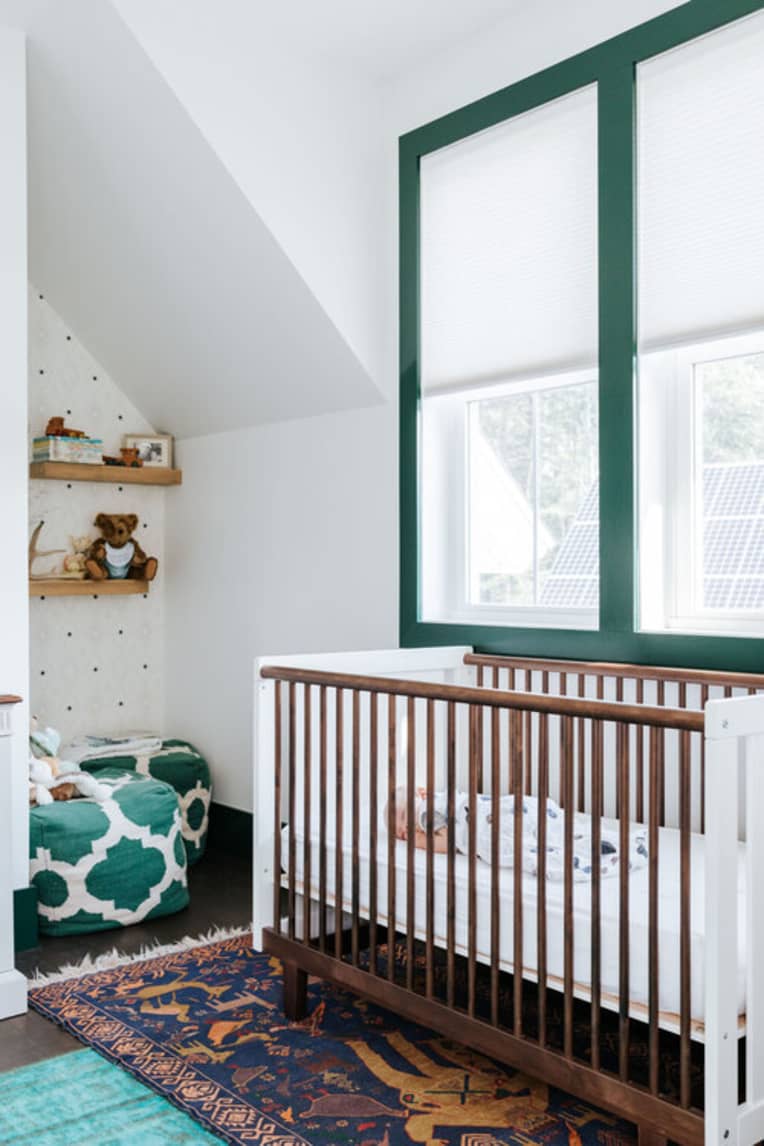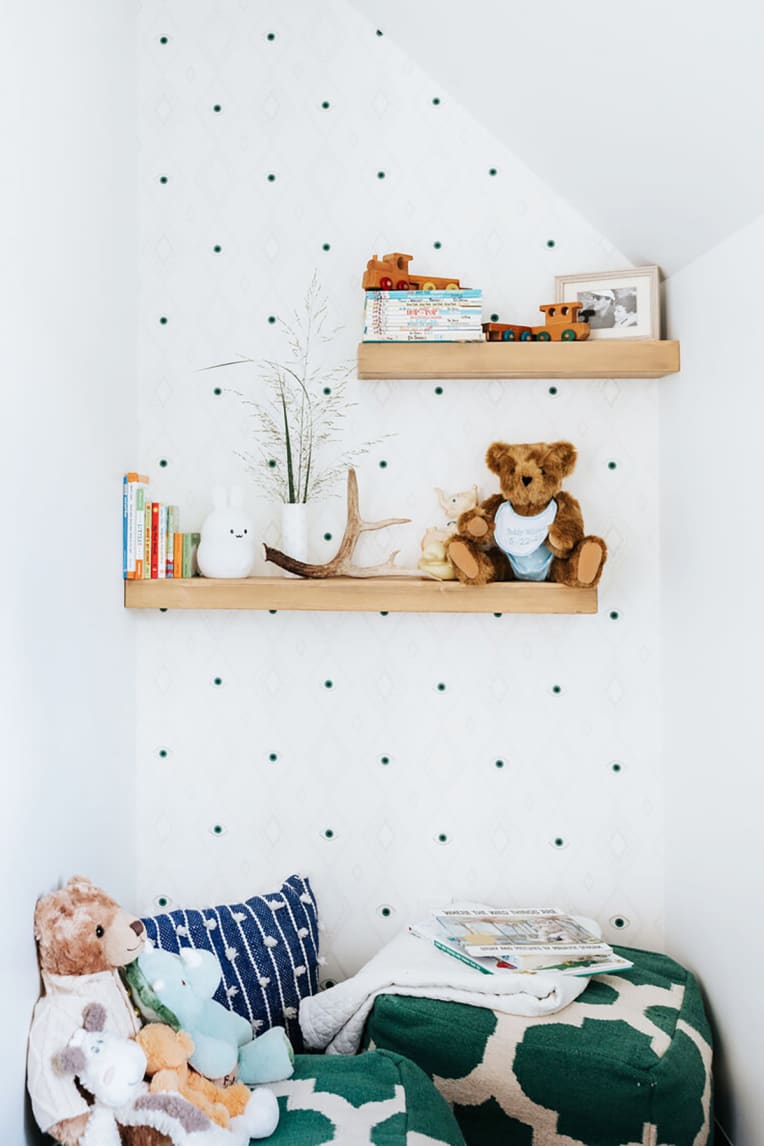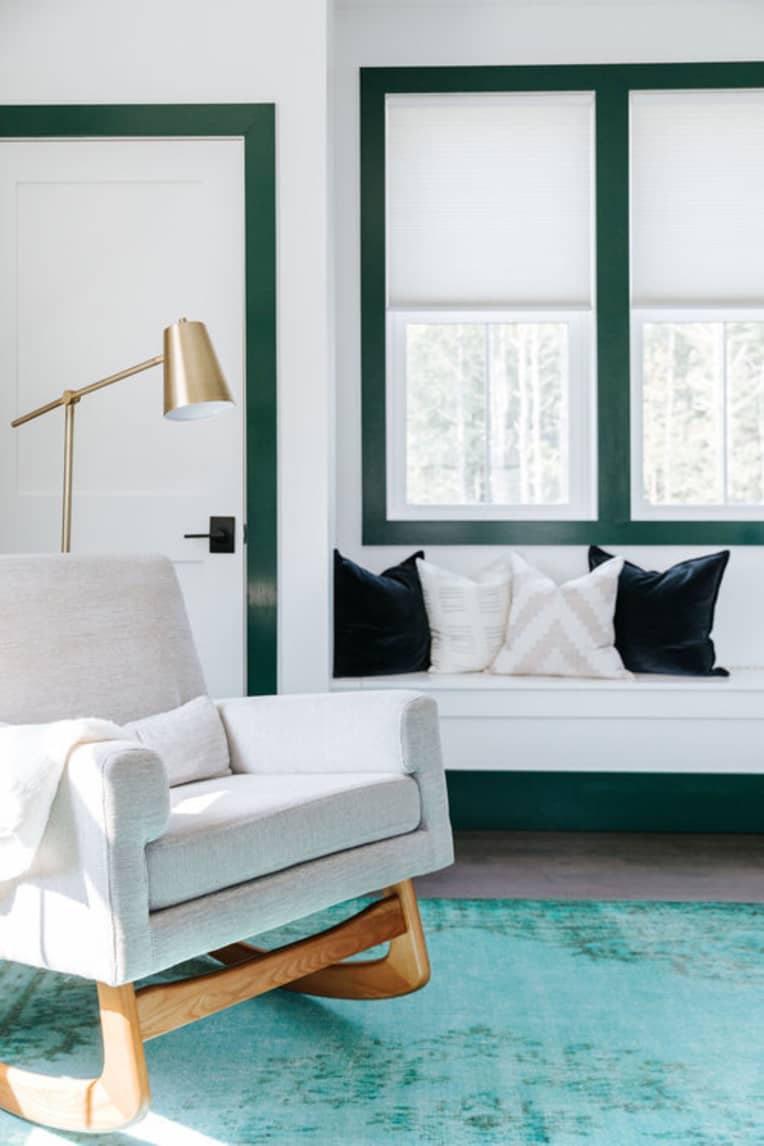 Maine designer Samantha Pappas loved designing this nursery for her own baby boy because it included a mix of modern furnishings with vintage and heirloom accents. Pappas says, "My favorite details of the space include the subtle pops of color that greet you with emerald trim and an antique rug positioned under the crib." Pappas also transformed an awkward corner into a reading nook filled with daddy's vintage toys and books.
Find somewhere soft to land. Our floor cushions are the super comfy and style-forward option for the boho side of us all. They're UV coated to protect against fading and water-resistant so you can avoid scrambling to bring them inside whenever there's a touch of weather. Grab a few to have on hand whenever seating is hard to come by or for a fun option for kids to use out in the yard.

<< More Floor Cushion Styles >>
A fanciful attic conversion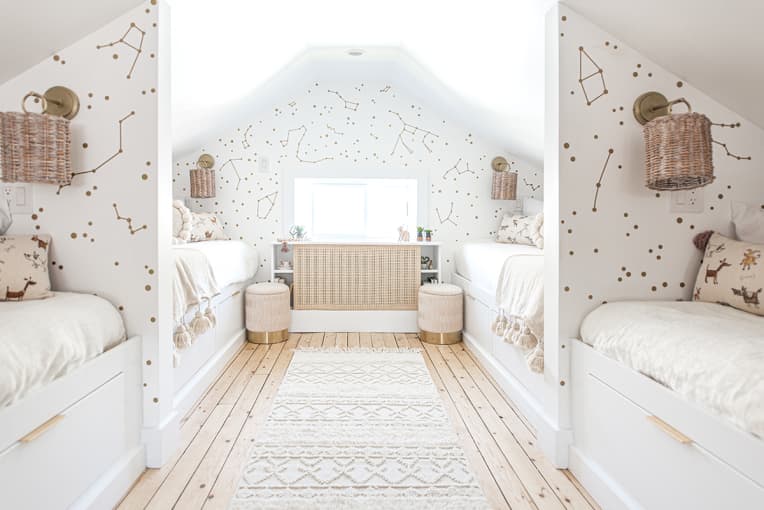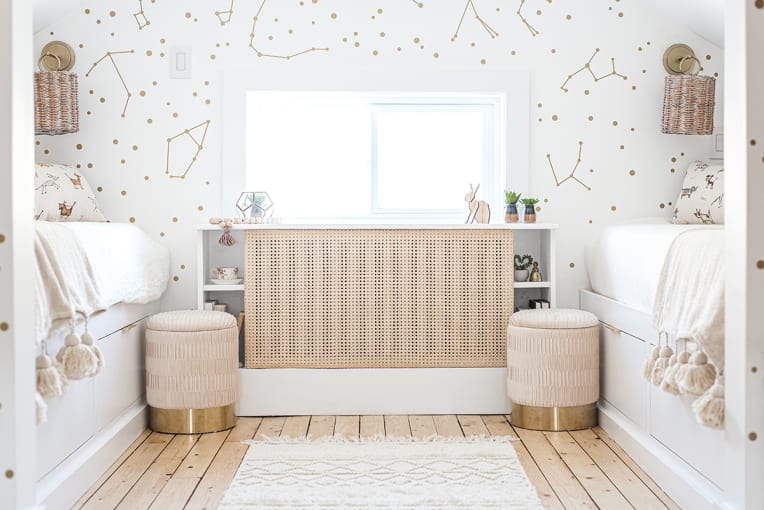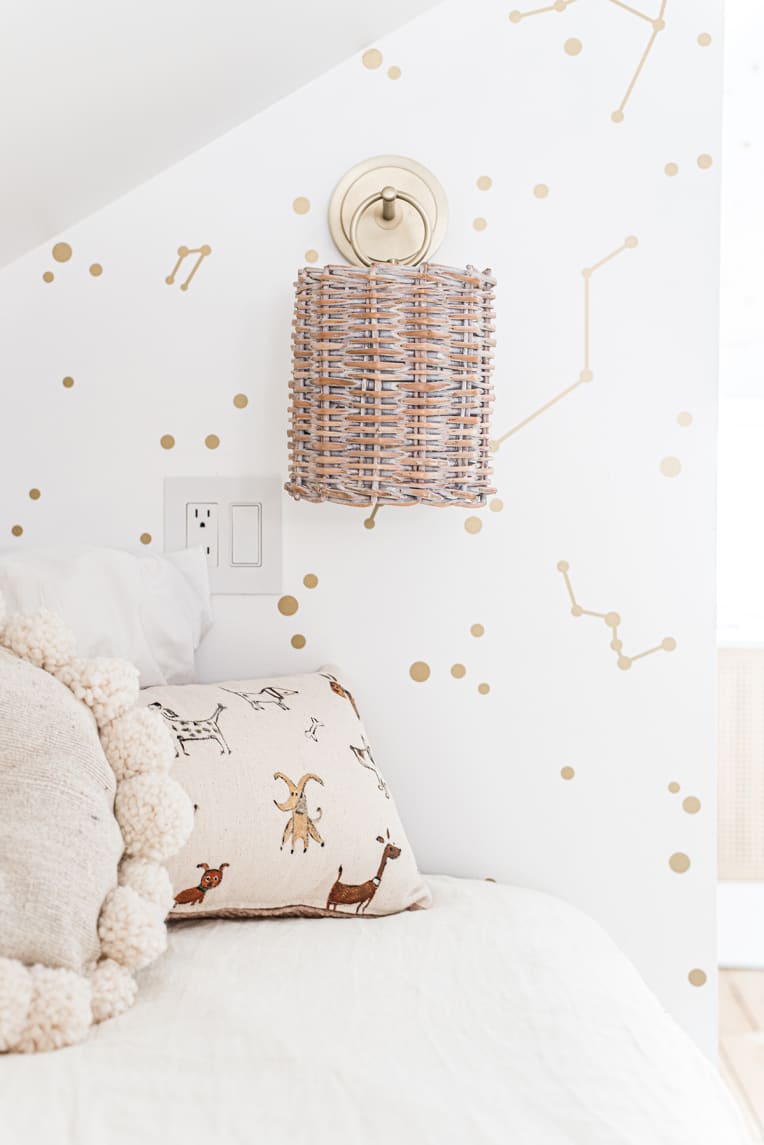 Last year Rebekah Higgs, the host of Canada's DIY Mom series, renovated the attic in her house in Halifax into sleepover central for her daughter and her friends. There is sleeping space for four kids, and each bunk has a rattan sconce, a plug for devices, and large storage drawers underneath. Higgs notes that the constellation decals were a simple way to create a wallpaper look onto the white painted walls. "My favorite detail in the space is the woven can radiator cover I built in between the cubby beds under the window. It turns an old-fashioned radiator into a piece of furniture, and adds a natural fiber and texture to the room," says Higgs.
You're getting verrrrry sleeeeepy. (But someone needs to tell Netflix to chill. Yes, we're still watching!) It's easy to get lost in sleep in our warm yet lightweight natural cotton comforters. The natural fibers offer a breathable option to keep you cool in the summer and toasty in the winter. Plus, just like your favorite pair of jeans, our cotton bedding gets softer after each wash! Available in Twin, Twin XL, Full, Queen, and King sizes.

<< More Comforter Styles >>
A technicolor toddler room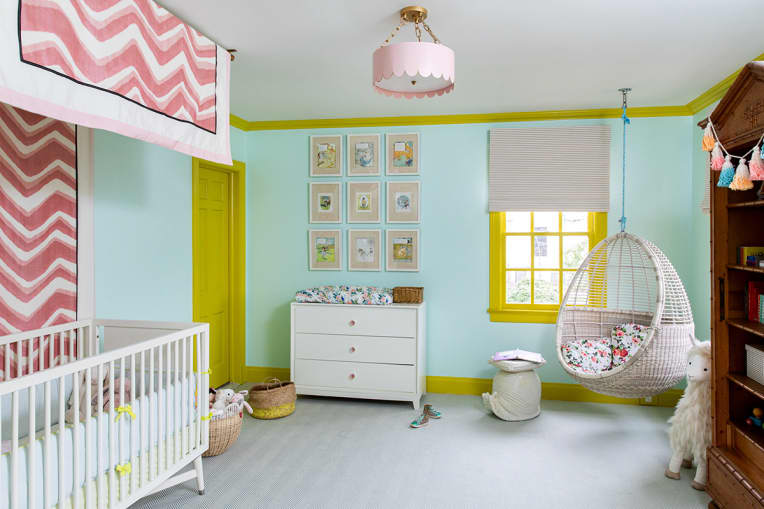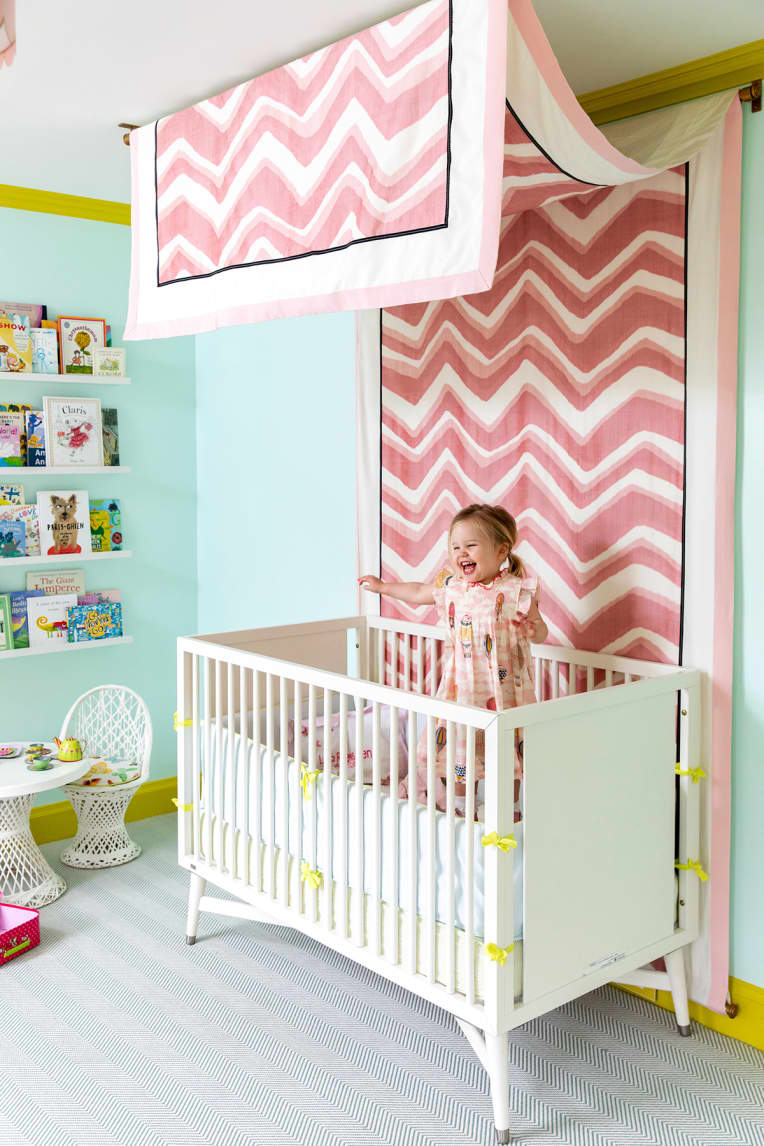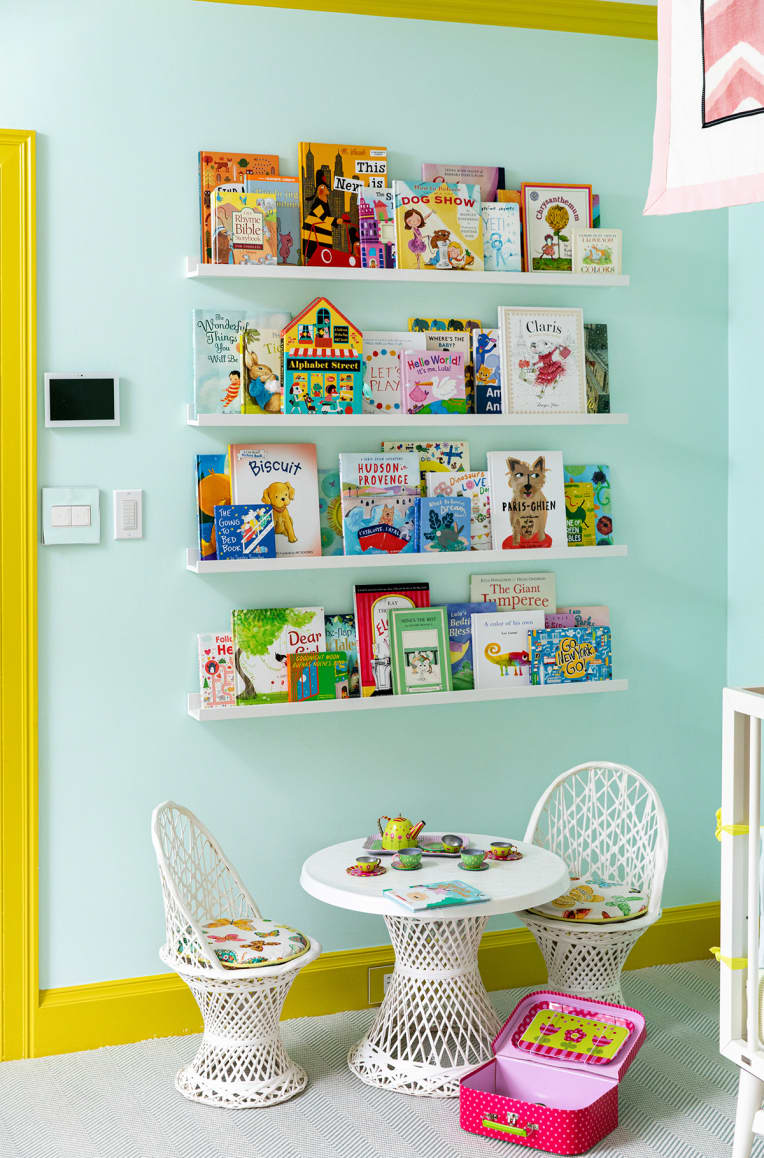 North Carolina designer MA Allen designed this colorful room for her youngest daughter, Lula (now almost 3 years old and about to transition to her big girl bed!). Unlike most people who decorate their kids' rooms before they arrive, Allen has designed each of her three children's rooms as they transitioned from nurseries to "big kid rooms," when she knows a little more about their personalities. Allen is also a big fan of anything that can be reused and repurposed. "The crib canopy was designed for my firstborn, then remade in a black and white stripe when I had a baby boy, and then the original Brunschwig and Fils canopy went back up once little Lula was born," says Allen, who notes that in a nursery, the crib is typically the focal point, and this design feature exaggerates it further.
Add throw pillows to whatever room needs an extra dose of comfy. Filled with a fluffy faux-down insert, you don't have to sacrifice comfort for style. Available in four sizes and all measurements are made without pillow insert.

<< More Throw Pillow Styles >>
A pink room with a hint of fantasy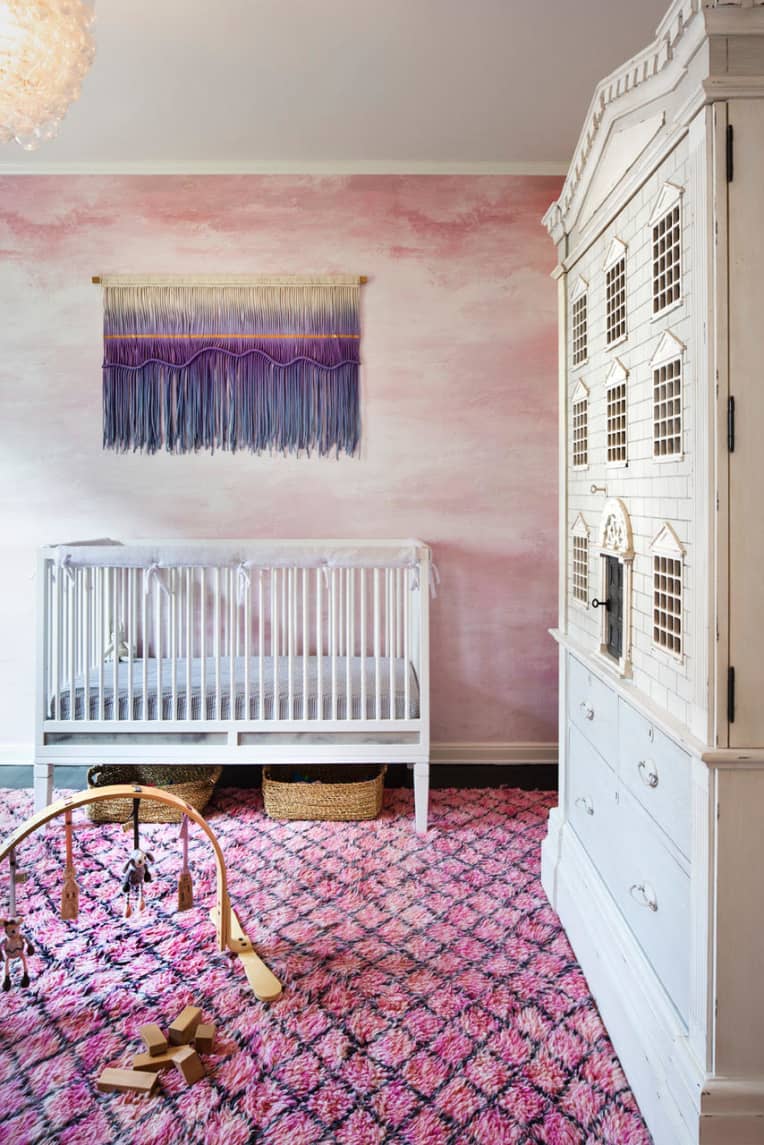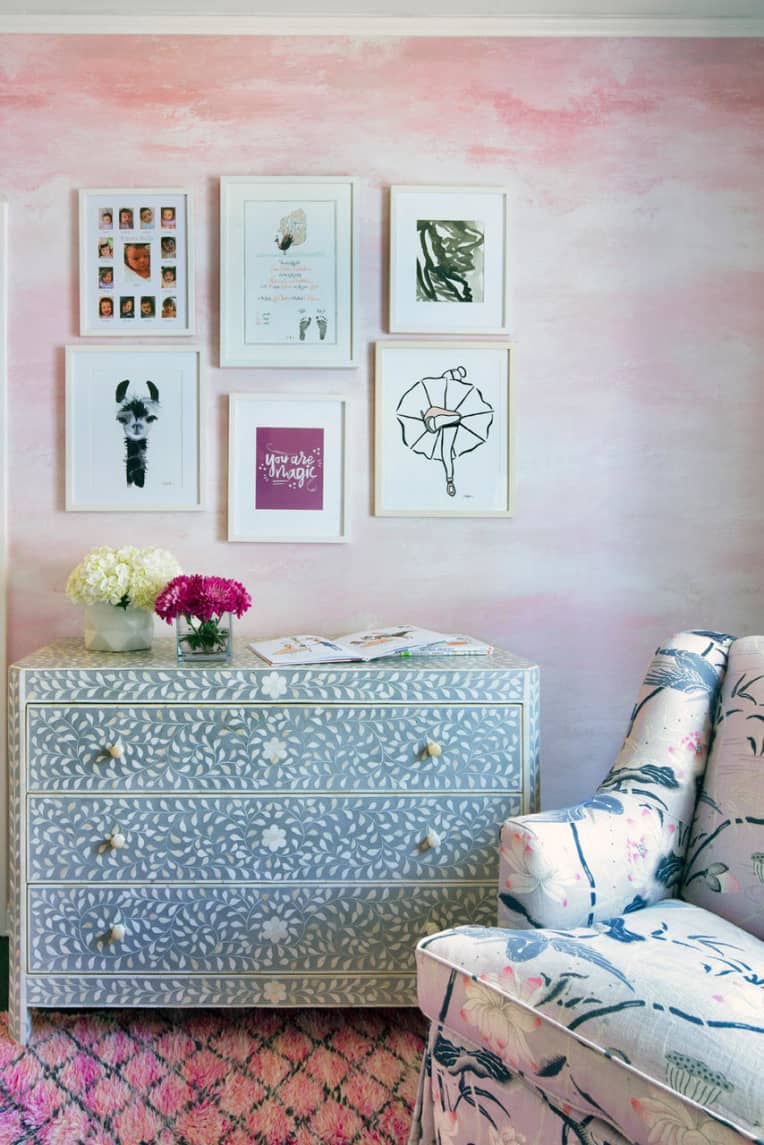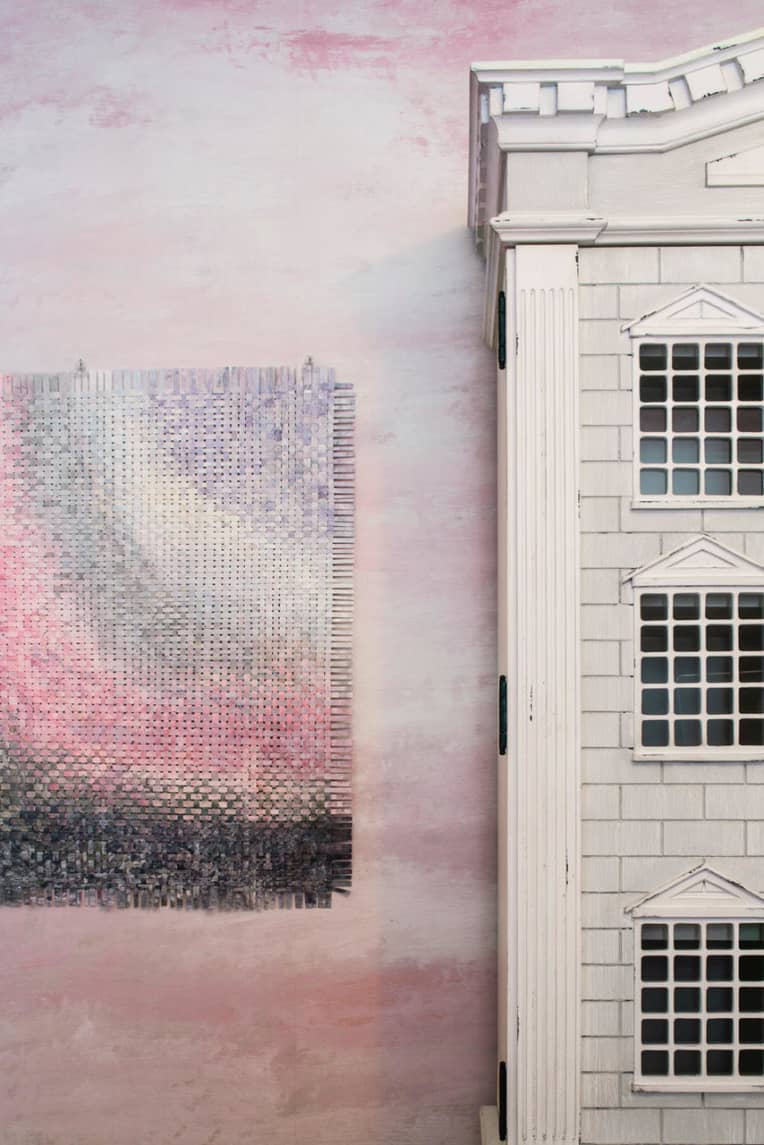 Melissa Warner Rothblum of Massucco Warner in Los Angeles says her own daughter's room was her favorite kid room project and also a bit of a surprise. "I didn't imagine going quite as pink for my daughter's nursery, but I came across this rug when I was pregnant and it was a must-have," she says. From there, Warner Rothblum added charcoal and lavender to balance the pink. Her favorite detail is the custom dollhouse cabinet, which adds a touch of whimsy and keeps all the toys hidden when not in use.
As experts in the field of sitting down, we thoughtfully crafted our Floor Pillows to be overstuffed, plush, and firm. These cushions never lose their shape, and the high-quality print makes sure the design stays crisp and colorful.

<< More Floor Pillow Styles >>
A modern-yet-traditional, decorator special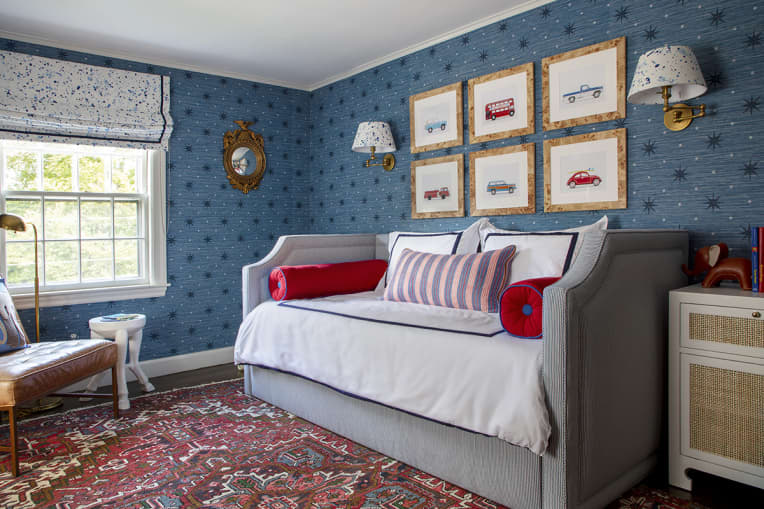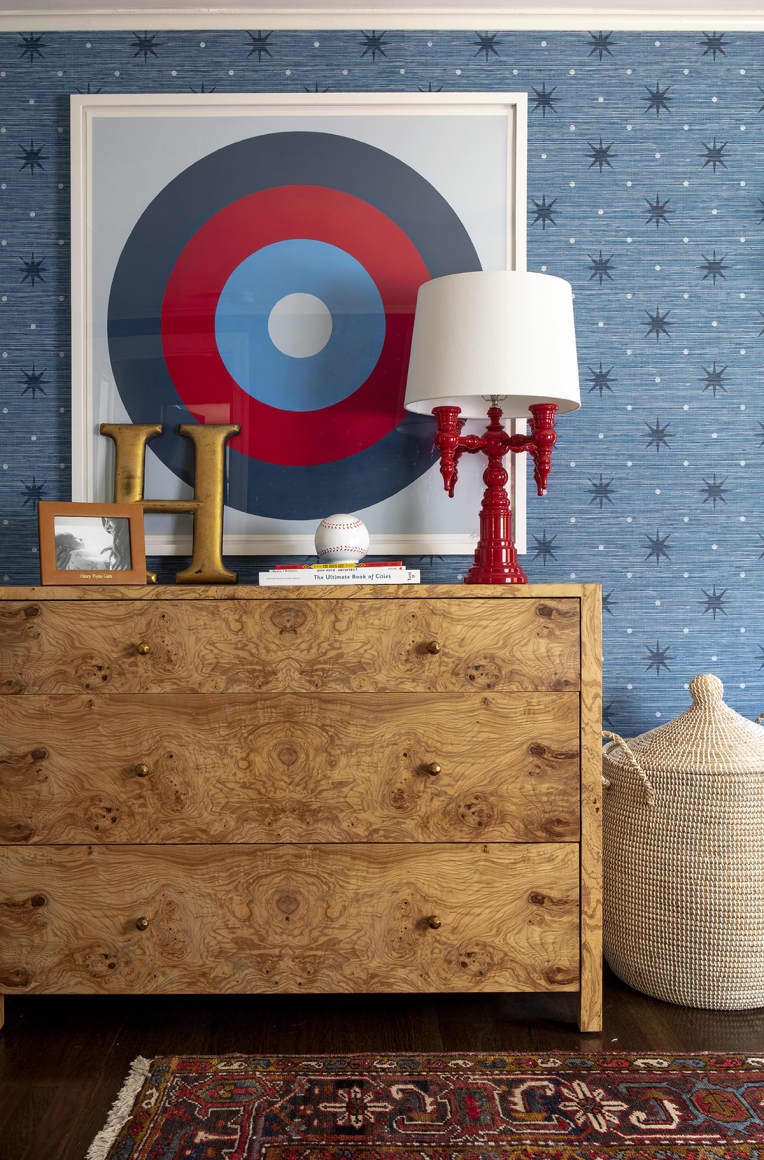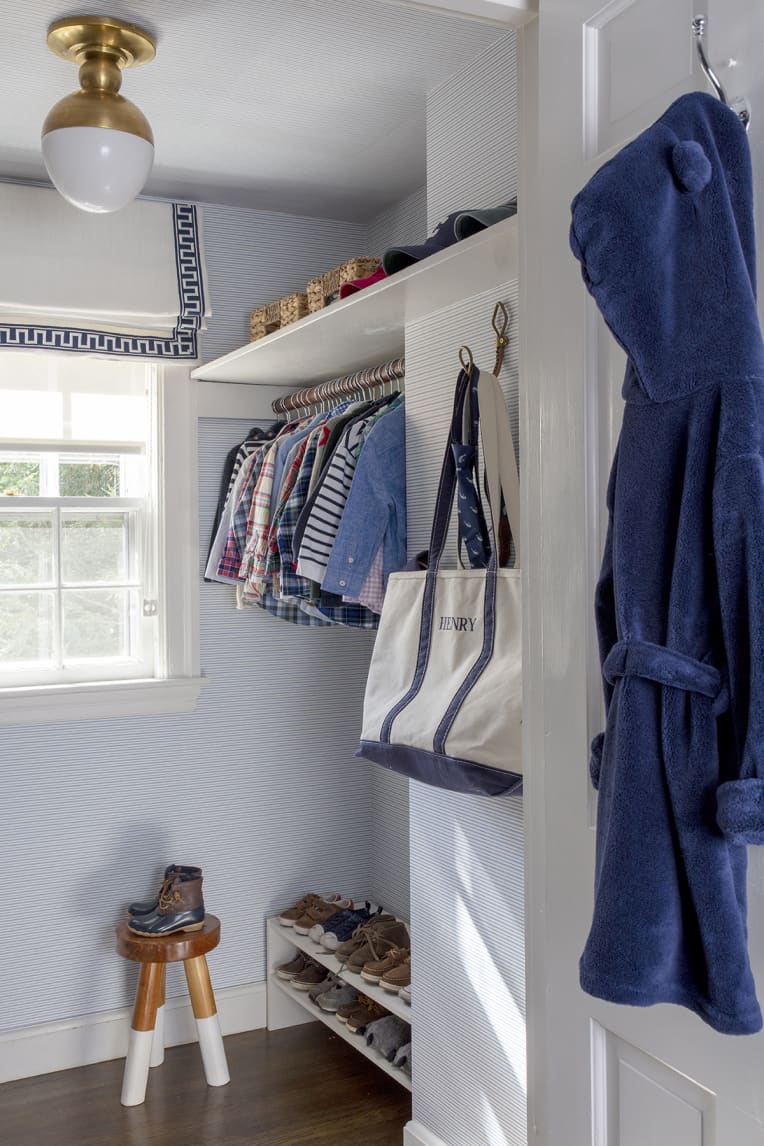 Designer Erin Gates knows a thing or two about designing for kids: Her most recent book was titled Elements or Family Style. Gates's favorite kids' room to date was her own son Henry's big boy room in her last home. "The décor is fully inspired by him and his happy, sweet, wonderful little personality," she says. Gates opted for vinyl grasscloth wallpaper in an iconic Hinson pattern because it is "durable and rich without being dark." The side tables offer up concealed toy storage but add texture and warmth to the room. Gates commissioned a bullseye painting from artist Stephanie Henderson, which will be something that will grow with him (in the meantime, he likes that it looks like Captain America's shield!). "This room was probably the nicest room in our old house," says Gates, who recently moved.
Our customers tell us ALL the time how soft and warm our Throw Blankets are (the secret: Sherpa fleece). Even better, they get softer the more you wash them. They're a perfect addition to any living room couch. Featuring a crisp, vivid design on the front with a reverse white side.

<< More Throw Blanket Styles >>
An absolutely bananas design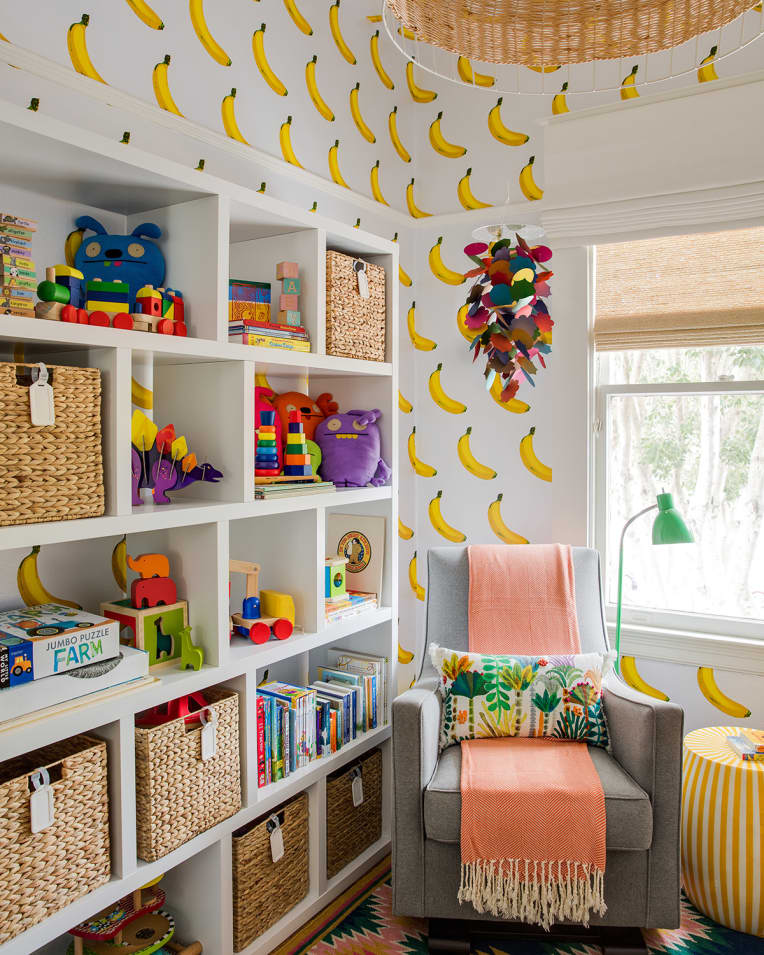 Scroll through Studio Munroe's Instagram feed and you'll find Cali-cool interiors with pops of color here and there, and then you'll see … the bananas. The Flavor Paper wallpaper in founder Emilie Munroe's younger son's bedroom has been racking up the likes since she installed it. Munroe says it has had surprising staying power: While the crib and the glider are long gone (her son is now 3 1/2), the cheerful wallpaper is still hanging!
Express your style all over your home with a feature-worthy rug. They're made from a woven, polyester chenille for a soft and textured look. Plus, choosing from our wide array of designs, you're sure to find just the rug to match your decor. Rugs are one of the best, attention-grabbing pieces to design a room around. Use the colors within the rug to help choose art prints, furniture fabric, and accent pillows.

<< More Rug Styles >>
A neutral space that's designed for longevity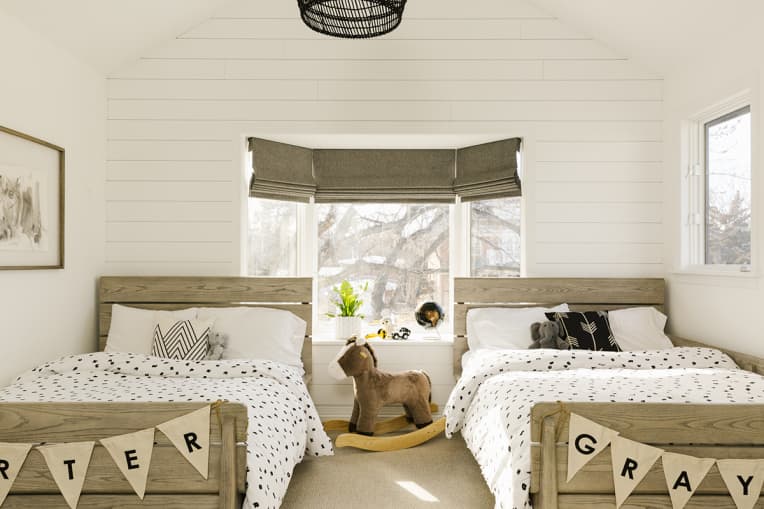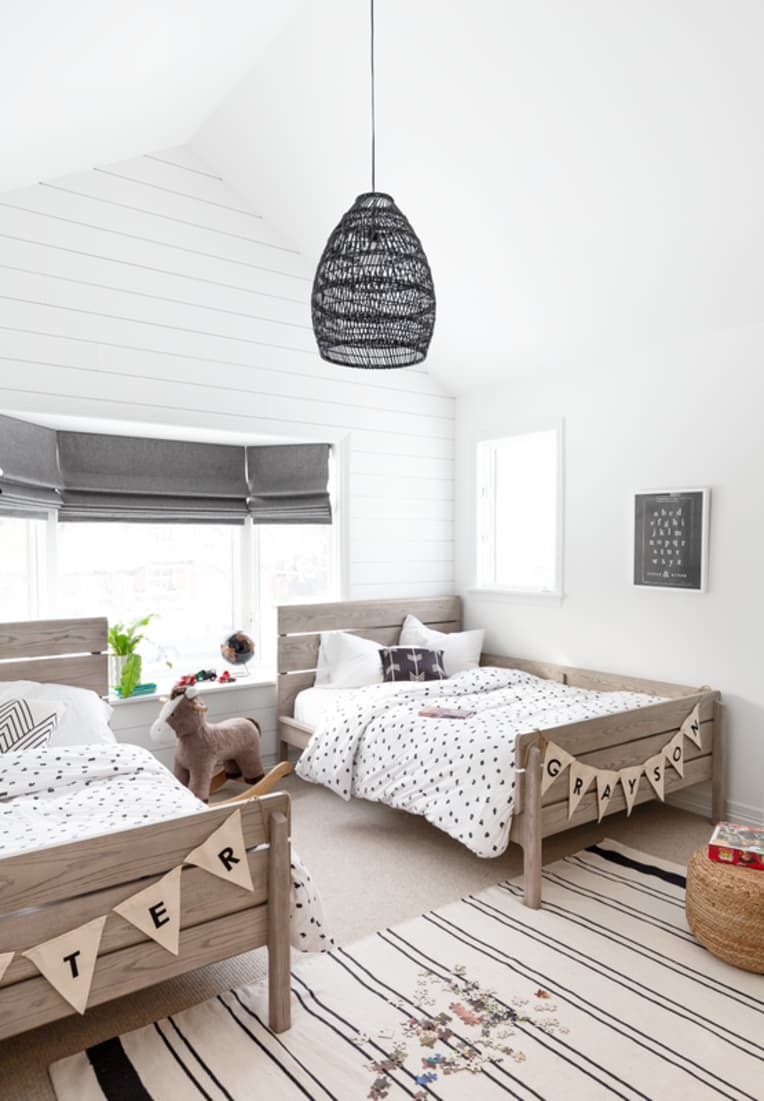 Lee Mayer, founder of Havenly and author of Design the Home You Love says, "I'm the lucky bonus mom to two pretty awesome step-boys: Grayson, 8, and Carter, 5." To make sure space could "grow and evolve with them as they get older," she opted for a neutral color palette. "One of my favorite features of this space was the DIY abstract paintings that we made with the boys. It was a super fun afternoon activity to do as a family," she says. "Plus, I just love that there's a bit more meaning and personality behind the pieces; it makes them all the more special."
You went for the duvet… you fancy, huh? Now it's time to finish the job and dress it up with some premium design. Our ultra-soft duvet covers feature sharp, vivid prints on the front, with a crisp white on the back. Available in Twin, Twin XL, Full, Queen, and King sizes. Duvet inserts not included.

<< More Duvet Cover Styles >>
A boho tween bedroom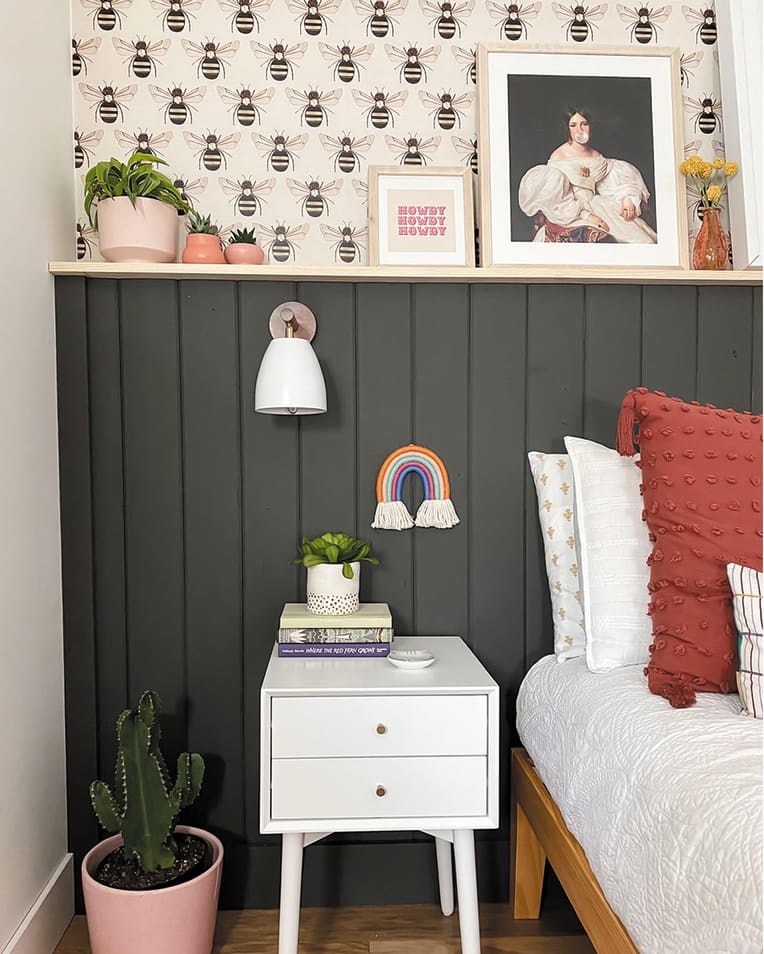 Courtney Equally, the DIY blogger behind Girl & Grey, says she had so much fun reimagining her daughter's first solo bedroom. "She's always been a good sport and shared a room with her little brother, but now we've done some bedroom shuffling and age 11 is the first time we could dream up a space that was just for her," says Equal. To turn the headboard wall into a focal point, Equal covered half the wall in wood paneling and painted it in Urbane Bronze SW 7048 by Sherwin-Williams ("it's a rich and moody hue brings the perfect amount of drama") and hung Milton King's "Golden Bee Embroidery" wallpaper above. A photo ledge with framed art divides the two wall treatments.
From sideshow to show-stopper, our side tables will be a stunning modern accent to your space. Selecting from our wide array of artist's designs printed with a satin finish on birch wood, you'll take any room from zero to a hundred. Available in a square or round table top, and black or gold leg colors.

<< More Side Table Styles >>
A small space that is as efficient as a Swiss Army knife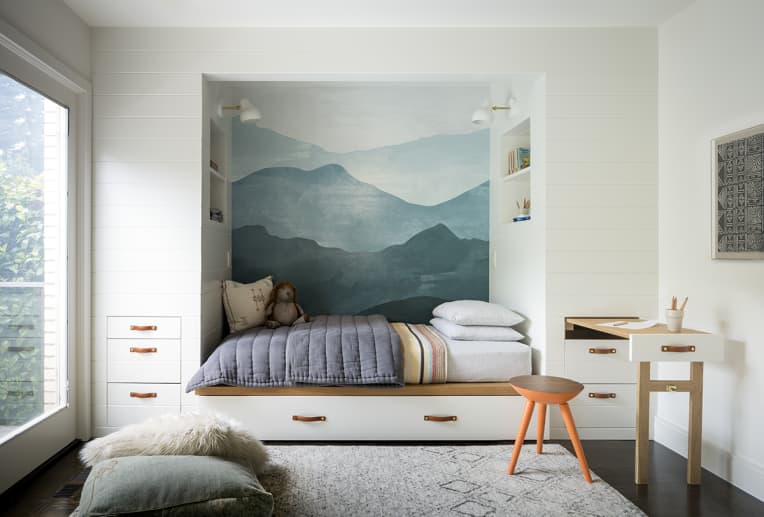 For this shared bedroom in San Francisco, Regan Baker Design skipped the usual bunk bed in favor of a custom trundle bed to fit a sister and brother, ages 4 and 6, into one relatively small bedroom. "I love the functionality of the space!" says Baker, "You can pull out the bottom drawer to use the trundle bed, and the top right drawer holds a desktop with fold-down legs. When these items aren't in use you can tuck them away and have lots of space to play on the plush wool rug!"
Give your pillows the makeover they deserve. Whether it's for your fancy new memory foam or you're old go-to from back in the day, our pillow shams are sure to do your pillows proud. Whether you choose the natural fiber cotton or soft, premium microfiber—our pillow shams are soft and cozy with colors that really pop. Available in Standard or King sizes.

<< More Pillow Sham Styles >>
A graphic, urban oasis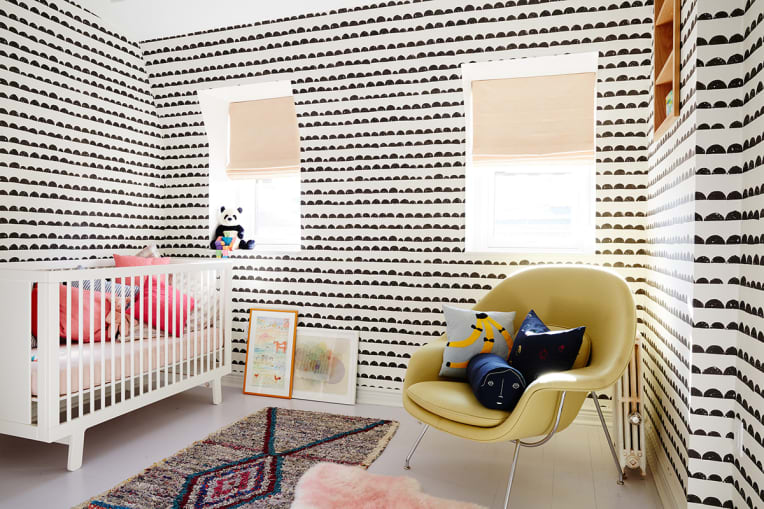 Brooklyn-based GRT Architects renovated a narrow Fort Greene townhouse. The clients moved in right after their daughter Ophelia was born and now she's 6 years old. She recently welcomed her little brother, Asa (4 months old), to share the room with her. "A synthesis of period details and contemporary design, the project is playful and sophisticated," say co-founders Rustam-Marc Mehta and Tal Schori. The black and white wallpaper provides a strong backdrop for all the bright toys that have layered the space over time, and the lilac floors are a fun surprise.
Quick and easy, yet potent—almost like they're the garlic bread of wall art. (Great, now we're hungry…) Posters are the most convenient way to bring design into your space. Colors will pop on the high-quality, smooth gloss paper. Hang your posters with thumbtacks, putty, or even clothespins on a string. Available in four sizes.

<< More Poster Artworks >>