Once considered a luxury, guest room office ideas have become a necessity for many in the post-pandemic world, with more of us working from home regularly or perhaps even permanently.
Whether you're repurposing a box room to function as your guest home office, have recently moved house to enjoy the benefits of office space, or are looking for ways to work a small home office or bedroom office into an empty corner of your home, our guest office ideas are here to inspire. Designed with productivity in mind, these spaces are stylish and functional, whatever your work-from-home needs.
GUEST OFFICE IDEAS
With practical home office storage solutions, curated home office paint colors, and enviable interior design schemes, these guest office ideas are bound to inspire your next guest bedroom to remodel.
1. CREATING A CALMING SPACE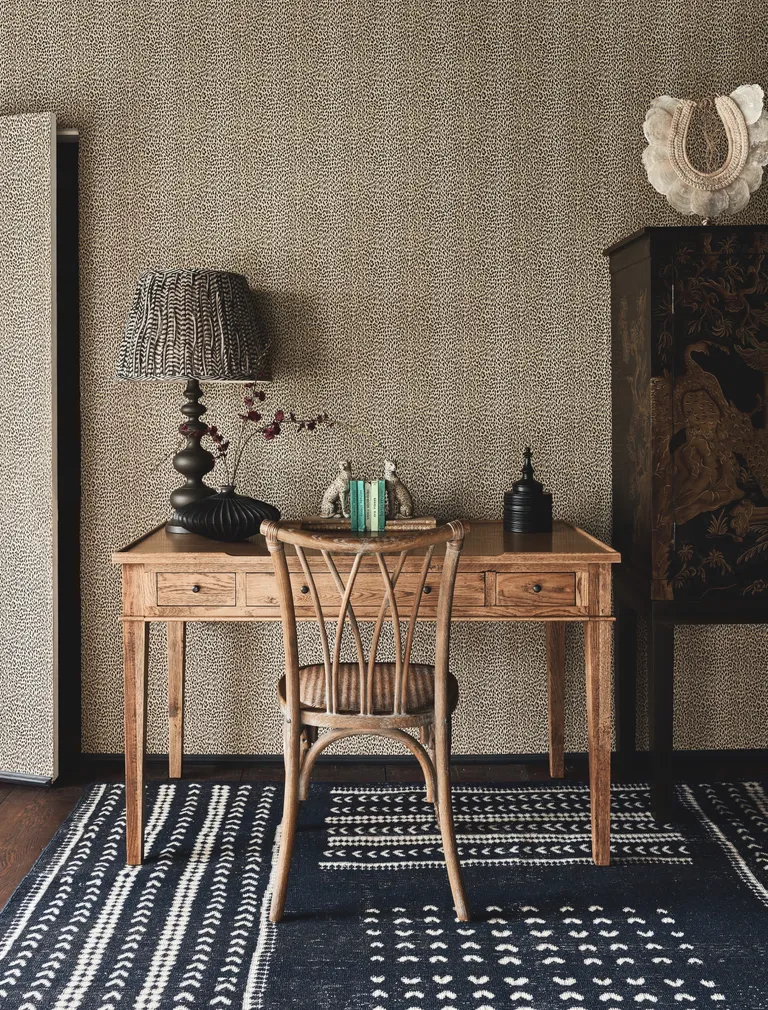 'Not all of us have space for a dedicated office in our home, so guest rooms can provide the perfect alternative, offering a calm and quiet place in which to concentrate.
I'd suggest choosing a desk that can double up as a dressing table; that way you've got the perfect space for your work, but it can also act as a handy surface for guests to use when they stay,' says Sue Jones, co-founder and creative director at OKA. 'Then, I'd add a few decorative pieces, such as a statement lamp or some characterful bookends; not only will this create a nice environment to work in, but it will keep the room looking attractive for when guests come to stay.'
Express your style all over your home with a feature-worthy rug. They're made from a woven, polyester chenille for a soft and textured look. Plus, choosing from our wide array of designs, you're sure to find just the rug to match your decor. Rugs are one of the best, attention-grabbing pieces to design a room around. Use the colors within the rug to help choose art prints, furniture fabric and accent pillows.

<< More Area Rug Styles >>
2. GIVE YOUR GUEST OPTIONS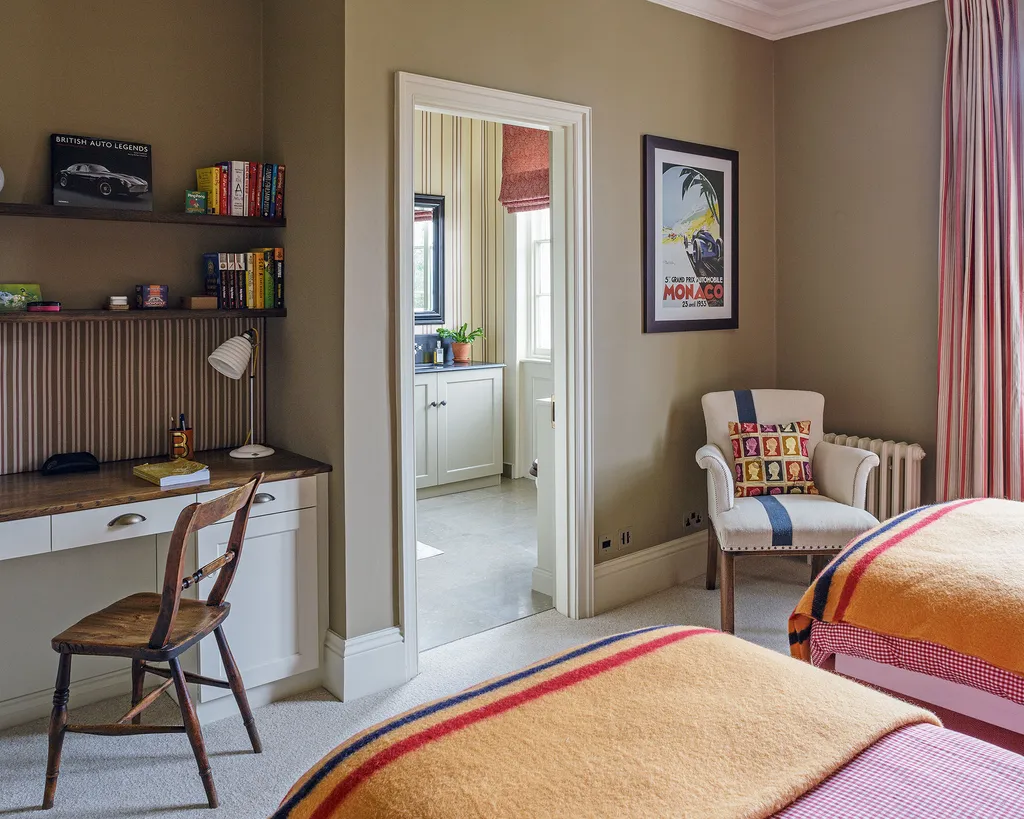 This neat area is perfect for a spot of email checking and there's a handy desk lamp for working in the evening. Or, sit in the comfy armchair with a laptop on your knee. Giving your guests a couple of options is key, especially if they're staying for a while.
It's easy to get lost in sleep in our warm yet lightweight comforters. Colors pop on this bedding staple and they will surely be the focal point of your bedroom's decor. Choose from either synthetic microfiber or our natural fiber cotton. Available in Twin, Twin XL, Full, Queen and King sizes.

<< More Comforter Styles >>
3. INSTALL A CUSTOM-BUILT DESK AREA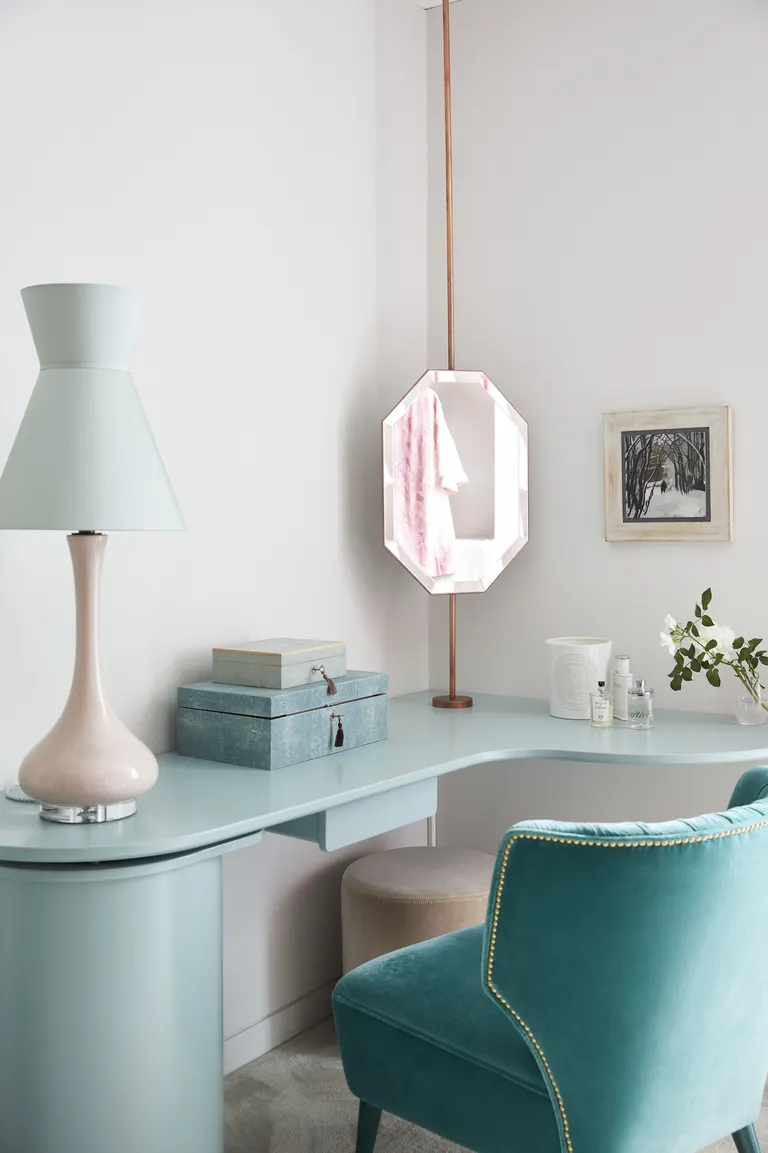 Step away from the corporate and there exists a plethora of home office desks and chairs that could complement your home's architecture. The materials from which the desk and chair might be made together with color options add to the breadth of choice.
'I like to provide my guests somewhere to sit away from the bed. I always include a comfortable upholstered chair and place a table and lamp close by to create a cute reading corner, or, somewhere to work,' says Natascha Dartnall, interior designer and founder of ND Studios.
Our outdoor floor cushions are the super comfy and style-forward option for outdoor seating. They're UV coated to protect against fading and water resistant so you can avoid scrambling to bring them inside whenever there's a touch of weather. Grab a few to have on hand whenever seating is hard to come by or for a fun option for kids to use out in the yard.

<< More Floor Cushion Styles >>
4. ALWAYS PROVIDE EXTRA TOUCHES FOR YOUR GUESTS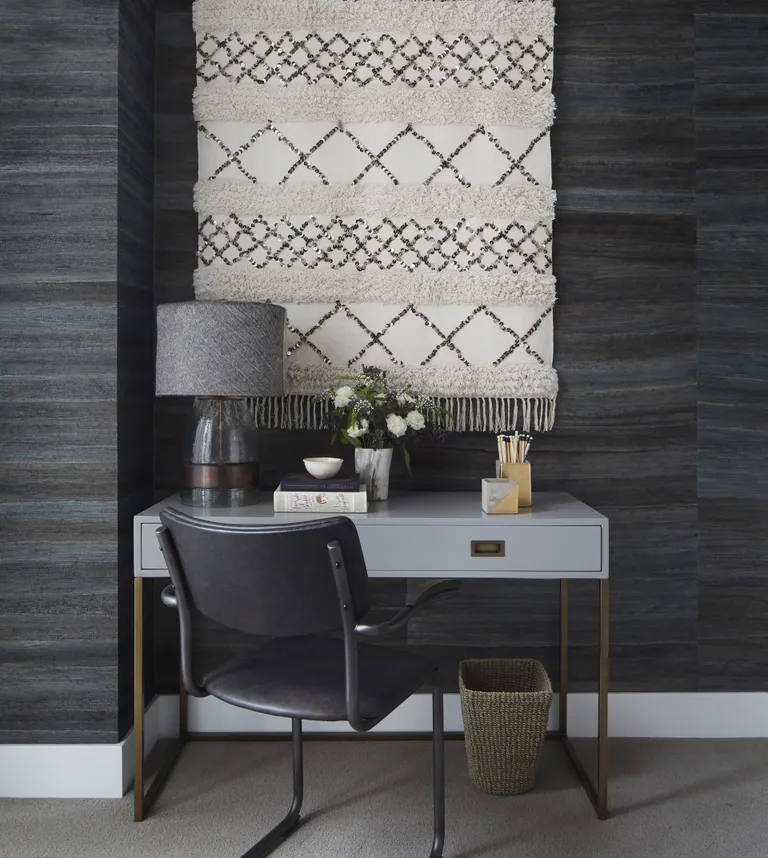 Providing a small space for work is a thoughtful way to welcome guests into your home as they may be visiting during the week. The office space does not need to be extravagant or elaborate since it is for temporary use, so the essentials of a comfortable chair and a functional desk are the main requirements.
'We like to take it a step further and prepare the space with fresh flowers and some writing utensils,' says Jessica Lagrange, founder and principal designer of Jessica Lagrange Interiors.
Wall tapestries truly can do it all. They're lightweight to hang on the wall, durable to use as a tablecloth and vivid colors make it an eye-catching outdoor blanket. Keep an extra tapestry or two in the trunk of your car for spontaneous park hangs or to set the scene for a meal on the go. Available in three sizes.

<< More Wall Tapestry Styles >>
5. DON'T NEGLECT YOUR GUEST ROOM OFFICE DECOR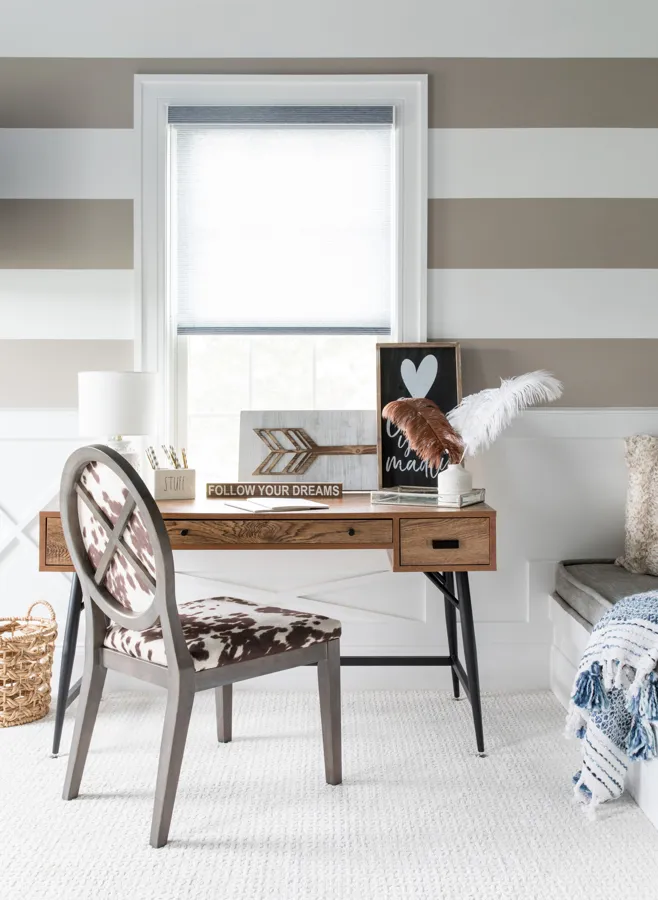 Home office design has become increasingly important, as more people spend time working from home. It's important for the space to suit both individual styles as well as be conducive to productivity.
Karen B Wolf, creative principal at Karen B Wolf Interiors agrees: 'A fantastic approach to add interest and help create a fashionable and individual touch to an office space in a guest room is to add wide two-tone stripes.'
Cozy up with our unbelievably soft throw blankets. Crafted with sherpa fleece, these blankets actually get softer the more times you wash them. Coordinate with throw pillows and rectangular pillows for whatever nook needs a little extra dose of comfy. Available in three sizes.

<< More Throw Blanket Styles >>
6. CREATE A WELCOMING SPACE WITH A HINT OF COLOR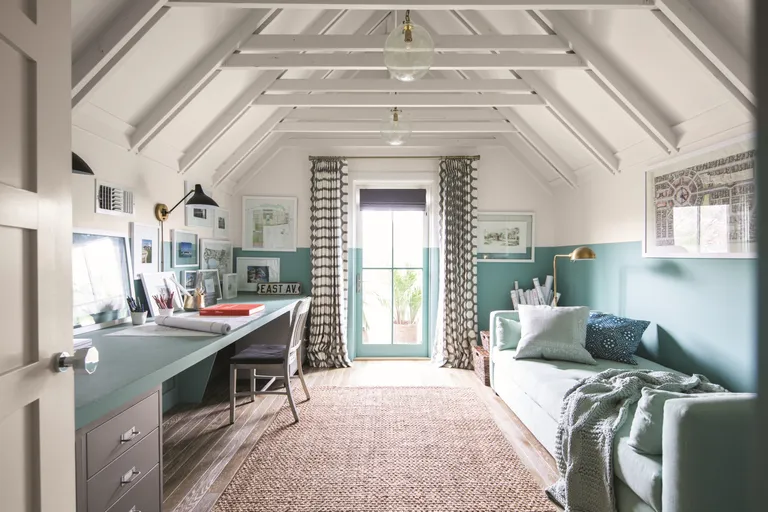 Our homes are serving multiple purposes, from being a home office, to somewhere we entertain and have guests stay overnight, to being our own personal sanctuaries – the place we relax and unwind. As a result, creating an environment that feels uncluttered yet warm and welcoming is paramount. The trend for warm minimalism does exactly that.
'Characteristically, minimalism is paired back with a clean feeling where less is definitely more,' says Helen Shaw, UK Director of Benjamin Moore. 'Whereas warm minimalism allows for an element of homey-ness to be incorporated into the scheme.'
Our floor pillows are the perfect pick for seating in a pinch. They're overstuffed and firm to never lose their shape and the high-quality print makes sure the design stays crisp and colorful. Available in round or square, with two size options.

<< More Floor Pillow Styles >>
7. CONSIDER FLEXIBLE LIGHTING FOR YOUR GUESTS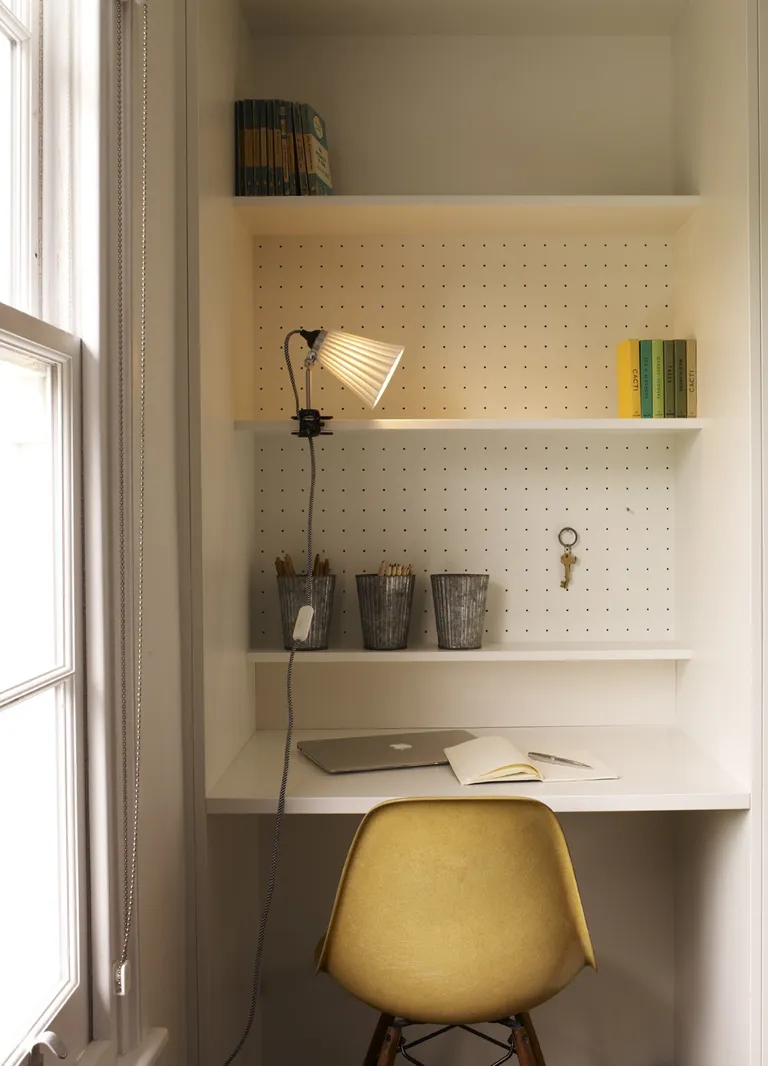 The right home office lighting ideas will ensure working on screen, or close up according to your needs, is comfortable and eye strain is avoided – crucial factors in any guest office space.
'Clip lights are a flexible, easy way to light key features such as bookshelves and fireplaces, providing an immediate solution to illuminate a temporary workspace. Easily moveable, they can transform your lighting scheme without any installation costs or need for an electrician,' says Charlie Bowles, director of Original BTC.
Our laptop sleeves are crafted with a durable, woven polyester, and are lined with a soft microfiber to prevent scratching your computer. They also feature a sturdy zipper fastener that can withstand everyday use. Laptop sleeves available in 13″ and 15″ sizes.

<< More Laptop Sleeve Styles >>
8. MAKE YOUR GUEST ROOM A MULTI-USE SPACE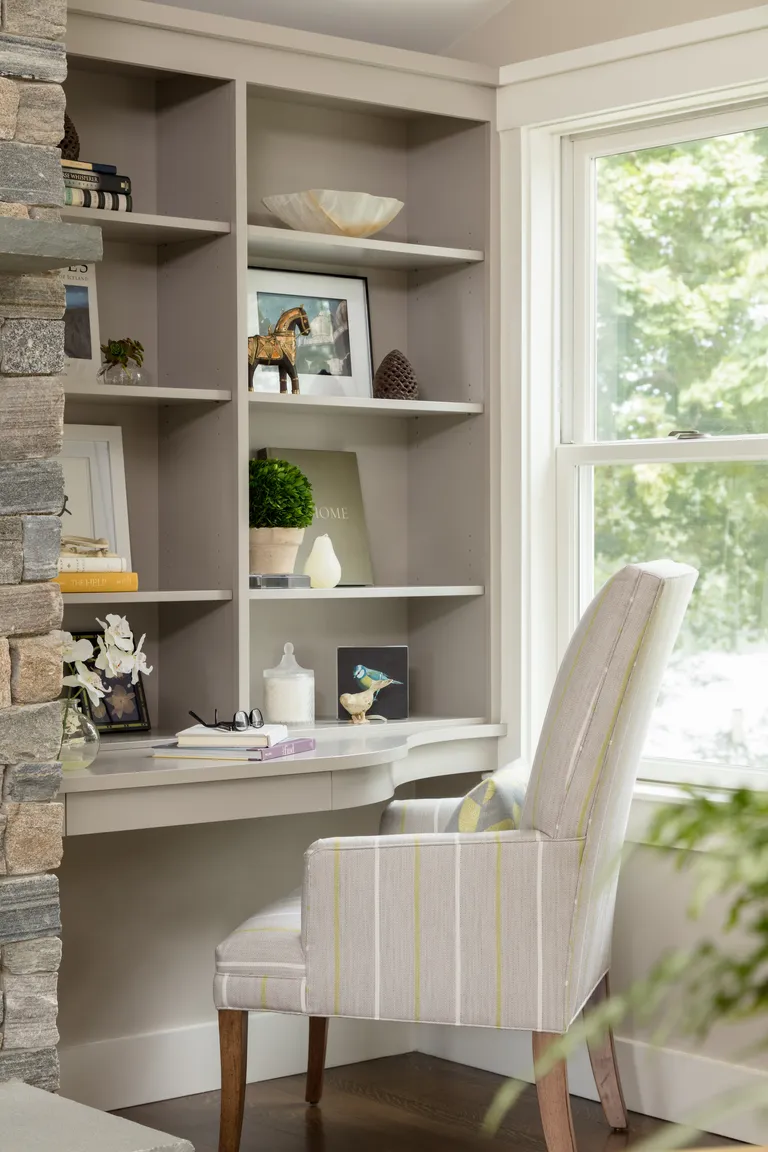 Turning a guest room into a home office or study area is no easy feat, but done right, it is a great way to make the most of limited square footage.
'For those who do not have the room for a dedicated enclosed space we can steal/borrow room from other areas, such as a guest bedroom, and make it a multi-purpose space,' says Mary Maloney, owner and lead principal at Bee's Knee's Interior Design.
Add throw pillows to whatever room needs an extra dose of comfy. Individually cut and sewn by hand, each pillow features a double-sided print and is finished with a concealed zipper and faux down insert. Keeping an assortment of throw pillow designs on hand is the easiest way to give any space an instant refresh. Available in four sizes.

<< More Throw Pillow Styles >>
9. BE FUNCTIONAL, BUT ADD COMFORT TOO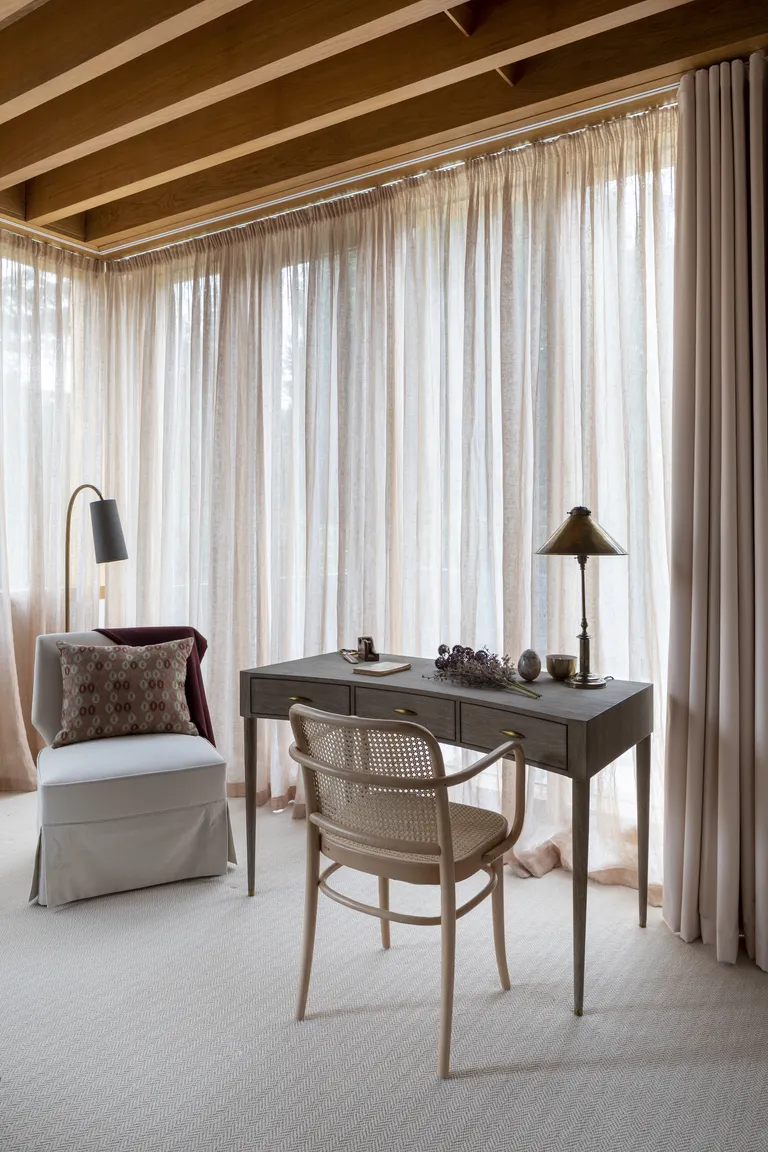 A guest room office does not need to be formal or soulless, we enjoy layering patterns and texture to introduce personality. Above all, focus on comfort.
'Functionality does not need to come at the expense of comfort or aesthetics, and the most important investment for a working space is a good chair,' says Clara Ewart, head of design at Kitesgrove. 'Choose something that you love and which will support you throughout the day.'
Our blackout window curtains are a denser alternative to your standard window curtain, blocking out most light and proudly featuring your favorite designs. Whether you live in a busy apartment or a peaceful neighborhood, it's always nice to have the option to shut out the sun and relax inside by the candlelight. Available in either single or double panel options. A double panel features the same design on both panels. The bottom edge of curtain includes a 2″ pocket that can be used as a hanging pocket, but beware that the artwork will be upside down for any non-patterned designs.

<< More Blackout Curtain Styles >>
10. INSPIRE THE CREATIVE GUEST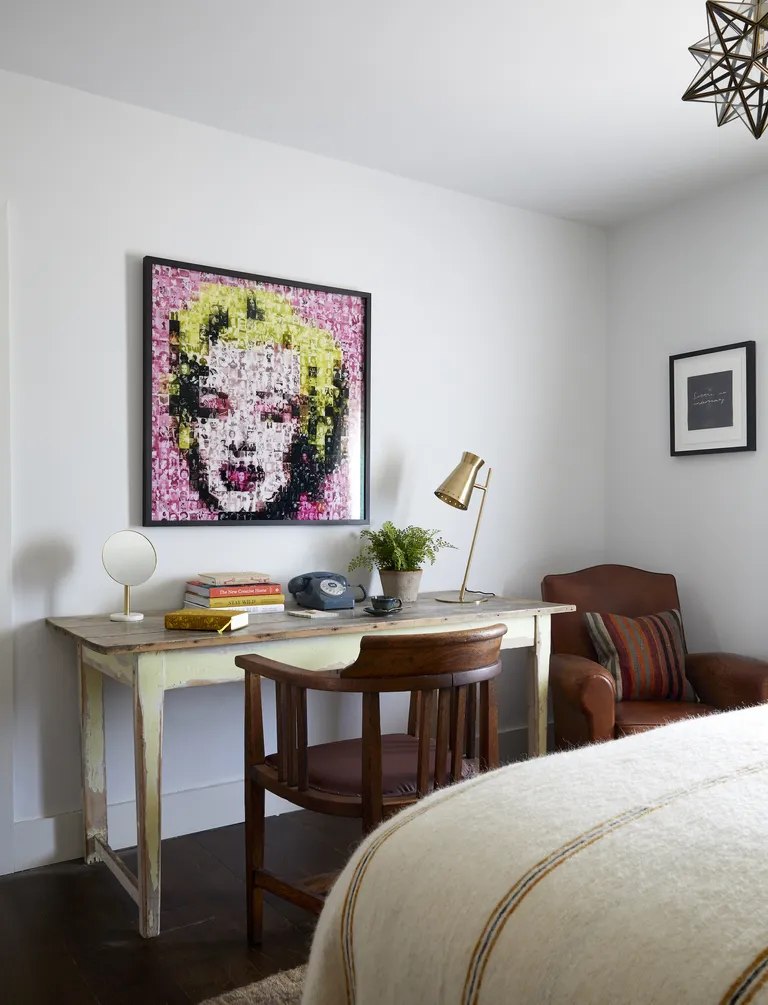 A guest office should be a place of inspiration and creativity. This is also a wonderful opportunity to show off your logistical and decorating knowledge, too.
'This rustic guest room office space has all the charm – vintage desk, antique chair, and a cozy leather armchair in the corner,' says Melanie Griffiths, editor, of Period Living. 'On the bed, there's an oh-so-soft blanket ready for those cooler evenings that can be pulled over your shoulders if working late. And don't forget lighting, a good desk lamp that doesn't take up much space is essential.'
Dress up your duvet with our eye-catching duvet covers. These ultra-soft duvet covers feature sharp, vivid prints on the front, with a crisp white on the back. Choose from either synthetic microfiber or our natural fiber cotton. Available in Twin, Twin XL, Full, Queen and King sizes. Duvet insert not included.

<< More Duvet Cover Styles >>
HOW DO YOU MAKE AN OFFICE ALSO A GUEST ROOM?
Turning an office into a guest room, or vice versa is not always easy. We recommend scaling things down, or, in other instances, using the right bedroom color and prioritizing which areas of the room are to be the focus.
Think carefully about how you use each area of your room, and what purpose they serve before designing an office space. It may be work calling in the experts if in doubt.